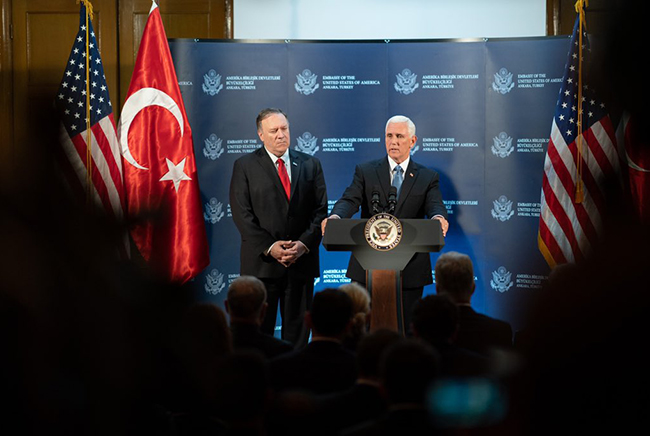 Vice President Mike Pence (right) speaks at a press conference alongside Secretary of State Mike Pompeo (left) in Ankara, Turkey, on Oct. 17, 2019. Twitter photo via Vice President Mike Pence.
The US and Turkey on Oct. 17 reached a ceasefire agreement, aimed at ending violence between Turks and Kurds in northern Syria, that meets Ankara's military objectives by requiring Kurdish fighters to withdraw from an approximately 20-mile "buffer" zone along the Turkey-Syria border.
The ceasefire, announced by Vice President Mike Pence during a visit with Turkish President Recep Tayyip Erdogan, provides a five-day time frame for Syrian Kurds to leave the area. Pence said at an Oct. 17 press conference that Kurdish forces had already begun to move.
"They greatly welcome the opportunity for a ceasefire to make a safe and orderly withdrawal from areas in the safe zone here," Pence said of the Kurds, who until recently worked alongside the US to rid the Islamic State of territory. "We're using all the leverage that we have from having fought alongside the [Syrian Defense Forces] in the battle against ISIS to facilitate their safe withdrawal."
According to a joint US-Turkey statement, the US would agree to remove sanctions President Donald Trump imposed in an Oct. 14 executive order once the withdrawal and ceasefire are finished. The agreement states that the US and Turkey acknowledge the importance of the buffer zone, where US and Kurdish fighters were jointly based and worked together until Turkey began its push into the region.
The agreement states that Turkish Armed Forces will enforce the buffer zone, and that the Kurds must give up their heavy weapons and fighting positions. Those steps were largely in place under the joint "security mechanism" between the US and Turkey that was in place before Turkey's invasion, which is targeting people it believes are friendly with a domestic terror group in its own country.
US forces are quickly withdrawing from bases in the buffer zone as Turkish-backed militias, Syrian regime fighters, and Russian forces approach. Americans abandoned an operating base in the Syrian city of Manbij earlier this week. Additionally, Air Force F-15Es on Oct. 16 bombed a US headquarters building at a cement factory, destroying an ammunition depot and other equipment to "reduce the facility's military usefulness," the US-led coalition fighting the Islamic State said.
During the press conference, Pence said the ceasefire agreement only focuses on the sanctions imposed by the recent executive order, and does not address other issues between the US and Turkey like the decision to remove Ankara from the F-35 program.