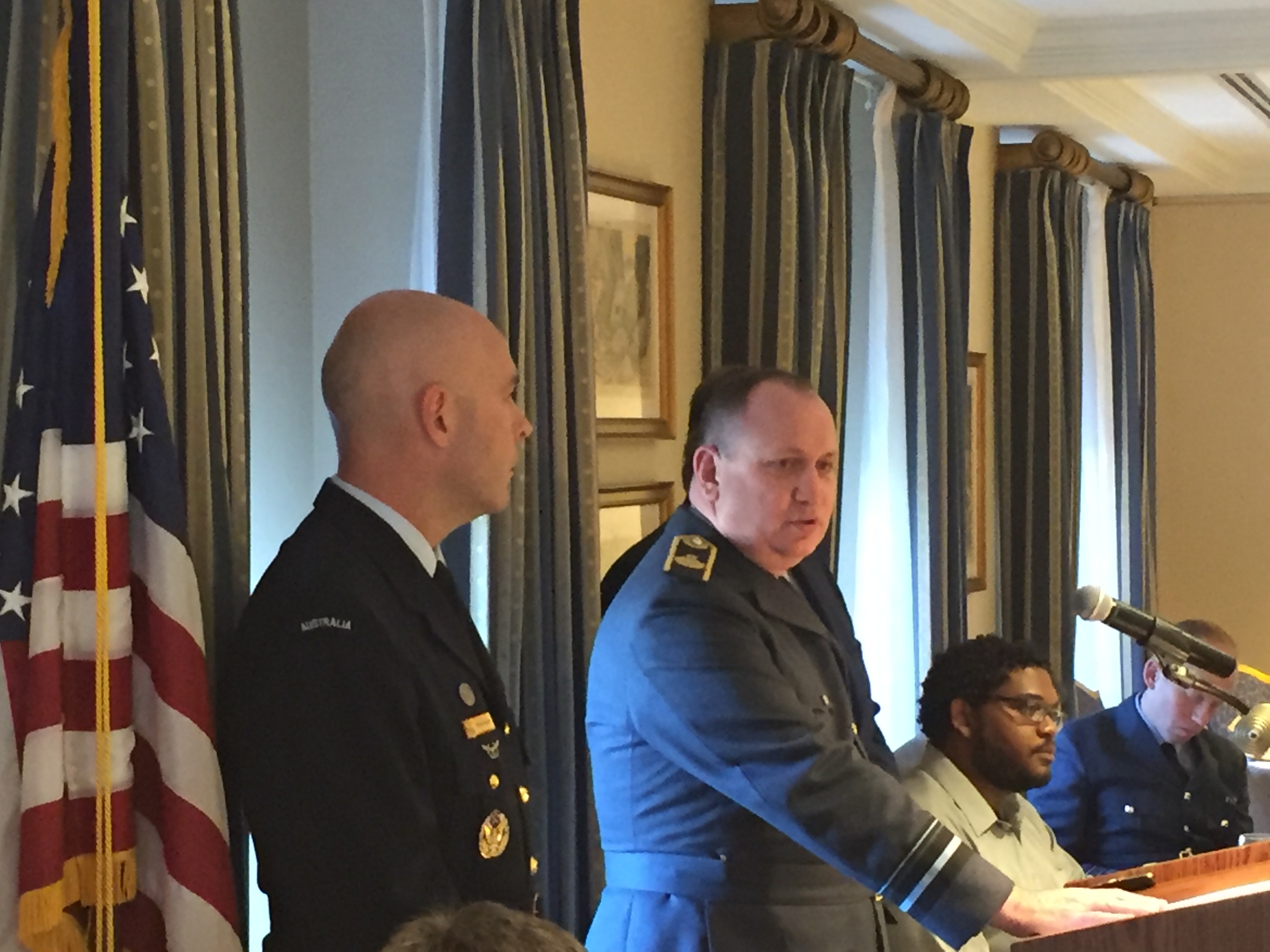 Royal Australian Air Force Wing Commander Steven Henry (left) and Royal Air Force Air Vice-Marshal Rocky Rochelle (right) field questions at an AFA Mitchell event in Washington, D.C., on Oct. 27. Air Force Magazine photo by Wilson Brissett.
Space is a uniquely collaborative combat domain, and US allies are working to expand their role in a combined space defense effort, air force officers from the United Kingdom and Australia said at an AFA Mitchell event in Washington, D.C., Friday.
Those nations are planning to double their space investment over the next five years in order to field new capabilities, and are working to expand the community of allied nations in space as well. The ultimate goal is to present a coordinated, allied front in space that represents a significant strategic deterrent to adversary nations.
"No other domain requires the degree of global access and cooperation that space does," Royal Australian Air Force Wing Commander Steven Henry told the audience. Henry is currently an exchange officer working with Secretary of the Air Force Heather Wilson in her role as Principal Department of Defense Space Advisor.
Despite the high level of coordination required in the domain, a huge gap exists between US leadership in military space development and the contributions of its allies. "We don't have a space category in Australia, same as UK, Canada, New Zealand," Henry said, noting Australian investment in space currently makes up only 1.5 percent of the $420 billion global space industry.
In large part because of US efforts to raise the profile of military space, allies are working hard to "close the space gap," said Air Vice-Marshal Rocky Rochelle, chief of staff for capability and force development with the Royal Air Force. Rochelle and Henry both pointed to the significance of the annual Schriever Wargame, launched by the US Defense Department in 2007 as a joint and international military exercise focused on space as a combat domain.
Rochelle said his early experience at Schriever "woke me up" to the need to grow the UK military space enterprise, which he is doing by encouraging "disruptive thinking," he said. Specifically, the RAF recently stood up "a Rapid Capabilities Office," which is based on the USAF model. The new office is using public-private partnerships with a "50-50 share" to quickly develop and field new technologies.
Rochelle said the RAF is also working to integrate its space operations center and its combined air operations center into a "national air and space operational center" at RAF High Wycombe. It is also developing a Ballistic Missile Defense radar program that will include requirements for space situational awareness.
Australia is also working to improve its military space commitments. The government has committed to doubling its space investments in the next five years, and to doubling that number again in the following five years, Henry said. The government also announced last month that, "Australia is standing up a space agency," he told the audience.
On specific programs, Australia is making a "ground-based" contribution to the GPS system through "augmentation and backup" systems that help to "negate the effects of jamming or other ill effects." Henry also pointed to Australia's procurement of the sixth satellite in the Wideband Global Satellite Communications constellation, which reduced costs to the US and increased Australian access to the system's network.
In space situational awareness, Australia has a new C-band radar that achieved initial operational capability in 2016 and a space surveillance telescope that "will start providing data in the next few years." The country's larger goal is to "develop indigenous capabilities" and become a leader in new SSA technology, Henry said, mentioning a researcher at Western Sydney University who is developing an "event-based sensor" for SSA.
The larger goal of these developments is for the US and its allies to collaborate better in the space domain. Rochelle said it might be time soon to think about launching a shared "Five Eyes constellation." The "Five Eyes" is a group of close allies, made up of the US, Canada, UK, Australia, and New Zealand, who work together and share intelligence and surveillance information. He reminded the audience that, "we can do it on all sorts of capabilities," like AWACS, P-8, and the F-35, "but we haven't yet tried it in space."
The Five Eyes also needs to expand its base of allies, Rochelle said. In some ways this is already happening. Henry said the US has SSA-sharing agreements with at least 17 nations, but Rochelle said the Five Eyes group needs to widen the circle and work more closely with France, Germany, and Japan. While none of these will grow to rival US support for military space, each can offer "niche contributions" that will make a crucial difference.
Ultimately, greater coordination in space has strategic implications. The US and its allies will demonstrate that "we've actually started to change the conversation" in the space domain, Rochelle said, when "we can all show independent action by synchronistically all moving our satellites at the same time in some form of strategic messaging."