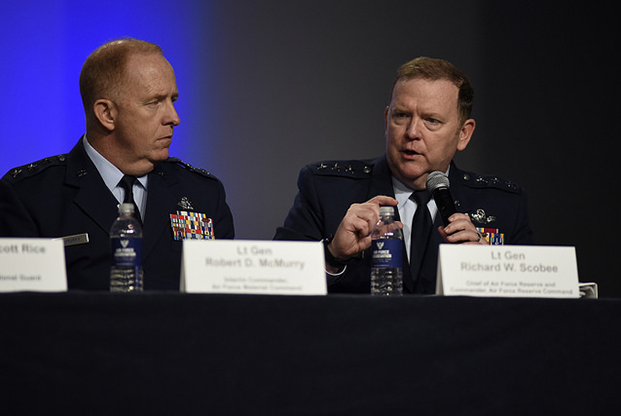 Lt. Gen. Richard Scobee, shown here during a panel at AFA's 2018 Air, Space & Cyber Conference, discussed USAF's "maintainer gap" during a Wednesday media roundtable at the conference. Staff photo by Mike Tsukamoto.
Although the Active Duty force has managed to close its "maintainer gap," the Air Force Reserve is still struggling to retain enough maintenance personnel, the service's newly minted reserve chief told a media roundtable at AFA's 2018 Air, Space & Cyber Conference Wednesday.
Last year, the reserve component was short 1,400 maintainers, and has managed to reduce that by 20 percent, according to Lt. Gen. Richard Scobee.
"We are doing so much on the retention side," he said, but acknowledged, "We struggled with the maintainer piece because as the economy improves there a lot of job opportunities out there and to get people to want to serve, with the sacrifice that implies, can be a bridge too far."
Scobee was promoted to chief of the Air Force Reserve Command from the deputy chief's position earlier this month. He is the son of retired Lt. Col. Francis Richard Scobee, a USAF test pilot who became an astronaut and was killed aboard the space shuttle Challenger when it blew up as it was taking off in 1986.
The Active Duty force has managed to close its gap mainly through recruitment, but Scobee said "the Active component has a lot of tools at their disposal that we don't necessarily have." Successive deployments for the service's 70,000 Reservists and Guardsmen —occasioned by the 17 year-long conflicts in Iraq, Afghanistan and elsewhere—also are a constant strain on the force.
"You have some very stressed organizations," he said.
The Air Force could not match the private sector dollar-for-dollar, he said, but was working to make Reserve service more predictable and rewarding in non-monetary ways.
"You can never make exactly in the military what you could make on the outside, but I want to get close enough to incentivize people to stay," he said.