Editor's Note: This is the first of a two-part series on how Tyndall Air Force Base, Fla., is working to protect itself from future hurricanes. This installment covers Tyndall's nature-based coastal resilience projects, while Part 2 covers the base's efforts to make facilities withstand future storms.
TYNDALL AIR FORCE BASE, Fla.—Hurricane Michael tore through this base nearly five years ago, devastating hangars and aircraft and prompting some to ask if Tyndall Air Force Base should be given up for good. Instead, Air Force and Florida leaders rallied to the idea that they could build a model "Installation of the Future" complete with new buildings, new F-35A Lightning II fighter jets, and new technology to make the base safer, stronger, and more efficient than before.
The big question is: How can the base protect itself from future hurricanes? Part of Tyndall's answer is a range of nature-based coastal resilience projects, including sand dunes, oyster reefs, and pine forests. The sand dunes in particular take the brunt of ocean waves during a hurricane.
Piled atop 18 miles of barrier islands surrounding Tyndall, they form the base's "first line of defense for storms," Melanie Kaeser, a biologist with the U.S. Fish & Wildlife Service, told Air & Space Forces Magazine.
Hurricane Michael swept over dunes and wiped out much of the vegetation on the barrier islands, disrupting the habitat and opening the way for further damage in the future. Kaeser's team is restoring those barrier islands, planting grasses and shrubs and planning to learn which prove best at trapping sand. Kaeser said the dunes are already recovering without intervention, but her team's work is to "speed that process up."
"If you don't build it back up, you're going to keep pushing back that first line of defense," she explained. "That's what took the brunt of the storm surge, so without these barrier islands, that storm surge would have gone right on to the installation."
Kaeser's team is also restoring thousands of acres of pine forests around the base to help block severe winds. Planting longleaf pines, which can resist wind, insects, and disease better than the slash pines that were there before, should prove effective over time. The team has planted 6.5 million fast-growing seedlings in the past three years and aims to plant another million within the next year.
Elsewhere on Tyndall, scientists are experimenting with biodegradable concrete and cement as a foundation for seagrass and oysters, a technology called Reefense. Once at home here, the goal is for oysters to build and repair wave-blocking reefs on their own, according to Rutgers University, which received $12.6 million from the Defense Advanced Research Projects Agency to pursue the technology.
Living shorelines—a combination of plants, rock, and sand designed to attract marine life; oyster reef breakwaters; and expanded salt marshes are other ways Tyndall officials hope to dissipate waves and reduce flooding, according to installation documents and The Nature Conservancy, which is helping develop Tyndall's natural defenses. Base planners hope to scale up the projects that succeed to create an integrated defense against storm surge and erosion.
"The focus of everything is slowing down that wave attenuation as it comes on shore, whether it's natural waves, tidal surges, or hurricane-related events," said Garey Payne, acquisition program manager with the Air Force's Natural Disaster Recovery Division. "You have this overlapping field of effect that eventually makes the installation more robust to the effects of climate change, sea level rise, and natural erosive processes."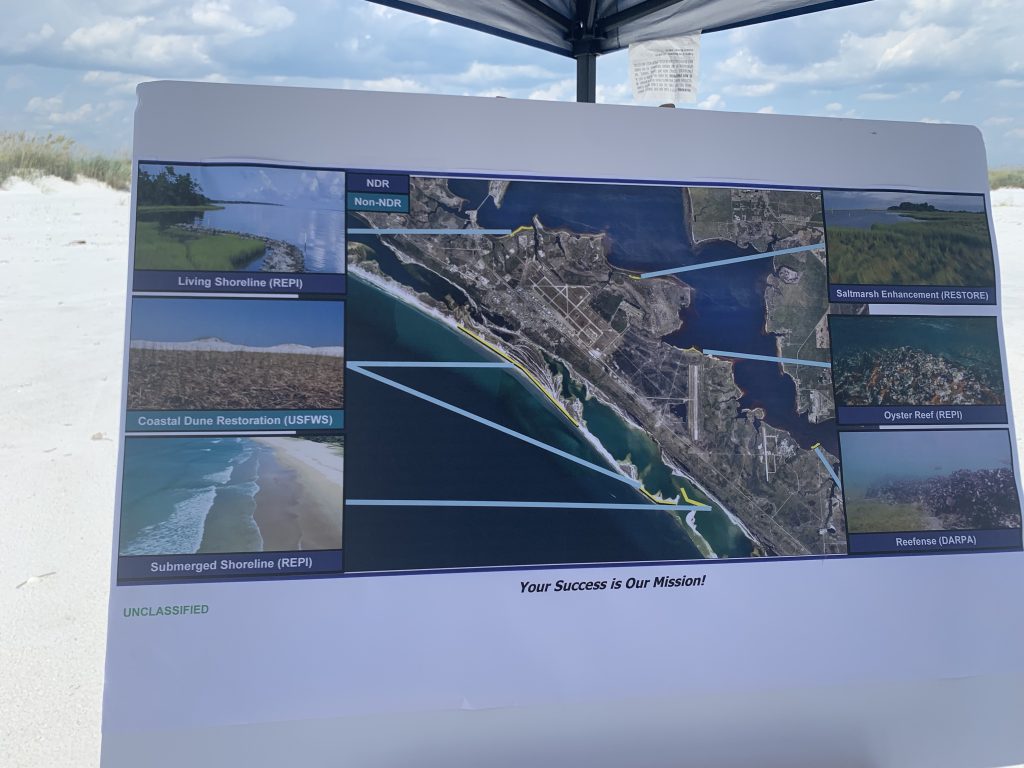 Many of these techniques are not entirely new or unique to Tyndall. A few hundred miles down the Florida Gulf Coast, MacDill Air Force Base has been working on oyster reef shoreline stabilization since at least 2004. But what's new at Tyndall is a funding mechanism to facilitate such projects. In the wake of the hurricane damage, Congress expanded the Readiness and Environmental Protection Integration (REPI) program in 2019, allowing the military to use federal funding for installation resilience projects, even if those projects are outside a base's land or water boundaries.
That means Tyndall can use federal funding to experiment with oyster breakwaters in Florida state waters beyond the base's shoreline. That funding can help attract state and local government or conservation agencies to work with the Air Force on such projects.
"Prior to REPI funds being available for this kind of work, it took community partnerships, it took convincing the county or state or whoever to spend their money to do a living shoreline," Payne said. "Now we're bringing the money to them [and saying] 'We need you to do the legwork because it's in state waters, but we are going to give you the money to do it.'"
Such funding mechanisms could prove useful as the Air Force writ large seeks to fortify its installations against the effects of climate change and extreme weather.
"We cannot launch or recover aircraft on a flooded runway, nor can we operate from installations devastated by hurricanes and wildfires," Dr. Ravi I. Chaudhary, assistant secretary of the Air Force for energy, installations, and the environment, wrote in a Climate Campaign Plan unveiled in July. "Our bases are our power projection platforms and as those bases are increasingly impacted by the effects of climate change, adapting to these challenges will be critical to meet our national security obligation."
At Tyndall, that mentality has become the norm.
"We're not going to treat a category five storm as an exceptional event," said Col. Robert Bartlow Jr., head of the Tyndall-based Air Force Civil Engineer Center Natural Disaster Recovery Division. "That's the new standard."
Part 2 on Tyndall Air Force Base's efforts to defend against future hurricanes and severe weather is available here.