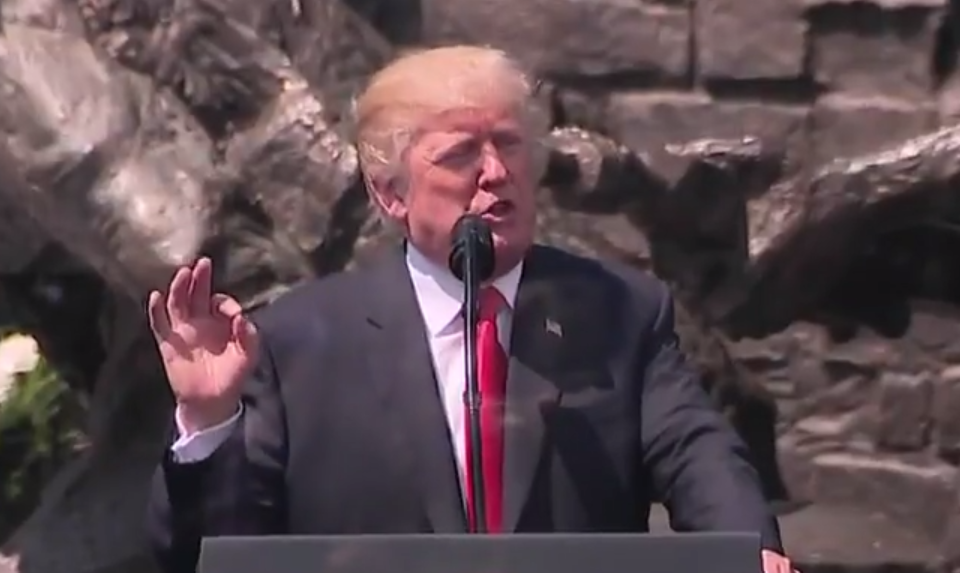 President Donald Trump speaks on Thursday in Warsaw, Poland. Screenshot photo.
In a speech delivered before a noisy crowd in Warsaw Thursday, President Donald Trump praised NATO ally Poland for increasing its defense spending and restated his Administration's criticisms of other European nations for not spending enough. "We salute the Polish people," Trump said, for raising their military spending to two percent of GDP and reaching "the benchmark for investment in our common defense."
Still, according to data released by NATO last week, only three other European nations—Greece, Estonia, and the United Kingdom—met the two percent threshold for defense spending in 2016, with Romania also expected to reach it in 2017.
"Europe must do more," Trump said. "Europe must demonstrate that it believes in its future by investing its money to secure that future." Trump told his audience that, by way of contrast, "the United States has demonstrated, not merely with its words but with its actions, that we stand behind Article 5," the NATO pledge for member nations to come to each other's defense. The US spent 3.6 percent of its GDP on defense in 2016, according to NATO.
"Americans know that a strong alliance of free, sovereign and independent nations is the best defense for our freedoms and for our interests," Trump said. "That is why my administration has demanded that all members of NATO finally meet their full and fair financial obligation."
Trump claimed that, "as a result of this insistence, billions of dollars more have begun to pour into NATO."
More than money was on Trump's mind in Warsaw, however, as he also questioned the drive of European nations to defend their citizens. "The fundamental question of our time is whether the West has the will to survive," Trump said. "Our defense is not just a commitment of money. It is a commitment of will."
He said the survival of "the West" relies upon "the will of its people to prevail and be successful" beyond military capabilities. "We can have the largest economies and the most lethal weapons anywhere on earth, but if we do not have strong families and strong values, then we will be weak and we will not survive."
Trump's speech came ahead of his visit to the G20 conference, which begins Friday in Hamburg.