Capt. Andrew 'Pañic' Munoz was in a tight spot. The F-15E Strike Eagle pilot and his weapons system operator, Capt. George 'King' Welton, had run out of air-to-air missiles 15 minutes into a simulated battle where they had to defend a lane of airspace against a mix of F-22s, F-16s, and other jets flying adversary 'red air' tactics.
Though the battle was not real, the stakes were high, as Munoz and Welton were representing the entire 4th Fighter Wing in a competition against other fighter units from across the Air Force. If they failed here, it might affect their standings for the rest of the meet.
But then, like an old-fashioned cavalry charge, help arrived in the form of Capts. Noel 'Takeout' Zamot and Sean 'Wolf' Sutedjo, who took off 15 minutes late after swapping jets due to an aircraft malfunction. The fresh crew arrived with a full set of missiles, and while they lacked a datalink providing situational awareness of the battle, they worked together with Munoz and Welton to take down the opposing jets and eventually win the scenario.
"We were able to work as a team between the two-ship to use their missiles and provide them with the awareness that they needed in order to target and protect the lane," Munoz told Air & Space Forces Magazine.
The late arrival of Zamot and Sutedjo was just one memorable moment from the William Tell Air-to-Air Weapons Meet, where Air Force fighter crews, maintainers, and intelligence specialists from Virginia to Hawaii gathered at the Air Dominance Center in Savannah, Ga., from Sept. 11-15 to see who was the best in the air-to-air business.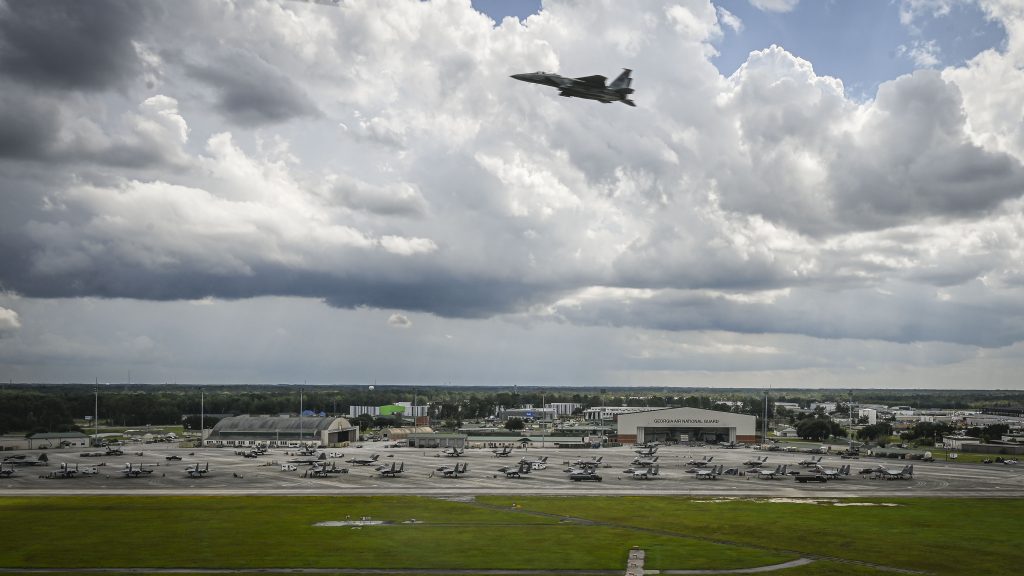 A historic meet, William Tell was held about every two years from 1954 to 1996 but was discontinued with the exception of a 2004 revival to commemorate the contest's 50th anniversary. The Air Force's renewed focus on near-peer conflict in contested airspace was a major reason for bringing the contest back. But after a 19-year hiatus, many pilots today had never heard of William Tell.
"When my squadron commander walked up to me in April and said 'We want to send you to William Tell and we want you to build a team,' I had to say 'What is William Tell?' Munoz said. "Learning the history of William Tell made me realize that this was bigger than myself, bigger than the team."
The meet included one-on-one basic fighter maneuvers (BFM); air combat maneuvering (ACM), where two-ships of 'Blue Air' identified and engaged unfamiliar red air jets; a gunnery contest where participants shot their aircraft cannons at a banner towed by a Learjet; and fighter integration, where participants worked together to defend an airspace against formations of red air.
Meanwhile, maintainers competed to see who could safely load missiles onto an aircraft fastest, while intelligence Airmen conducted mission planning and threat analysis on the ground and air battle managers worked on command and control from overhead. Meet planners warned that competition was the best way to simulate combat stress, but Munoz, who has flown on several deployments, was skeptical at first.
"Fast-forward to being at the step desk before going to fly and I had this pit in my stomach … I don't want to let my team down, I don't want to let the wing down, and I don't want to let myself down really," he recalled. "It made me a believer."
Most of the 4th Fighter Wing contingent came from the 'Chiefs' of the 335th Fighter Squadron, where the goal is to achieve 'the chief standard' of excellence—and for the most part they hit the mark. The team performed well in ACM and BFM, where, despite being the youngest fliers on the team, Zamot and Sutedjo defeated a more experienced crew. They also flew well in the fighter integration event, where the Strike crews showed their expertise in defensive counter-air (DCA). But the 'integration' piece was easier said than done.
"We have great tactics, techniques, and procedures for executing our own DCA, but mixing that in with two different other aircraft was definitely a challenge, especially with the limited amount of time that we had to mission plan for it," Zamot said.
There were two other F-15 units at the meet, the 366th Fighter Wing flying F-15Es from Mountain Home Air Force Base, Idaho, and the 104th Fighter Wing flying F-15Cs from Barnes Air National Guard Base, Mass. The 4th bested the 366th, but the Air Guardsmen claimed the overall top F-15 Wing and Superior Performer award. Though they went back to Seymour Johnson Air Force Base, N.C., empty-handed, the Airmen from the 4th were still proud of their performance.
"I think that we executed to the chief standard when we went down to Savannah," Zamot said. "Every event that we showed up to, we were the premier Strike Eagles down there, and we beat two F-35 squadrons" in the overall scores.
They also stuck together as a team: Zamot said the 4th Fighter Wing maintainers had the loudest group of fans in the building during the weapons load competition, where the 4th defeated the 366th. Competition aside, the meet was also a chance to build connections among Eagle pilots, especially as the older C models retire and the new F-15EX editions come online.
"After the results were released, we had all of the Eagle dudes together and had about a two-and-a-half hour tactics talk, which was awesome," Munoz said. "We got to talk through how we are merging the community together for the future. Those crews will go back to their base and spread the knowledge that we shared."
Air Combat Command, which ran the competition, brought in retired Lt. Col. James Harvey III, a Tuskegee Airman who in 1949 won the first ever trophy in what would later become William Tell. Seeing Harvey there, along with an impressive number of colonels and generals, brought the significance of William Tell to life.
"I hope that we bring it back so that we can continue the legacy of William Tell," Munoz said.