The Air Force Association will recognize the 2018 Outstanding Airmen of the Year on the opening night of its Air, Space & Cyber Conference in National Harbor, Md., Sept. 17, 2018. USAF photos.
The Air Force Association will recognize the 12 Outstanding Airmen of the Year for 2018 on Sept. 17, during the opening night of its Air, Space & Cyber Conference in National Harbor, Md.
A total of 36 nominees were considered, and an Air Force selection board chose the 12 winners on the basis of leadership, job performance, and personal achievement.
The Outstanding Airman of the Year program debuted at AFA's 10th annual National Convention in 1956, and the association has continued to shine a spotlight on the outstanding airmen from each major command every year since.
HERE ARE THIS YEAR'S WINNERS: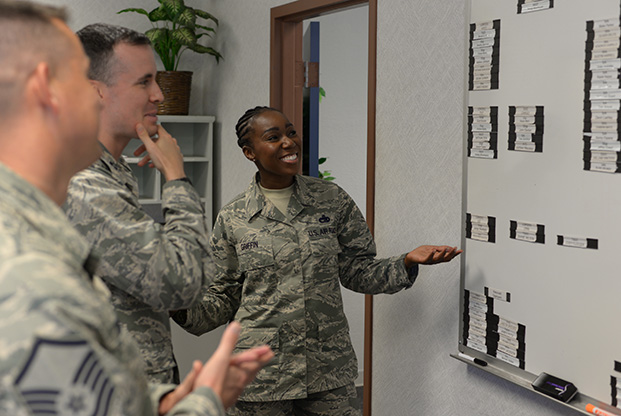 SMSgt. Ruth C. Griffin
Superintendent, Operations and Compliance Management
2nd Logistics Readiness Squadron, Barksdale AFB, La.
Home of Record: Brinkley, Ark.
SMSgt. Ruth Griffin, superintendent of operations and compliance management, led 391 military and civilian personnel within the 2nd Logistics Readiness Squadron to success in optimizing fuels capabilities by eliminating biodiesel fuel for 284 vehicles. These actions saved two organizations 724 man-hours and earned her unit the one percent Government Green Fleet Award. Additionally, she championed the wing's Hurricane Evacuation Receptions, ensuring the beddown of 550 personnel across 10 wings and powered an 85,000 gallon refueling operation in support of 176 aircraft. The team's actions afforded protection of $6 billion in United States Air Force assets. In addition, her team also garnered 11 higher headquarter and wing awards and earned five Below the Zone stripes. Finally, the Major Command Functional Manager chose Griffin to provide expertise and shape future career field requirements. She led 9 subject matter experts and modified 52 manpower process orientation descriptions.
SMSgt. Lucero Stockett
KC-10 Boom Operator Superintendent
6th Air Refueling Squadron, Travis AFB, Calif.
Home of Record: El Paso, Texas
SMSgt. Lucero Stockett has been instrumental as the KC-10 Boom Operator Superintendent with the 6th Air Refueling Squadron at Travis AFB, Calif. During this period she oversaw the supervision of 32 boom operators, managing 17,500 days of personnel on temporary duty in which they conducted 2,100 missions and 26 Central Command deployment taskings that supported over 3,000 receivers and 1,000 strikes. She won two national-level awards for her leadership and community involvement: the National Latina Style Distinguished Military Service Award and the National IMAGE Meritorious Service Award. Additionally, she was awarded the Robert "Dutch" Huyser Award for her leadership and professional acumen as a Career Enlisted Aviator. She also garnered the John L. Levitow and Distinguished Graduate award at the Senior Noncommissioned Officer Academy.
SMSgt. Melissa A. Beam
1N0 Air Force Specialty Code Manager
Air Combat Command, JB Langley-Eustis, Va.
Home of Record: Catskill, NY
SMSgt. Melissa Beam was the distributed ground system-1 analysis and reporting team flight chief with the 497th Operations Support Squadron at JB Langley-Eustis, Va., where she led a team of 134 officers, enlisted members, civilians, and contractors responsible for delivering 24-hour time-dominant intelligence fusion and target discovery capabilities to five combatant commanders in direct support of Operation Inherent Resolve. Her team of airmen were instrumental in the freeing of 4.5 million Iraqi citizens and six cities from ISIS control. They tasked intelligence, surveillance, and reconnaissance assets to erase more than 100 remotely piloted aircraft and 19 improvised explosive device networks and eliminated more than 225 ISIS oil fields, ultimately saving 138,000 coalition forces lives.
MSgt. Kit C. Lui
NCOIC, Engineering Flight
433 Civil Engineer Squadron, JBSA-Lackland, Texas
Home of Record: Schertz, Texas
MSgt. Kit Lui was the noncommission officer in-charge of the engineering flight for the 433rd Civil Engineer Squadron at JBSA-Lackland, Texas. As an engineer craftsman, he directed and performed civil engineering design, drafting, surveying, and contract surveillance to support Air Force facility construction and maintenance programs. Lui utilized surveying technology to include Global Positioning Systems, to evaluate potential construction sites and airfields. He supported various military campaigns to include Operations Inherent Resolve, Combined Joint Task Force–Horn of Africa, Freedom's Sentinel, and Resolute Support. Lui forward deployed to numerous countries and undisclosed locations to include Afghanistan, Iraq, Kuwait, Qatar, and Syria in support of joint operations and contingencies. Prior to assuming his current position, he served as the NCOIC for airfield pavement evaluation and expeditionary GeoBase manager in Southwest Asia.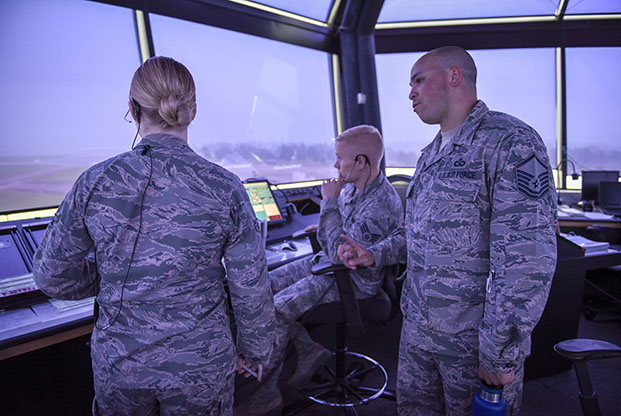 MSgt. Joshua A. Matias
Control Tower Chief Controller
14 Operations Support Squadron, Columbus AFB, Miss.
Home of Record: Milwaukee, Wisc.
MSgt. Joshua Matias led 28 airmen and civilians in support of Air Education Training Command's No. 1 flying hour program, generating 65,000 sorties and producing 453 Air Force pilots. His efforts enabled 394 position certifications and 22 skill level upgrades in 54 percent of the allotted time. As squadron superintendent, while deployed to Southwest Asia, Matias led 135 warfighters from 13 Air Force Specialty Codes and 17 bases worldwide in the execution of eight major combat operations. His team generated 56,000 operations and 7,000 intelligence and weather products supporting the Combined Joint Task Force with the liberation of 500,000 civilians in the city of Mosul, leading to the execution of 5,000 ISIS enemy combatants. As deployed tower chief controller, Matias' team partnered with 100 Host Nation air traffic controllers. Their partnership supported eight weapons systems, 23,000 combat missions, 40,000 flight hours, and the delivery of 194,000,000 pounds of fuel.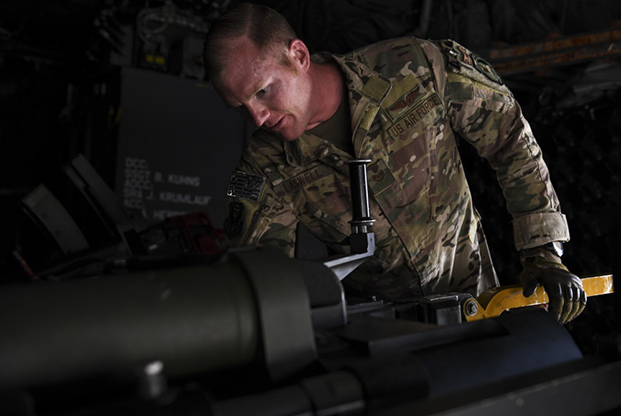 TSgt. Brett M. Laswell
AC-130U Evaluator Special Missions Aviator/Flight NCOIC
4th Special Operations Squadron, Hurlburt Field, Fla.
Home of Record: McLeansboro, Ill.
TSgt. Brett Laswell was awarded a Distinguished Flying Cross for his efforts in Afghanistan, after 10 hours of CAS, expending two combat loads of ammunition, killing 32 enemies, and destroying 23 buildings. He led a five-person gun crew during Southern Command's largest CAS exercise, flying 21 hours, getting 400 Special Operations Forces personnel ready for AC-130U employment, and he was selected for evaluator upgrade. As special missions aviator instructor, he executed 23 sorties and 105 flight hours, instructing lead gun, instructor, and evaluator training, completing 22 special missions aviators for next level certification and qualifications. He completed five college classes, 40-hour Senior Enlisted Joint Professional Military Education, and JSOU CEP-1 PME with a stellar 4.0 GPA, earning two CCAF's in Aviation Operations and Maintenance Technology degrees. Additionally, he was hand-selected for a Smithsonian Channel film, where he provided aircrew reenactments, stamping AFSOC's AC-130U aircraft into the history books.
TSgt. April A. Spilde
Flight Chief/Security Forces Craftsman
30th Security Forces Squadron, Vandenberg AFB, Calif.
Home of Record: Minneapolis, Minn.
TSgt. April Spilde was instrumental to the Total Force success of the 58th Presidential Inauguration, dedicating 80 hours to training 90 Air National Guard and Air Force Reserve Airmen as Ceremonial Guardsmen with the USAF Honor Guard. Spilde led a three-person mobile training team to the 156th Airlift Wing at Air Base Muniz, Puerto Rico, and established a fully funded base honor guard program including a budget increase of $10,000. As a Security Forces flight chief, Spilde led 135 airmen securing $10.2 billion in space launch assets and managed the flight schedule, logistics, and daily police operations defending 999 family houses, 2,100 facilities, and 15,000 personnel across a 99,000-acre installation. Spilde masterfully completed nine college classes and graduated cum laude, earning her bachelor's degree in English. She graduated from the NCO Academy and was the recipient of the John L. Levitow leadership awards.
TSgt. David E. Miller
Noncommissioned Officer in Charge of Personnel and Readiness
48th Contracting Squadron, RAF Lakenheath, England
Home of Record: Columbus, Ohio
TSgt. David Miller was instrumental in leading the 48th Contracting Contingency Support cell by providing expert oversight of 18 of the Wing's deployment and exercise operations, increasing combat mission readiness for eight nations across three combatant commands, while supporting $3 million worth of life-saving requirements. Miller further served as project officer for three multinational operations, coordinating emergency logistics for 275 members in less than three days. He also served as the subject matter expert for emergency operations, which led to the elimination of 14 response vulnerabilities connected to eight real-world disasters, thereby increasing emergency capabilities by 35 percent over three Wings. Miller further led contracting operations for multiple deployments in Spain and France, thereby staging over $2 million of base support services while bolstering operations for more than 700 AFRICOM sorties.
SSgt. Elizabeth G. Caulfield
Advanced Scientific and Technical Intelligence (S&TI) Analyst
National Air and Space Intelligence Center, Wright-Patterson AFB, Ohio
Home of Record: Traverse City, Mich.
SrA. Elizabeth Caulfield led a four-member deployment team for a total of 60 days supporting RC-135 Combat Sent operations across two separate geographic areas of responsibility, while successfully processing 23 missions encompassing 235 signals. She conducted 22 deployed aircrew debriefs and provided feedback that fixed shortfalls and refined identification by 35 percent. She authored seven engineer-level reports, highlighting key enemy weapons systems vulnerabilities, which revised US Operations Plan with emerging threat data. She aced four college courses achieving a 3.8 GPA, earning her Bachelor's degree in Organizational Psychology. Additionally she discovered an upgrade to an advanced weapons system, enhancing a Department of Defense high priority intelligence effort, fusing vital data with fighter/bomber development.
SSgt. Wilson B. Gardner
Airfield Systems Journeyman
202nd Engineering Installation Squadron, Robins AFB, Ga.
Home of Record: Douglasville, Ga.
SrA. Wilson Gardner enhanced data processing and network security at 20 sensitive compartmented information facility sites and fabricated 30,000 feet of fiber optic cable, which resulted in installation cost savings of $25,000. He created an in-house high reliability soldering course, training 25 members on a critical high-tech skill. Gardner was voluntarily activated three times for more than 400 days in support of a C4IT construction projects with the US Strategic Command at Offutt AFB, Neb. He installed 216 communication racks and 18 telephone closets, fitted 5,000 J-hooks and 37 multi-user telecommunications outlet assemblies, directly resulting in savings of over $200 million and increasing C4ISR capabilities by more than 200 percent. Additionally, he provided support to three sites in Puerto Rico after Hurricane Maria, enhancing network reliability and reducing maintenance requirements by 25 percent.
SrA. Patrick O. P. Schilling
Explosive Ordnance Disposal Technician Journeyman
775th Civil Engineer Squadron, Hill AFB, Utah
Home of Record: Sarasota, Fla.
SrA. Patrick Schilling filled a crucial capability gap for the 775th Explosive Ordnance Disposal Flight when he stepped up to fill the role of munitions account manager for the Air Force's largest custodial account during his supervisor's absence; coordinating 40,000 items worth $554,000. During operations, he destroyed seven intercontinental ballistic missile motors, saving the United States Navy $6 million in storage and maintenance costs, fulfilled international relations between the United States and Russia, in turn earning him Air Force Materiel Command's nomination for Enlisted Military Assistant to the Secretary of Defense. Additionally, while Schilling was administering a Physical Training Test, he saved another airman's life by being the first to respond to a medical emergency. He partnered with the United States Secret Service during the Presidential Inauguration, where he cleared 112 acres, five vans, and four packages of explosive hazards, ensuring the safety of the President and 800,000 personnel.
SrA. Jon R. Taitano
Client Systems Technician
644th Combat Communications Squadron, Andersen AFB, Guam
Agana Heights, Guam
SrA. Jon Taitano was a combat communicator and client systems technician assigned to the 644th Combat Communications Squadron, 36th Contingency Response Group, 36th Wing at Andersen AFB, Guam. He maintained and troubleshooted classified and unclassified communication systems in direct support of 3,000 deployed users, as well as theater-deployed systems for a broad range of military missions, such as presidential support, contingency operations, agile combat employment (ACE), and humanitarian assistance operations for Pacific Air Force's only combat rated communications squadron. In addition, he assists with maintaining operational readiness within the 36 CRG by certifying personnel in cardiopulmonary resuscitation and self-aid buddy care.