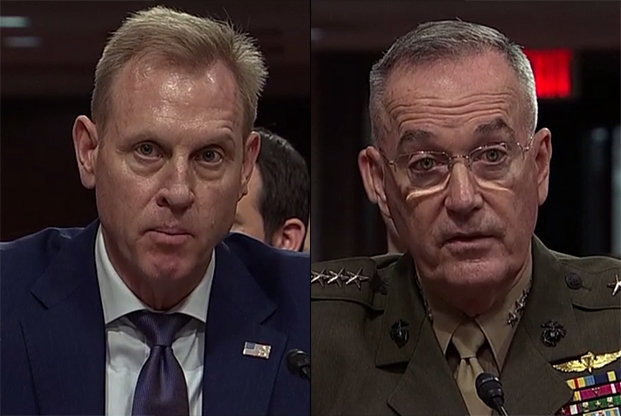 Acting Defense Secretary Patrick Shanahan and Chairman of the Joint Chiefs of Staff Marine Gen. Joseph Dunford testify before the Senate Armed Services Committee on March 14, 2019, in Washington. C-SPAN screenshot.
The scaled-down exercises in South Korea, which replaced massive war games following ongoing discussions between the US and North Korean leaders have not led to a degradation of readiness, Acting Defense Secretary Patrick Shanahan said Thursday.
The US and South Korean militaries have canceled large-scale, multidomain exercises such as Foal Eagle and Key resolve, and instead this month held the much smaller, computer-simulated Dong Maeng exercise. Shanahan said he is meeting with the leaders of the South Korean military to discuss the findings of this exercise, but he believes both countries have been able to maintain the readiness necessary to "Fight Tonight" despite the reduction of exercises.
He told the Senate Armed Services Committee the new structure of exercises on the Korean Peninsula focuses on three goals: Support the ongoing peace process, expand the responsibilities of the South Korean military in terms of operational control, and maintain the combined "foundational readiness."
Chairman of the Joint Chiefs of Staff Gen. Joseph Dunford told the committee the training is now focusing more on proficiency at higher levels of command, with large-scale simulation at the command post level.
At the battalion and squadron level and below, there's been "no changes to training and the ability of our men and women on the peninsula to train in the integration of combined arms."
USF-K has moved away from certifying readiness "based on the conduct of an exercise" to a new, more complex system based on identifying mission-essential tasks that can be tested at a simulated or tabletop exercise, Dunford said.
"From a military perspective right now, I am quite confident in our 2019 training plan and confident that we will deliver the level of readiness that we historically have done, and have accomplished in large-scale exercises," Dunford said.