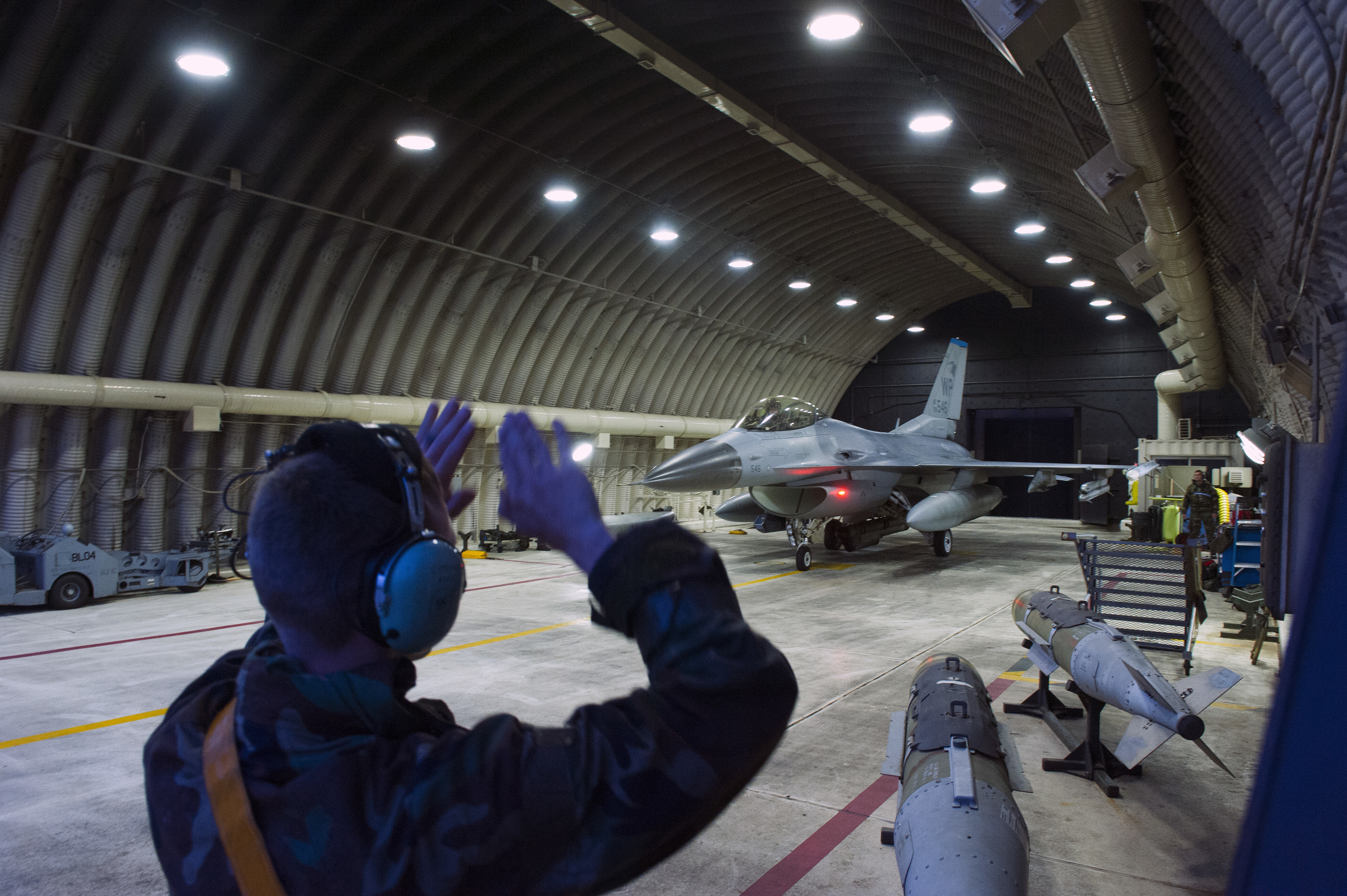 USAF SSgt. Corey Spencer, a crew chief with the 80th Aircraft Maintenance Unit, marshals an F-16 Fighting Falcon from the 35th Fighter Squadron during exercise Beverly Midnight 16-3 at Kunsan AB, South Korea, May 4, 2016. The exercise tested airmen on their ability to survive and operate while under the stress of simulated wartime activities all while ensuring rapid aircraft generation. USAF photo by SSgt. Nick Wilson.
The US will suspend joint exercises with South Korea following President Trump's summit with North Korean leader Kim Jong Un, a move that seemingly took both the Pentagon and Capitol Hill by surprise early Tuesday.
Trump, in a news conference following the summit in Singapore, said the war games are "tremendously expensive" and South Korea contributes, "but not a hundred percent." In these large-scale exercises, such as Ulchi Freedom Guardian, Key Resolve, and Beverly Midnight, Trump said planes fly long distances and "then drop bombs all over the place," at a great expense to to the US, which he added creates a "very provocative situation."
"When I see that, and you have a country right next door, so under the circumstances that we are negotiating a very comprehensive, complete deal, I think it's inappropriate to be having war games," Trump said. "So No. 1, we save money, a lot, and No. 2, it really is something that I think they very much appreciated."
Both the Pentagon and US Forces-Korea, in statements Tuesday morning, said they were awaiting guidance on how to proceed. The South Korean President's Office said it was trying to "figure out President Trump's accurate meaning and intention," according to CNN.
Pentagon spokeswoman Dana White said in a statement that the department supports the ongoing diplomatically led efforts with North Korea.
"Our alliances remain ironclad, and ensure peace and stability in the region," White said. "The presidential summit outcome is the first step along the path to the goal: complete, verifiable, and irreversible denuclearization of the Korean Peninsula and a free and open Indo-Pacific."
In a joint statement following the summit, Trump and Kim stated that both the US and North Korea commit to establish a new relations with the desire for peace and prosperity. The US and North Korea "will join their efforts" to build a stable peace regime, and work toward complete denuclearization of the Korean Peninsula. Lastly, the US and North Korea committed to recovering POW/MIA remains inside the North with immediate repatriation of those already identified.
The statement did not include specific steps for North Korea to take to move toward denuclearization or approval for independent monitoring, however, Trump told reporters Kim was "very firm" about his will to give up nuclear weapons. US sanctions will stay in effect until there is denuclearization, Trump said.
The agreement did not explicitly mention suspending the exercises, though Trump expanded on that following the meeting. Sen. David Perdue (R-Ga.), a member of the Senate Armed Services Committee, told reporters Tuesday morning he was surprised by the announcement. He said it is troubling, but is "not as big a deal as it might appear" because Trump can reverse the pledge, he said. Going forward, the US cannot waiver in its commitment to South Korea, he said.
While Trump mentioned exercises, he did not mention the US presence on the Korean Peninsula. Defense Secretary Jim Mattis said earlier Monday that any reduction of the US presence is not part of the discussion.