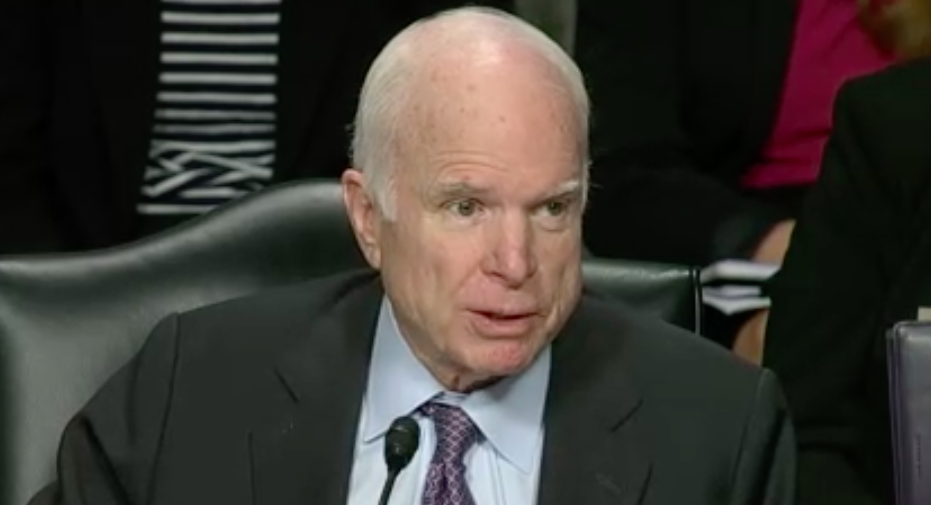 Senate Armed Services Committee chairman John McCain (R-Ariz.) questions Pentagon leaders during a hearing on Oct. 3, 2017. Screenshot photo.
Leaders of the Senate Armed Services Committee criticized top Pentagon officials Monday over their reluctance to share information with Congress about ongoing US wars and clarified senators have been delaying confirmation of Department of Defense nominees over the complaint.
"You've been in office since January," SASC chairman Sen. John McCain (R-Ariz.) told Secretary of Defense Jim Mattis, "and so far we have not seen the details of a conditions-based strategy that will bring about an end to the conflict in Afghanistan."
McCain renewed a line of attack he opened last week, saying "we have had a lack of information to this committee that to me is very disturbing." He insisted SASC members would "not accept a lack of information, a lack of strategy, a lack of coordination with this committee." He also said he found it "bizarre" Mattis and Chairman of the Joint Chiefs of Staff Gen. Joseph Dunford had provided no written testimony "for a hearing of such importance."
He then asked for a show of hands from committee members who feel "they have been fully briefed on what our strategy in Afghanistan and Iraq is." No hands were raised.
McCain sharpened his criticism with a threat, saying "there are several methods—thanks to the Constitution—that we have to try to force a change in that relationship."
Outside the hearing, McCain later told Defense News, "We've been holding nominations … from the Pentagon to fill in those Pentagon jobs," because of the lack of openness on military matters from the Trump administration. Restarting work on the nominations "depends on how much information we get, it depends on a lot of things," McCain added.
In the hearing, McCain showed skepticism that President Donald Trump's new strategy for Afghanistan would succeed. "We have confidence in your leadership," McCain told Mattis and Dunford. "But after 16 years, what should give us confidence that this new strategy for Afghanistan will be different?"
The new strategy includes more troops, a change to the rules of engagement, and an emphasis on conditions-based victory instead of time tables for troop withdrawal. McCain pressed Mattis and Dunford to articulate why this plan was different. "We've had as many as 100,000 troops in Afghanistan at one time or another," said McCain, "and it didn't end the conflict. I'd like for you to tell me how the inclusion of 2,500 is going to change the battlefield equation."
Ranking member Sen. Jack Reed (D-R.I.) shared McCain's doubts. "Some have suggested that we have already been down this path," he said.
The DOD's unwillingness to talk openly about its strategy in Afghanistan was confirmed by Mattis, who told the committee, "the details of the plan should not be open to the public."
The same is true of the exact number of US service members deployed, Mattis said. While he promised to "keep this committee fully informed, as we have, in closed meetings," of the total number of troops in country, he said, "I think the specifics are best shared with you alone."
As for the American public, Mattis said, "we will tell them we are adding the troops, we'll give approximate numbers, we're not hiding this. But I'd rather not say the specific capabilities, or the specific numbers, or the location on the battlefield."
This story was updated October 4 to accurately state the title of Jim Mattis.