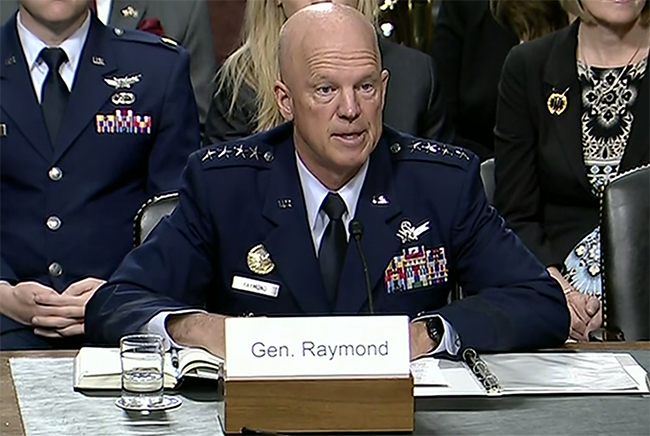 USAF Gen. Jay Raymond, President Donald Trump's nominee to re-establish and lead US Space Command, testifies before the Senate Armed Services Committee in Washington on June 4, 2019. DOD video screenshot.
The United States is still the best there is in space, but its advantage is eroding as American adversaries actively work to counter US space-based capabilities while bolstering their own capabilities, USAF Gen. Jay Raymond told members of the Senate Armed Services Committee on June 4.
President Donald Trump has tapped Raymond to re-establish US Space Command and, if confirmed, he would be dual-hatted for at least the first year as commander of the new combatant command as well as Air Force Space Command.
In written answers to prepared policy questions, Raymond said the US can no longer afford to measure space readiness against a benign, peaceful domain, saying in his current role as commander of AFSPC and head of the Joint Force Space Component Command, which currently falls under US Strategic Command, he has worked to shift "our efforts to measure against a contested warfighting domain." If confirmed, he would continue those efforts as commander of US Space Command.
"It's no longer good enough just to launch a satellite, get it on orbit, and work the integration piece. You have to be able to protect and defend it, and you have to be able to fight it, and that requires a different doctrine that's being developed today. If confirmed, … our command would be working that and continuing to mature that going forward," he said during his nomination hearing.
Raymond highlighted ongoing efforts to create integrated planning elements at US European Command, US Indo-Pacific Command, and US Strategic Command to "better synchronize space planning in geographic combatant commands." He told senators the department is planning to embed a similar element at US Cyber Command, noting that if confirmed he would work closely with Army Gen. Paul Nakasone to ensure vital space assets are protected from cyberattacks.
He emphasized that US Strategic Command, which currently oversee US military space operations, will play a key role as the new combatant command gets established, which he said will be dependent on the confirmation of a commander, "Unified Command Plan designation of USSPACECOM missions and responsibilities," and the assignment of space operations forces to the command.
Initially, Raymond said in prepared answers, he expects a total of 642 personnel to transfer from STRATCOM to SPACECOM to help stand up the command, including "personnel from STRATCOM headquarters staff, the entire Joint Force Space Component Command staff, as well as the manpower authorizations distributed across the five 24/7 space mission operations centers (e.g. missile warning, navigation warfare, space defense, etc.)." However, the Defense Department is conducting manpower assessments, senior leadership reviews, and exercises to determine the overall size, structure, and resourcing requirements of the new combatant command, he wrote.
Initial and full operational capability will be largely conditions-based though certain requirements also must be met. If confirmed, Raymond said he would assess whether the command can "accomplish independent intelligence, indications and warning (I&W), operations, command and control (C2), and campaign planning functions required of a combatant command; and evaluate whether USSPACECOM is postured with the appropriate forces, resources, and authorities" before declaring initial operational capability.
When asked how USSPACECOM will be organized, Raymond said his focus would be on deterring an attack on the US and its allies, defending US/allied interests, delivering "a space-enabled combat edge to the Joint Force," and developing a warfighting mindset within the space community.
Cooperation with allied nations will be more important than ever, he said, noting the department has recently transitioned its space command and control center to a combined space operations center, and US force now sit side-by-side space operators from the Five Eyes partners.
"We're also developing very close relationships with France, Germany, and Japan. We exercise together. We train together. We wargame together. We have taken our professional development courses that we use to develop our warfighters and expanded the allied participation with that. We have international sharing agreements, where we share space situational awareness information with countries around the globe," Raymond said.
"I don't want to claim victory. We've made some significant progress, but to do what this command is going to have to do, if confirmed, I will absolutely commit to this committee that we will work very hard" to strengthen relationships with allies and partners.