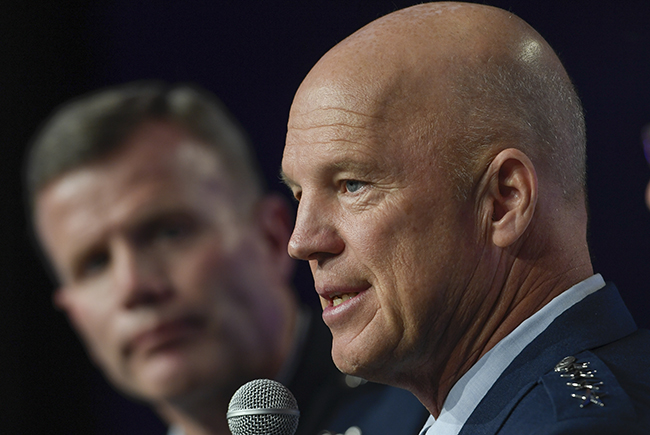 Air Force Space Command chief Gen. Jay Raymond, shown here at AFA's 2018 Air, Space & Cyber Conference, was nominated on March 26, 2019, to be the first leader of US Space Command. Air Force photo by Andy Morataya.
Gen. Jay Raymond was nominated Monday to become the first commander of the new US Space Command, the Air Force has confirmed.
Raymond, who will continue to lead Air Force Space Command as well, is currently the Pentagon's top official dedicated solely to space. Elevating him to lead the new combatant command will give him a broader perspective and authorities as the Defense Department's main uniformed official overseeing daily space operations.
The Senate must approve Raymond's appointment, as lawmakers consider the whole scope of the Defense Department's space enterprise overhaul, which includes a Space Development Agency and a potential Space Force as a separate service under the Department of the Air Force.
While it's unclear when Raymond will take on his additional responsibilities, the Pentagon expects USSPACECOM to begin standing up this year. A service spokesman deferred to the Office of the Secretary of Defense when asked whether the new combatant command will be located alongside AFSPC at Peterson AFB, Colo. A DOD spokesman could not immediately be reached for comment.
The Pentagon's fiscal 2020 budget request published earlier this month asks to allocate $83.8 million to the new command, including about $76 million in transferred funds plus another $8.2 million.
About 620 military and civilian staffers will run USSPACECOM, including around 590 workers who are expected to transfer in from the National Space Defense Center, Joint Force Space Component Command, Joint Navigation Warfare Center, and other groups, according to the DOD comptroller's budget overview. Those organizations will report to USSPACECOM instead of US Strategic Command.