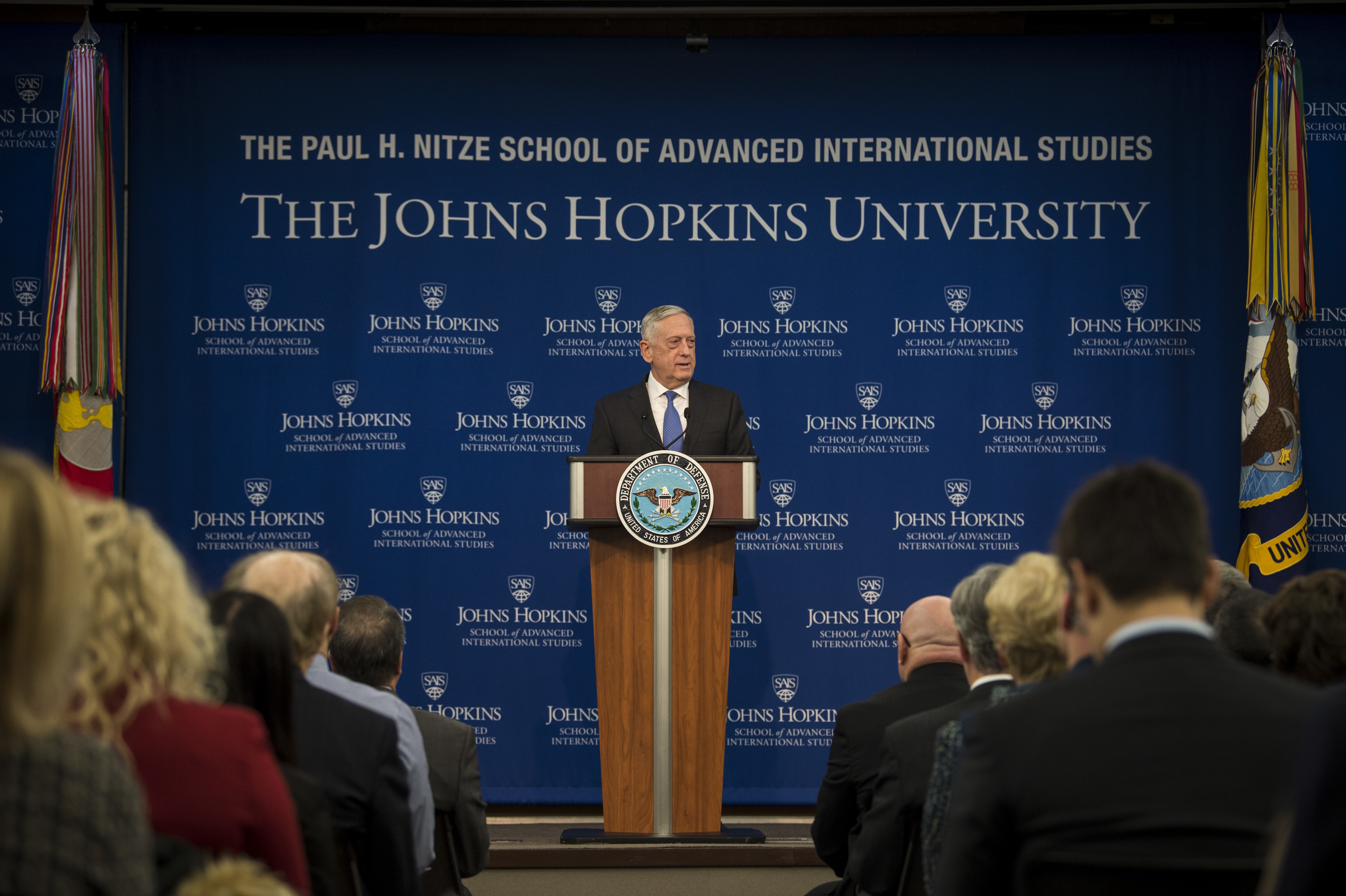 Secretary of Defense Jim Mattis announces the National Defense Strategy at Johns Hopkins University School of Advanced International Studies in Washington, D.C., Jan. 19. DOD photo by Navy Mass Communication Specialist 1st Class Kathryn E. Holm.
The Defense Department can no? longer afford to focus solely on the international fight against terrorism and must begin shifting its focus to the "great power competition" with China and Russia, according to the National Defense Strategy, which was unveiled by Defense Secretary Jim Mattis on Friday.
It is the first such planning document in 10 years that takes a broad look at how the Pentagon must conduct its business and the overall mission of the US military. The strategy replaced the Quadrennial Defense Review and is largely classified, except for the unclassified summary released Friday.
"Today, America's military reclaims an era of strategic purpose, alert to the realities of a changing world and attentive to the need to protect our values and the countries that stand with us," Mattis said Friday at the Johns Hopkins School of Advanced International Studies in Washington, D.C. "America's military protects our way of life and our realm of ideas—not just our geography, and this is the defense strategy that will guide our efforts."
The strategy, which follows the White House's National Security Strategy that was released in December, outlines three major "lines of effort" to be undertaken by the Pentagon. First, the Defense Department must focus on building a more lethal force, especially in the realms of cyberspace, nuclear deterrence, missile defense, autonomous systems, and agile logistics.
"The paradox of war is that an enemy will attack a perceived weakness, so we cannot adopt a single, preclusive form of warfare," Mattis said. "This means the size and composition of our force matters. The nation must field sufficient, capable forces to deter conflict. If deterrence fails, we must win."
This modernization and emphasis on readiness needs to focus on major combat with "revisionist powers" such as China and Russia, and not just the capability to continue a counterinsurgency, Mattis said.
Second, the Pentagon needs to strengthen and expand its partnership with other nations to ensure that allied nations can "pool resources and share responsibility" for a common defense. This includes pressing for allied nations to do more in common conflicts.
"We carried a disproportionate share of the defense burden post-World War II," Mattis said. "The growing economic strength of today's democracies and partners dictates they must now step up and do more."
The government as a whole needs to have a unified approach, with an emphasis on diplomacy, ensuring that potential adversaries are willing to talk before fighting.
"To those who would threaten America's experiment in democracy: If you challenge us, it will be your longest and worst day," Mattis said. "Work with our diplomats, you don't want to fight the Department of Defense."
Lastly, the Pentagon needs to reform its business practices to ensure that it is "gaining the full benefit from every dollar spent," by speeding up acquisition through changing current bureaucratic processes—a change that already has begun, led by Deputy Defense Secretary Patrick Shanahan, Mattis said.
This all relies on more stable funding for the department from Congress, who has done more damage to military readiness than any enemy on the field, Mattis said.
"For too long, we have asked our military to stoically carry a 'success at any cost' attitude, as they work tirelessly to accomplish the mission with inadequate and misaligned resources simply because Congress could not maintain regular order," he said. "Loyalty must be a two-way street."