Chinese aircraft have engaged in many more risky intercepts of U.S. planes over the past two years than was previously publicly known, the Pentagon said Oct. 17.
There have been more than 180 dangerous incidents over the South and East China Seas during that period, according to newly declassified information released by the Pentagon. That is more than the previous decade combined.
The incidents are part of a "centralized and concerted campaign to perform these risky behaviors in order to coerce a change in lawful U.S. operational activity and that of U.S. allies and partners," Ely Ratner, the assistant secretary of defense for Indo-Pacific security affairs, said Oct. 17.
In a January incident, highlighted during the Pentagon briefing, a U.S. plane was flying above the South China Sea when a Chinese fighter jet armed with missiles closed within 30 feet and stayed for around 15 minutes.
That came just one month after a close call—within 20 feet—between a J-11 and an RC-135 over the South China Sea that was made public and led to recriminations on both sides.
In other instances, Chinese fighters came within 10 feet of U.S. aircraft and discharged chaff and flares.
The newly released footage comes as talks between the U.S. and the Chinese military, known as the People's Liberation Army (PLA), are largely stalled at both the uniformed and civilian levels.
While both Ratner and Adm. John C. Aquilino, commander of U.S. Indo-Pacific Command (INDOPACOM), have had isolated conversations with Chinese officials, no substantive dialogue is taking place.
"I've asked to speak with my counterparts, the Eastern and Southern Theater commanders, now going on two and a half years," Aquilino said. "I have yet to have one of those requests accepted."
The newly declassified images come ahead of the annual Congressionally mandated China Military Power Report, which will highlight the rise in incidents, according to U.S. officials.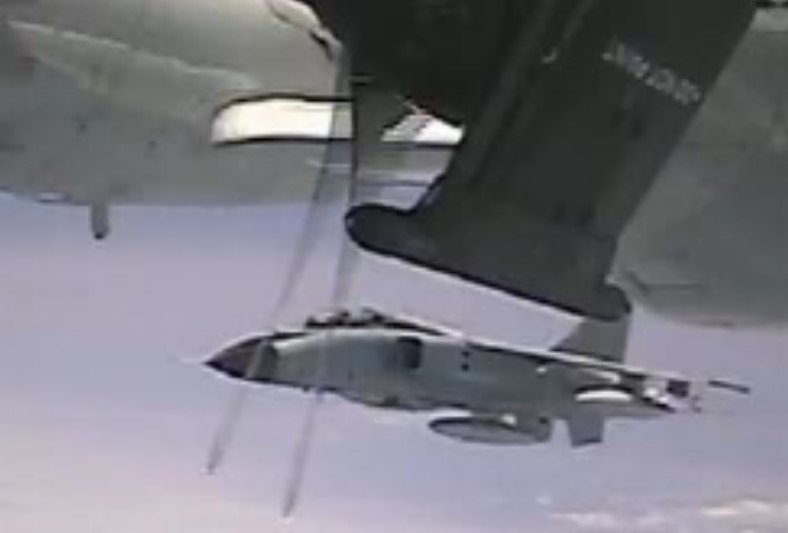 American aircraft are not the only ones being harassed by the Chinese. There have been 300 risky incidents involving the U.S. and its allies and partners since 2021.
The precise metric for determining if a Chinese intercept is risky is classified, but the standard has been consistent over time, the Pentagon says.
Looming in the background is the possibility such encounters could turn deadly, even if China's armed aircraft have no intention of intentionally downing a U.S. plane.
In 2001, a Chinese fighter collided with a U.S. Navy spy plane, forcing the American plane to make an emergency landing in China. The American crew was temporarily detained while the aircraft was eventually returned after it had been dismantled. The Chinese pilot was killed.
"People's lives are at risk," Aquilino said. "One accident is too many. We went through it in 2001."
One of the more egregious episodes occurred in June when Chinese fighter approached within 40 feet of an American surveillance plane and "flashed its weapons," which are visible in a video released by the U.S.
"After the U.S. operator radioed the PLA fighter jet, the PLA pilot responded using explicit language, including an expletive," the Pentagon said.
The U.S. insists it will continue to fly in international airspace. China's territorial claims are expansive, including most of the South China Sea and the airspace above it.
"U.S. planes are operating safely, responsibly, and in accordance with international law," Ratner said. "Indeed, the skill and professionalism of American service members should not be the only thing standing between PLA fighter pilots and a dangerous, even fatal, accident."