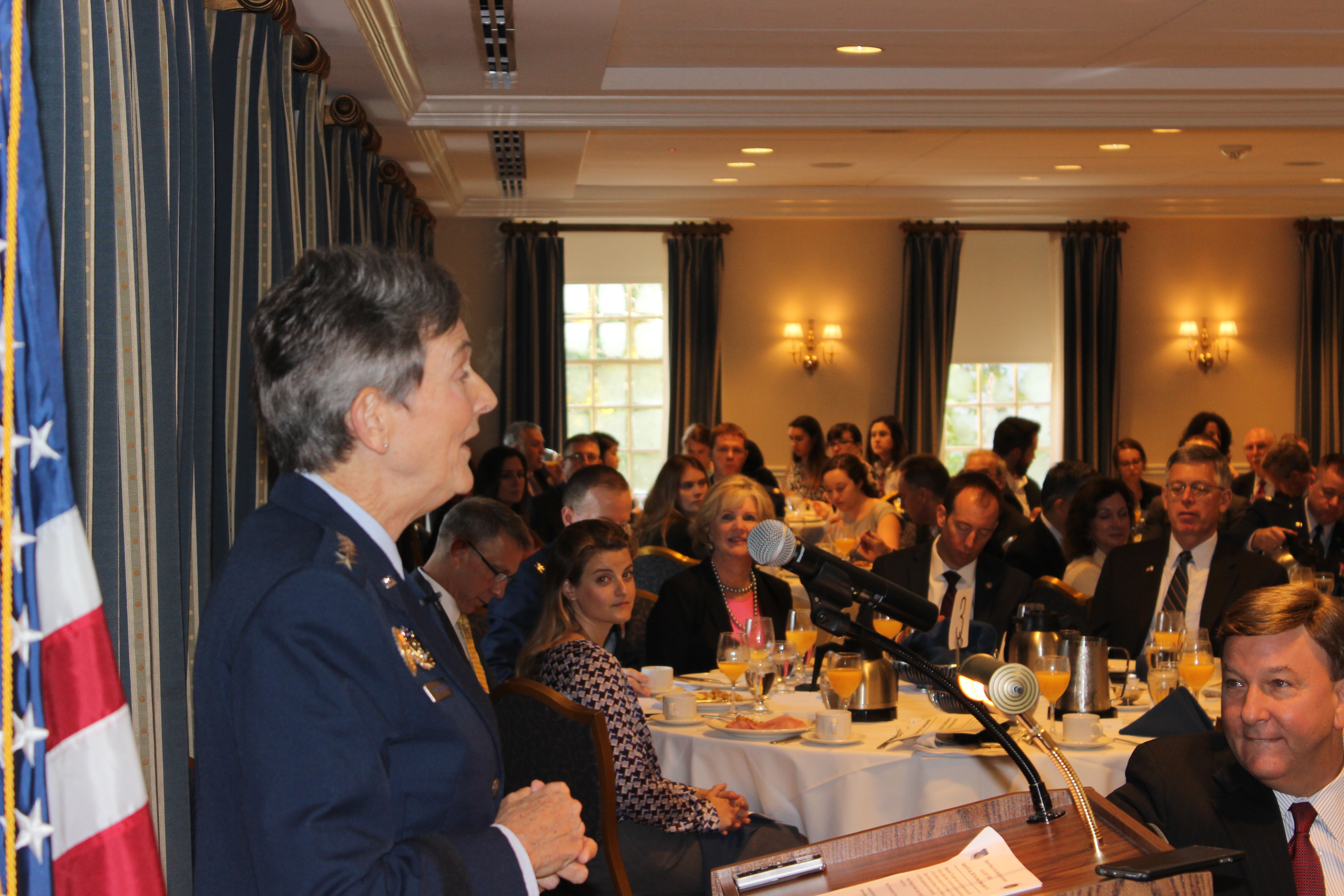 Gen. Ellen Pawlikowski, commander of Air Force Materiel Command, speaks at an AFA Mitchell Institute event in Washington, D.C., on July 14, 2017. Staff photo by Wilson Brissett.
The Air Force is working to change the way it develops new software through several pathfinder programs that are focused on business and logistics systems, Gen. Ellen Pawlikowski, commander of Air Force Materiel Command, said Friday.
These efforts, similar to the one just announced for the Air Operations Center project, will seek to demonstrate the service's ability to abandon traditional Pentagon systems engineering methods and embrace commercial software development processes, known as "agile software development," Pawlikowski told the audience at an AFA Mitchell Institute event in Washington D.C.
Pawlikowski said she began to see the need for change when she led the Space and Missile Systems Center from 2011-2014. At SMC, key software development programs for the next-generation GPS ground-control system (OCX) and the Joint Space Operations Center mission system were plagued by "cost overruns," "delays," and a history of "ineffectiveness," she said.
The problem is a serious one because while "software is at the heart of most of what we do," Pawlikowski said the Air Force continues to prioritize hardware development on major weapons systems—leaving software development as an afterthought. But in the multi-domain command and control (MD2C) warfare of the future, speed of networking and decision-making will be decisive, she said, and a responsive, agile software development process will be indispensible.
But the traditional Pentagon systems engineering process is not setup to produce new and updated software with speed. A typical milestone, like the preliminary design review, "doesn't make very much sense" in the software development process, Pawlikowski said. Also the Pentagon testing regime puts barriers between coders and operators that prevent quick adjustment of software capabilities to on-the-ground needs.
The Air Force's software process is also slowed-down by requiring four-star generals to authorize changes. To get faster, the service needs to push decision-making authority further down the chain of command, Pawlikowski said.
"Empowering two and three stars" and "even a lower level than that" to authorize changes to software systems would help, she said. "We hold on to stuff too long" in the Air Force, creating a situation where operators have to "figure out how to connect a dinosaur to a jet plane." Completely jettisoning old systems faster will make it easier to develop software solutions for the equipment the Air Force is using.
She also called out SMC in particular for maintaining "a zero risk tolerance culture." She recalled her time as commander there, when she "didn't want to be the first SMC commander" to have a National Security Space mission fail. But she said a willingness to take on more risk is crucial to getting the service up to speed on software.
Finally, Pawlikowski said software development is often impeded by confusion over funding streams, with program managers uncertain whether a software upgrade should fall under research and development or operations and management money. This "color of money" problem could be solved, she said, if the Pentagon had specifically designated "software development money."
Organizationally, Pawlikowski said the Air Force is working to develop "software teams" that can integrate into squadrons and bring coders and operators closer together. In some cases, she said the Air Force might even need to develop "software squadrons."
She also suggested that the Pentagon needs to "think about how we define a weapons system" in order to raise the profile of software development in relation to hardware components.
The pathfinder efforts in business and logistics systems will precede more complicated work on software problems like an "operational flight profile," Pawlikowski said, where the risk is greater and mistakes could lead to "losing an airplane."