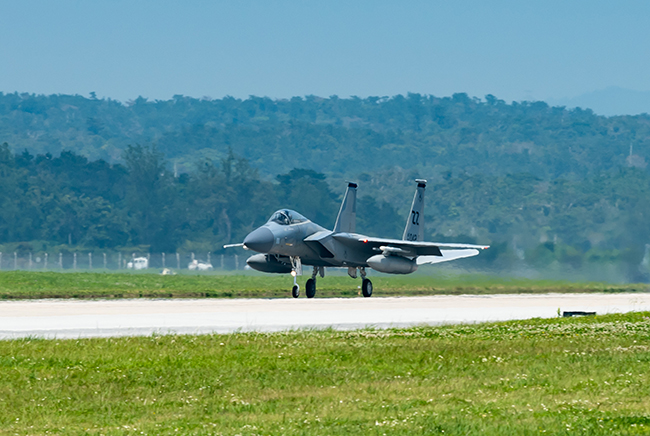 An F-15C, like the one shown here taking off from Kadena AB, Japan, on April 3, 2019, crashed into the Pacific Ocean near the base in June 2018 due to pilot error, Pacific Air Forces announced on Tuesday. Air Force photo by A1C Matthew Seefeldt.
An F-15C pilot's improper maneuvers during a June 2018 training flight near Kadena AB, Japan, caused the Eagle to enter an uncontrollable spin and crash into the sea, according to a Pacific Air Forces accident investigation released Wednesday.
The pilot, who was assigned to the 44th Fighter Squadron at Kadena, sustained serious injuries after ejecting. The aircraft was destroyed at a loss of $42.36 million.
According to a PACAF Accident Investigation Board report, the pilot was conducting basic fighter maneuvers and dogfighting with an F-22 from the 525th Fighter Squadron at JB Elmendorf-Richardson, Alaska, at the time of the crash. During a steep, sharp vertical maneuver, the pilot experienced a significant nose drop and then entered a dive, turning right. This created a harsh G force change, snap roll, and started an inverted spin.
The pilot, whose name has not been released, attempted to eject, but initially failed because G forces had him pinned to the side of the cockpit. After a second attempt, the pilot was able to eject 15 seconds after losing control of the jet. The F-15 was at about 1,100 feet above sea level, well below its minimum ejection altitude of 6,000 feet.
Uncontrolled ejection altitudes are set based on the seat's capability and potential for the ejection to occur in extreme conditions. Because of the low altitude, and the fact the pilot ejected while in a spin, the pilot impacted the sea at a high speed and was injured.
The pilot's survival locator beacon, an AN-URT/44, failed and did not transmit his location. However, the F-22 was able to locate the crash site and transmit the location to Kadena's tower and the pilot was rescued by a Japan Air Self-Defense Force UH-60J helicopter from Naha airport.
The PACAF investigation found the main cause of the crash was the pilot's improper application of forward stick with full right rudder, causing the negative G departure from controlled flight. Contributing factors included spatial disorientation, as well as a lack of emergency procedure training for negative G departures from controlled flight and a limited time to analyze the situation and recover.
Following the incident, Kadena's 18th Operations Group changed its training to give pilots more "decision time" in similar situations in the future.