The Air Force's 12 Outstanding Airmen of the Year for 2022 will be formally recognized at AFA's Air, Space & Cyber Conference from Sept. 19 to 21 in National Harbor, Md. Air & Space Forces Magazine is highlighting one each weekday from now until the conference begins. Today, we honor Senior Airman Monica A. Figueroa Santos, senior nuclear command and control emergency actions controller for the 341st Missile Wing Command Post at Malmstrom Air Force Base, Mont.
Air Force and command post regulations dictate that senior controllers must be NCOs or have a skill level of 7. So when Figueroa Santos was endorsed by the wing commander for a senior controller position at Malmstrom as an A1C, she was being asked to fill responsibilities two ranks above her paygrade. The grounds for such elevated trust: her extreme attention to detail and protocol, no matter the mission.
Those qualifications were recognized during a Nuclear Surety Inspection that occurred while she was still a junior controller. It was only her fifth week post-certification and although she was still green in her field, she was selected for inspection.
"I was really nervous," Figueroa Santos said. "[My staff sergeant] really motivated me and prepped me. Even though I was certified, there was still so much that I didn't know."
During the three-hour higher headquarters scenario and exam, Figueroa Santos noticed an error they had made. She pointed it out to her senior controller and asked them to check the regulations—an "integrity move" that impressed the inspectors.
"Even though I did make mistakes during the inspection, I was able to prove to the inspectors that I know what I'm doing, and I'm not just going to blindly follow my higher-ups," she said. "[One] inspector told me that a lot of times when he does the inspections, the junior controllers are too scared to speak up [and just] go with the flow. [But he] saw me challenging what others were doing. He was very impressed with that—[it was] something that he hasn't seen somebody do before."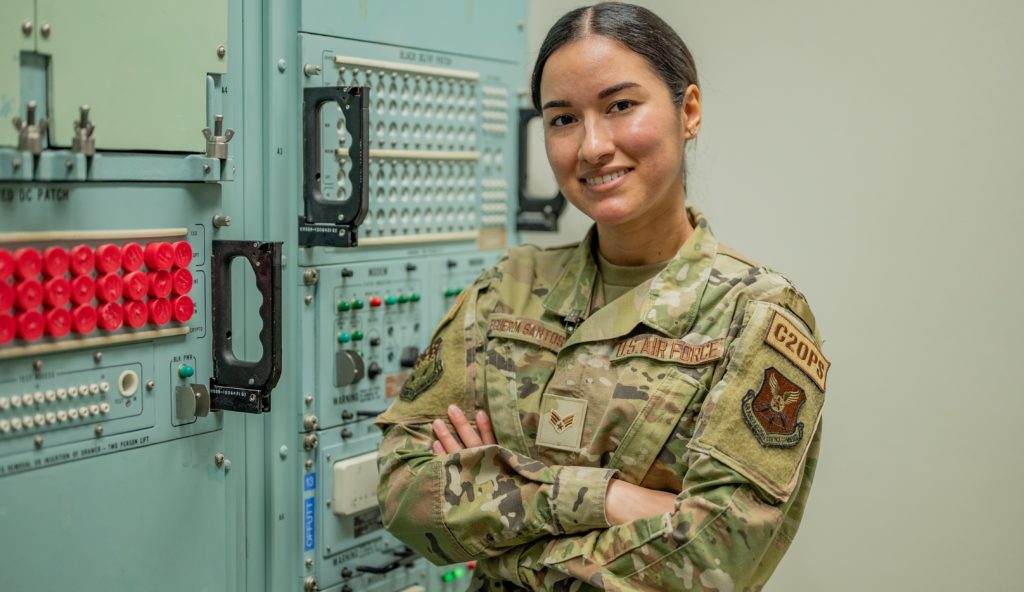 Figueroa Santos' integrity led to the team yielding zero write-ups and her recognition as a Superior Performer by the Air Force Global Strike Command Inspector General. The level of veracity she displayed during the inspection should be the gold standard for Airmen on a mission as sensitive as Malmstrom's.
"We have a nuclear mission. We're not allowed to make mistakes. So you just have to know your stuff," Figueroa Santos said.
After demonstrating her competency during the NSI, Figueroa Santos was endorsed to become a senior controller as an Airman First Class. She continued to play by the rulebook, not the rank-book. Her meticulous adherence to rules helped avert wing mission failure by generating 74 emergency alerts, briefing four organizations, and securing $17.1 billion worth of assets spread across a 13,800-mile area of responsibility.
She also proved her ability to adapt to emergencies without compromising regulations. She led the support of six civilian search-and-rescue missions, one of which saved the lives of two active-duty Airmen who had fallen off a cliff while hiking.
"It's very rare, actually, to have a search-and-rescue [be for] our own people," she said. "It was a great team effort. And I was proud to be a part of that."
While Figueroa Santos' position defies standard rank regulations, her approach to those positions doesn't. Compromising integrity to save face isn't in her nature.
"I get that from my dad," she said, adding that her ROTC training at the University of South Florida helped embed her "perfectionism" even deeper into her actions. She is upholding of the Air Force's standards, and that makes her recognition as an Outstanding Airman of the Year markedly deserved.
"Prior to this, I didn't even know the '12 Outstanding Airmen' was a thing," Figueroa Santos said. "It wasn't something I was shooting for."
"You know, one of the core values in the Air Force is integrity," she added. "You always have to have integrity. You don't ever want to get complacent with what you do. Because when you get complacent, that's when mistakes happen. And it could really cost us a lot."
Meet the other Outstanding Airmen of the Year in 2022 below: