This summer's massive, Pacific-focused Mobility Guardian 23 exercise helped showcase a new way to make air mobility more nimble—and also how the new idea can be improved, the head of the Air Expeditionary Center told Air & Space Forces Magazine.
Air Mobility Teams mobilized for Air Mobility Command's signature exercise provided an extra level of agility for the force, said Maj. Gen. John M. Klein Jr. in an Aug. 4 interview.
"[We're] force packaging and taking a small team of Multi-Capable Airmen, primarily consisting of aircraft maintenance, aerial port services, and when we can, a vehicle maintainer and some command and control expertise," Klein said. "So we're going to force package those into these Air Mobility Teams that are now able to lift and shift and go to where they need to go."
Air Mobility Teams have been used before—a team deployed from Yokota Air Base, Japan, to Kanoya Air Base last year, and other teams participated in Exercise Defender Europe in May 2023. But Mobility Guardian not only demonstrated the promise of the idea, but also the kinks that must still be worked out.
"With the Air Mobility Team concept being so new and nascent, they are not as equipped as they need to be," Klein said. "So we've got to get them organized. We need to standardize their training, particularly for team leads. And then we need to make sure they have the right equipment so that they can remain connected. The concept has really taken off. There is some standardization work to do and some policy work to do so that they have the appropriate guidance, so we put all of them on the same sheet of music in terms of their composition, their authorized equipment, and their skill sets."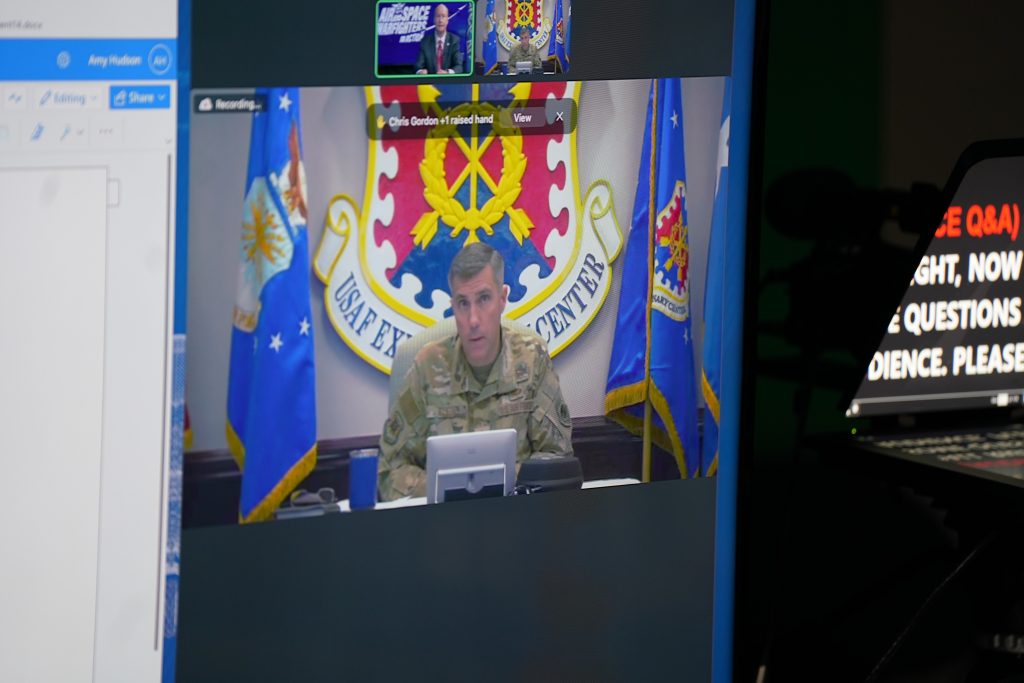 Specifically, Klein highlighted command and control as an area the Air Expeditionary Center is focused on improving based off the lessons learned from Mobility Guardian.
"A lot of our command and control systems are controllers at the air operations centers. They don't fully yet understand the capability that they had," Klein said. "And so [the Air Mobility Teams] were put in situations where they had to work 24 hours, where the team was really only designed to work one aircraft at a time for 12 hours. So they had to stretch themselves out a little bit, in order to keep the mission happening."
Connectivity was another issue. Without tactical, beyond-line-of-sight communications equipment, the teams were sometimes left to scramble to keep up.
"In a few of our instances, the aircraft were just dropping in on them as part of other exercises that were going on in the Pacific," Klein said. "And they did not have advanced awareness that that was what that station's workload was going to be. A couple of instances where they did get a little stretched because they didn't have really the visibility, the awareness, the connectivity they needed to understand what was coming in."
The issue of connectivity runs both ways—air operations centers need to maintain contact to ensure they can put teams in the right places, Klein said.
"These teams are very limited assets, right?" Klein said, noting that AMC's two Air Mobility Operations Wings can muster around 12 AMTs between them. "So what happens if you lose one, they just kind of fall off the network? Now you've lost the capability or the ability to communicate with them and send them to the point of need."
Within the Air Force's operating concept of Agile Combat Employment, leaders have placed an emphasis on "commander's intent"—trusting lower-level Airmen to use their best judgement and act without waiting for explicit orders from commanders who aren't on the ground.
Getting Air Mobility Teams better connectivity through things like satellite communications equipment won't lessen the need for commander's intent, Klein said.
"Having the ability to command and control these teams is not necessarily telling them exactly what to do," Klein said. "It is to maintain awareness of their location and having the ability to put them where we need them. And once they're there, they are empowered to execute commander's intent."
Air Mobility Teams also shouldn't be confused with Contingency Response units, which bring more of their own equipment with them, Klein noted. To that end, prepositioning equipment like fuel, forklifts, and trucks at different places throughout the Indo-Pacific region will give the teams more flexibility in where they can go and what operations they can support.
More broadly, Mobility Guardian was a critical step in the Air Expeditionary Center's effort to refocus its efforts after several decades of supporting operations in the Middle East, Klein said.
"I think the fact that we are getting out into the Indo-Pacific is a good thing," the general said Aug. 3 during an AFA Warfighters in Action webinar. "The vast majority of our force right now is extremely familiar with the CENTCOM area of operations. There's some of us, that's dominated our whole career, so we know that theater like the back of our hand. We need to become as intimate with the Indo-Pacific theater."