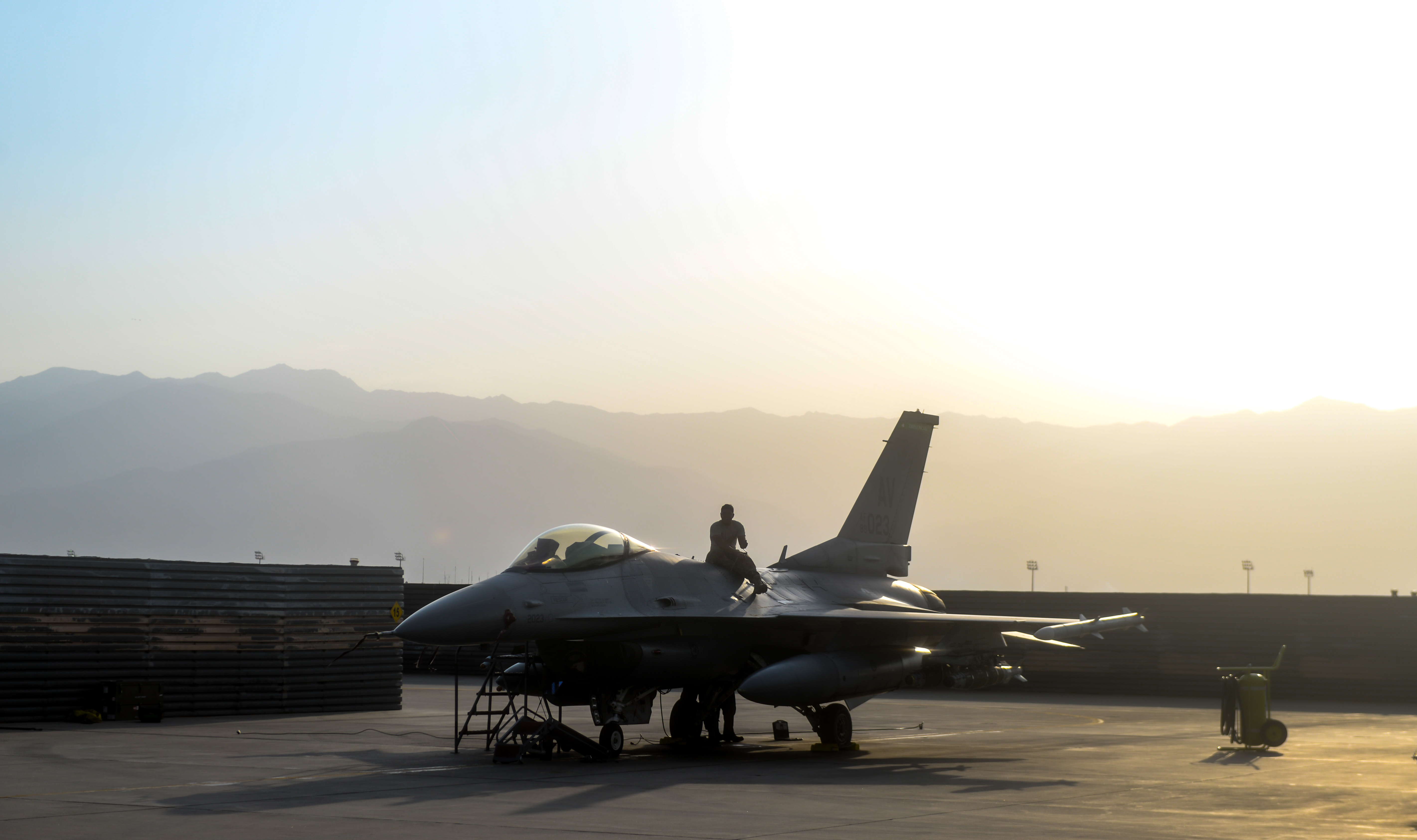 A maintenance airman inspects an F-16 Fighting Falcon in the setting sunlight of Bagram Airfield, Afghanistan, July 14, 2017. Flightline operations at BAF run 24-hours per day to counter terrorist operations in Afghanistan and provide critical, precision support to allied and partner forces working to stabilize the country. Air Force photo by Capt. Keenan Kunst.
Sen. John McCain (R-Ariz.), chairman of the Senate Armed Services Committee, released a new strategy for the US war in Afghanistan on Thursday that calls for the deployment of an unspecified number of additional US troops and acknowledges the need for "an enduring US counterterrorism presence" in that country. The plan also calls for "strictly conditioning" US military and other assistance on "measurable progress" in achieving clearly defined "benchmarks" in Afghanistan.
McCain filed the strategy as an amendment to the 2018 National Defense Authorization Act, which the Senate will take up after the August recess.
The new plan is needed because "America is adrift in Afghanistan," McCain said in a statement, and "nearly seven months into President Trump's administration, we've had no strategy at all" despite the reality that "conditions on the ground have steadily worsened." As a result, McCain is making good on a previous vow to publish his own strategy if Trump failed to do so. He decided that now was the right time because US troops "deserve better from their commander-in chief."
McCain developed the new plan in consultation with "some of our nation's most experienced and respected former military and intelligence officials." The strategy focuses on ensuring that Afghanistan never again becomes "a sanctuary for international terrorists" who want to attack the US.
It proposes to achieve that goal through an "integrated civil-military strategy" that would destroy the ability of terrorist groups to attack the US, prevent the Taliban from overthrowing the government in Kabul, continue to build up Afghan security capacity, facilitate a "negotiated peace process" with the Taliban, and coordinate a regional "diplomatic consensus in support of the long-term stabilization of Afghanistan."
In addition to requiring clear markers of progress toward these goals, McCain calls for "increasing the number of US counterterrorism forces in Afghanistan," though he does not say by how many. He also wants to provide US forces with "status-based targeting authorities" against the Taliban, ISIS, al Qaeda, and the Haqqani network. Army Gen. Raymond Thomas, commander of US Special Operations Command, mentioned both possibilities in testimony before SASC in May.
McCain also says the US needs to push current training and advisory teams down to the battalion level of Afghan army units, a move Army Gen. John Nicholson, commander of US Forces-Afghanistan, suggested to SASC in February. In the long-term, McCain said, the US must also provide sustained support for Afghan security forces, including "intelligence, logistics, special forces, airlift, and close air support."
McCain's strategy also calls for increased pressure on Pakistan to end its support for the Taliban and the Haqqani network, as well as greater diplomatic efforts within the region to "promote Afghan political reconciliation" and resolve issues over border security, intelligence sharing, and counternarcotics.
The US will also need to maintain a military presence in Afghanistan for the foreseeable future, according to McCain's plan. That reality reflects another comment Nicholson made before SASC in February, when he said that the US will need an "enduring counterterrorism operation" to support US national security goals in Afghanistan in the long-term.