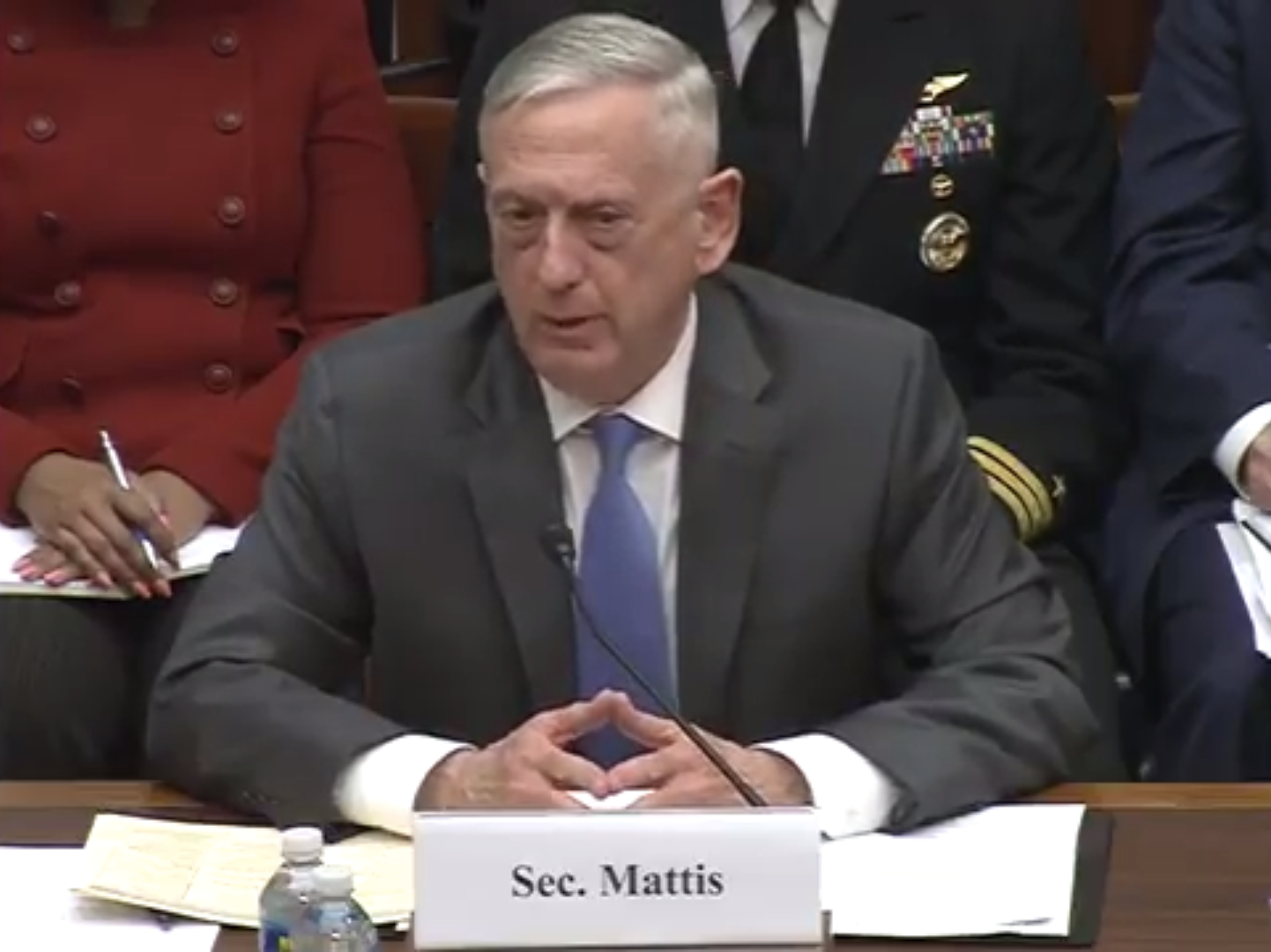 Defense Secretary Jim Mattis testifies Thursday at a House Armed Services Committee hearing. Screenshot photo
The military can't increase its capability simply by repairing old equipment. It needs new aircraft and ships, Defense Secretary Jim Mattis said Thursday.
Lack of funding and experienced maintainers, coupled with a dearth of spare parts, has prevented the Defense Department from keeping its aircraft available and healthy, Mattis told the House Armed Services Committee. Going forward with an increased budget, the Pentagon needs to update its fleet with new aircraft to get out of this readiness hole.
"Right now we cannot repair ourselves out of the situation that we're in," Mattis said. "We're actually going to have to buy, in some cases, the capabilities that we have worn out and had to set aside."
Specifically, Mattis mentioned increasing the rate of production for F-35s and the Air Force's light attack experiment. The latter is an important effort "looking for affordability" by having a new, relatively cheap aircraft available to conduct counter terrorism operations.
"We need to look at it as a way to deliver readiness and combat capability on an affordable basis," he said.
The recently signed omnibus deal includes $654.6 billion for the Pentagon, including $10.2 billion for F-35s. The Air Force will receive 10 more than it initially requested, for a total of 56, along with 18 total KC-46s.
The administration's Fiscal 2019 budget request includes plans for 48 F-35As for the Air Force, along with 15 KC-46s, 10 Combat Rescue Helicopters, six MC-130Js, and one HC-130J.
The shortage of ready aircraft is hitting the Air Force, because now you have majors who are being promoted with less flying hour experience than what is typically seen in captain and lieutenant ranks. The military in recent years has not been funded to a level where it can fly enough. After the budget deal, however, Mattis said the Pentagon will "come out form underneath this and put our readiness back where you expect it to be when you put out billions of taxpayer dollars."
The comments come as the Air Force has begun a study to look at an increase in lower-level mishaps. Service "safety professionals" are "digging into" an increase in Class C mishaps to find any trends, Air Force Vice Chief of Staff Gen. Seve Wilson said Monday.