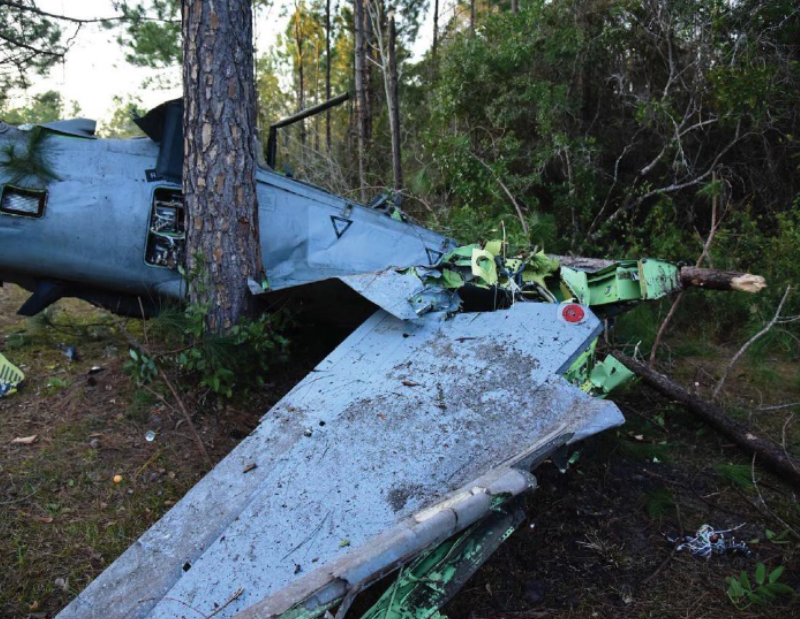 The number of Class A mishaps, like this March 2017 A-29 crash near Moody AFB, Ga., are declining, but the number of less serious "Class C" mishaps are on the rise, according to Air Force officials. Photo from USAF accident investigation board report.
The Air Force is looking at the rates of lower-level accidents to see if there has been a discernible trend, Air Force Vice Chief of Staff Gen. Stephen Wilson told a Washington audience Monday.
In addition, he said, the service is looking at ways to improve Air Force readiness.
Wilson made the remarks during the Future of War conference, sponsored by the think tank New America and Arizona State University. They come following a series of aviation accidents including last week's death of Thunderbird pilot Maj. Stephen Del Bagno and and the March Pave Hawk crash in Iraq, which killed all seven airmen on board. The Pentagon last week pushed back against the notion that recent military aircraft crashes signify a trend.
In his comments Monday, Wilson said the more serious "Class A" mishaps have actually declined over the last several years, while "Class C" incidents are on the rise, though he noted the number of mishaps in general are "still of concern to all of us."
According to a May 2017 Air Force directive, Class A mishaps involve property damage of $2 million or more, an injury or occupational illness resulting in a fatality or permanent total disability, or destruction of an Air Force aircraft. Class C mishaps involve damage of $50,000 to $500,000 and less-severe injuries.
"So, we've got our safety professionals digging into it, seeing if there's any noticeable trends that we have in our Class C mishap rates," he said.
Meanwhile, he said, the Air Force is "intensely focused on improving readiness."
He says leaders have assembled a team of about 50 people to look "through the lens of what can we do to drive the readiness of the Air Force faster."
"We think we can do it faster, we're looking at how do we target specific squadrons with the right people, with the right experience mix, with the right flight hours and infrastructure," he said.
For more on the Air Force's readiness challenges read "USAF Has Too Many Missions, Not Enough Airmen" and "The Readiness Conundrum."