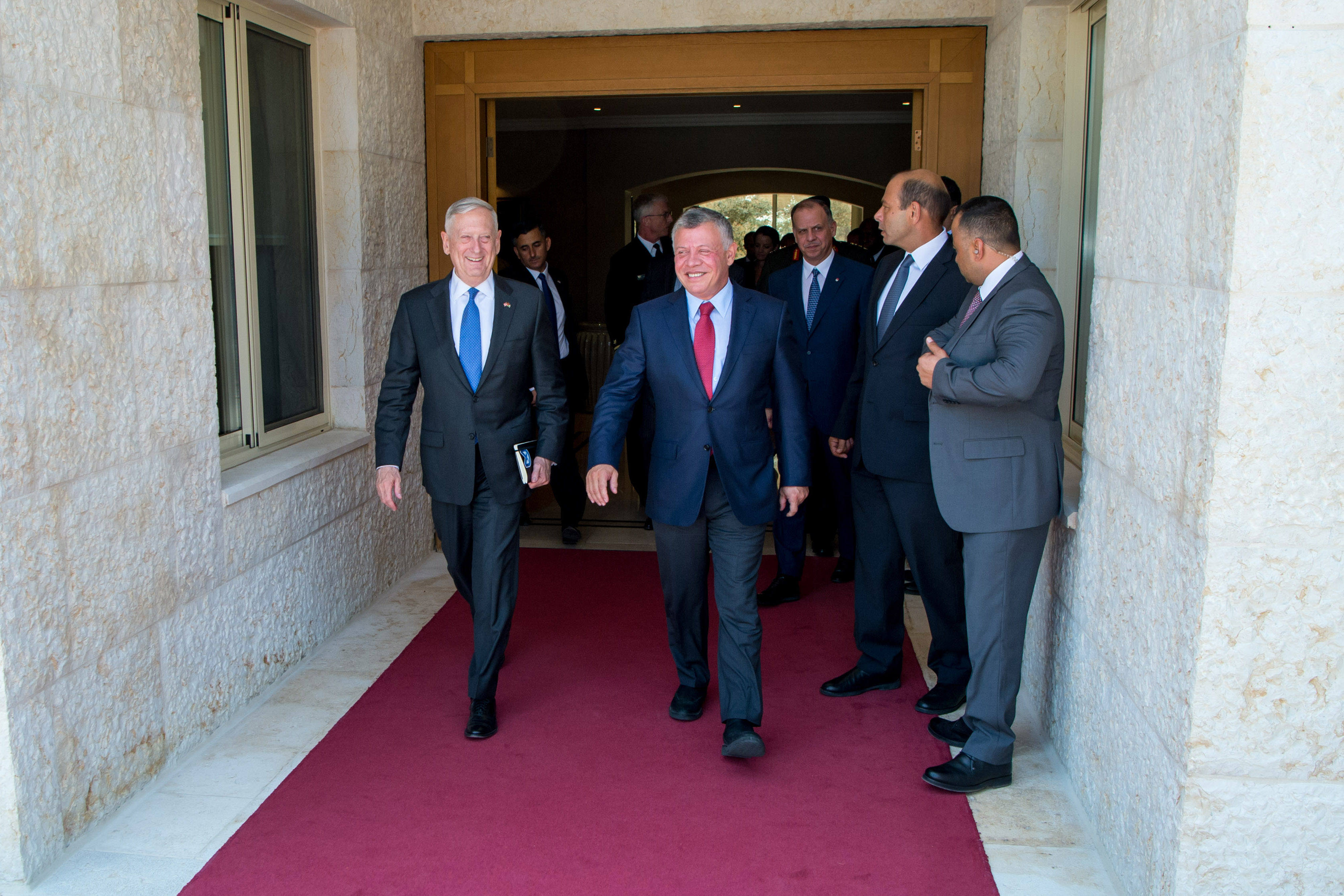 Defense Secretary James Mattis meets with King Abdullah II of Jordan in Amman, Jordan, on Aug. 21. Mattis, who is currently on a visit to multiple Middle East nations, said Tuesday he is still developing the Pentagon's plan for Afghanistan. Defense Department photo by SSgt. Jette Carr
The Pentagon is still evaluating the possible troop increase in Afghanistan even after President Trump announced his strategy toward America's longest war.
Defense Secretary James Mattis, speaking with reporters on Tuesday in Baghdad, said he has directed Chairman of the Joint Chiefs of Staff Gen. Joseph Dunford to put together a military plan based on the president's overall strategy toward Afghanistan and South Asia, and that "when he brings that to me, I'll determine how many more [troops] we need to send in," Mattis said.
Earlier this summer, Mattis received authority from the White House to set troop levels in Afghanistan reportedly as long as that number is below 4,000.
Trump, during his primetime speech on Monday, said his approach will avoid public pronouncements on troop levels and avoid any timetables for withdrawal in the future.
The US strategy will focus on "enduring victory" and conditions on the ground will drive future decisions, he said.
US Army Gen. John Nicholson, commander of US Forces-Afghanistan, said in a statement that this strategy means "the Taliban cannot win militarily. Afghan
President Ashraf Ghani, in a statement, welcomed Trump's speech and said the renewed emphasis on security in Afghanistan is welcomed. "The strength of our security forces should show the Taliban and others that they cannot win a military victory," Ghani said. "The objective of peace is paramount. Peace remains our priority."
Air Force Magazine recently visited USAF personnel working in Afghanistan. Read our coverage from that trip: The Small Cessna That Carries the Afghan Air Force; Afghanistan's Close Air Support Workhorse is Growing, But More Progress is Needed; and US Airmen Train Afghans to Defend their Bases.