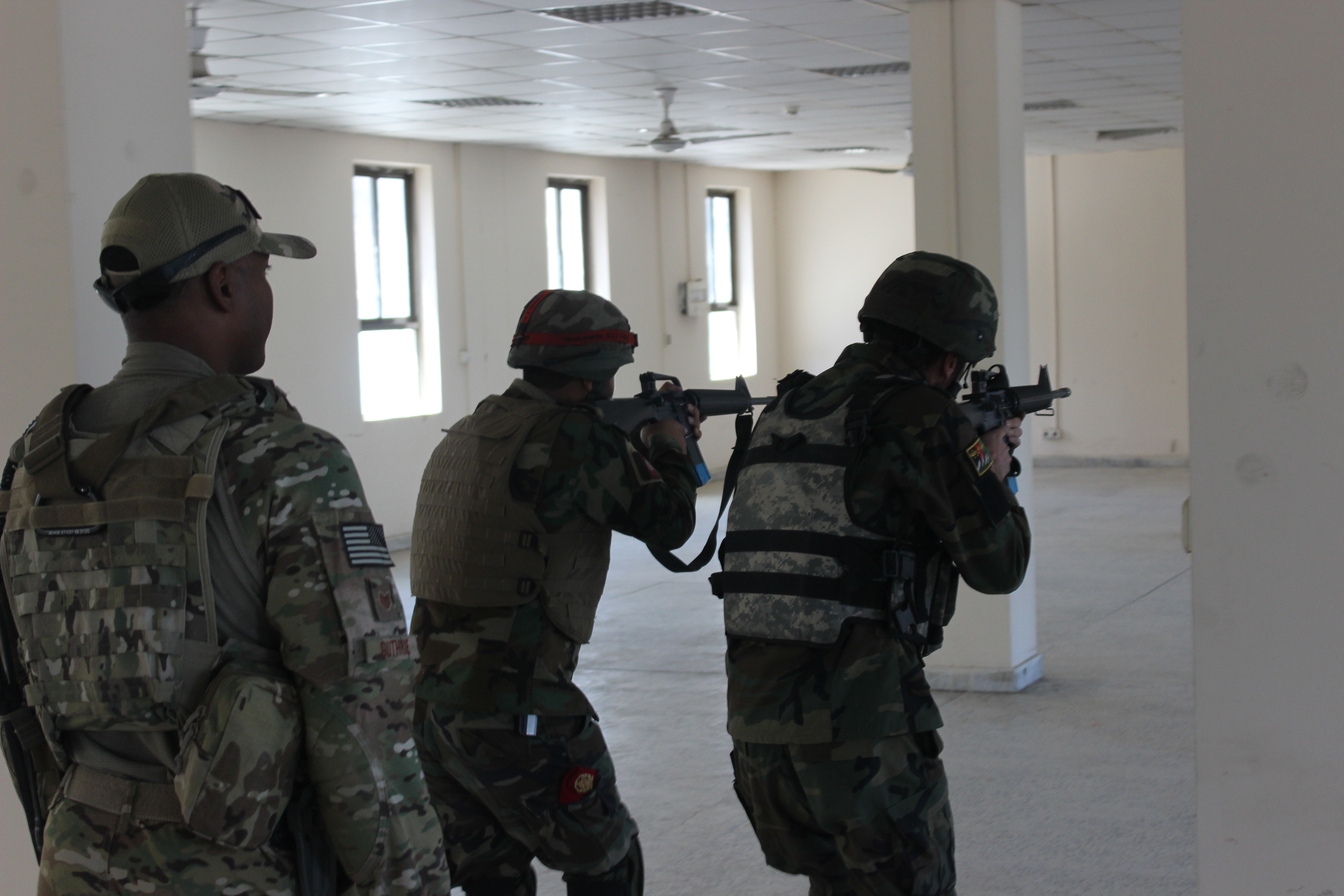 USAF advisers walk Afghan National Army soldiers through an exercise to prepare them to respond to an active shooter threat as part of the train, advise, and assist mission at Hamid Karzai International Airport in Kabul. Staff photo by Brian Everstine.
KABUL—The US Air Force Security Forces and the Afghan National Army battalion they advise in Kabul have a slogan in Pashto, "shanah ba shanah"—shoulder by shoulder.
The phrase is meant to signify how the Americans work with the Afghans they advice, by working daily on training exercises and walking through them side by side. The advisers and ANA soldiers constantly repeat it, both as a way to break a silence due to language difficulties, and a way to ensure they are on the same page in exercises.
On a recent afternoon at Hamid Karzai International Airport, this slogan was on display as six ANA soldiers and their commanders walked alongside USAF security forces airmen showing how they have trained to track and take out an active shooter threat.
Two ANA soldiers moved in fire teams through an abandoned barracks building as USAF TSgt. James Guthrie, a security forces adviser with the 438th Air Expeditionary Wing Train Advise Assist Command–Air walked behind, providing some tips but mostly assessing the progress made by the soldiers in the 10-day program.
"Some of them have been playing this game for quite some time," said Capt. Dayne Foote, the chief of security forces and lead security forces adviser with the 438th AEW. "They really are very, very good."
This 10-day inside threat program includes about four hours of training and exercises every day, and by the last day some of the more experienced Afghans have been helping to train some of the others. On a recent afternoon—the first day of the Muslim holy month of Ramadan, the team of Afghan soldiers seemed tired due to fasting, but nonetheless quickly removed the simulated threats from the building.
The kandak—Pashto for a battalion—at this Kabul base includes about 450 soldiers, non-commissioned officers, and officers tasked with protecting the Afghan Air Force wing attached to the airport. The small group of USAF security forces personnel work daily to advise the Afghans on air base protection, along with tasks such as quick reaction force response and active shooter threats.
While the USAF advisers are experts at air base defense, some Afghan personnel are teaching the airmen lessons in return. For example, the kandak commander, an Afghan colonel whose service stretches back to when the Russian military was in Afghanistan, gives USAF personnel a different outlook on how to operate in the country, Foote said.
"What works with us is not always going to work with Afghanistan," Foote said. "They are two very different countries, two very different cultures. We want to make sure what we do is sustainable for them."