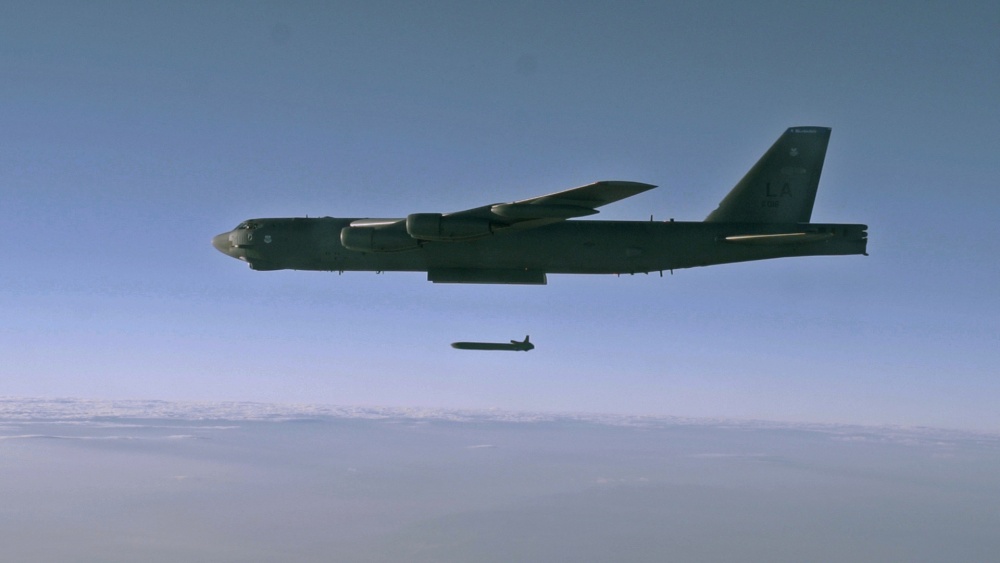 An unarmed AGM-86B Air-Launched Cruise Missile is released from a B-52H Stratofortress over the Utah Test and Training Range during a Nuclear Weapons System Evaluation Program sortie on Sept. 22, 2014. Air Force photo by Staff Sgt. Roidan Carlson
Lockheed Martin and Raytheon on Wednesday were each awarded technology maturation and risk reduction contracts for the Long Range Standoff weapon (LRSO), the Air Force's program to replace the air-launched component of the nation's nuclear triad. Each company was awarded $900 million and was given 54 months to "mature design concepts and prove developmental technologies," according to an Air Force Nuclear Weapons Center press release.
The current AGM-86B Air Launched Cruise Missile, which was manufactured by Boeing, became operational in the 1980s with an expected shelf life of ten years. Air Force leadership has argued strongly for the necessity of replacing the aging ALCM, but some within the Pentagon—including Secretary of Defense Jim Mattis—have expressed uncertainty about the missile's strategic deterrent value.
Wednesday's contract announcement makes it clear the air-launched modernization effort will move forward. "Deterrence works if our adversaries know that we can hold at risk things they value," Secretary of the Air Force Heather Wilson said in the release. "This weapon will enhance our ability to do so, and we must modernize it cost-effectively."
AFNWC said the Air Force plans to begin fielding LRSO in the late 2020s, and the new missile will be deployable with the service's B-21 bomber when it comes online in the 2030s. In the meantime, LRSO will provide a crucial upgrade for the B-52 and B-2 bombers by enabling air-launched nuclear capabilities in contested environments, Gen. Paul Selva, vice chairman of the Joint Chiefs of Staff, explained to Congress in March.
The Air Force will choose a single contractor for LRSO at the engineering, manufacturing, and development milestone, expected in 2022.
"Continued competition will help ensure the bomber leg of the nuclear triad is cost-effectively modernized with a survivable, reliable, and credible standoff capability," said Maj. Gen. Scott Jansson, commander of the AFNWC, in the release.