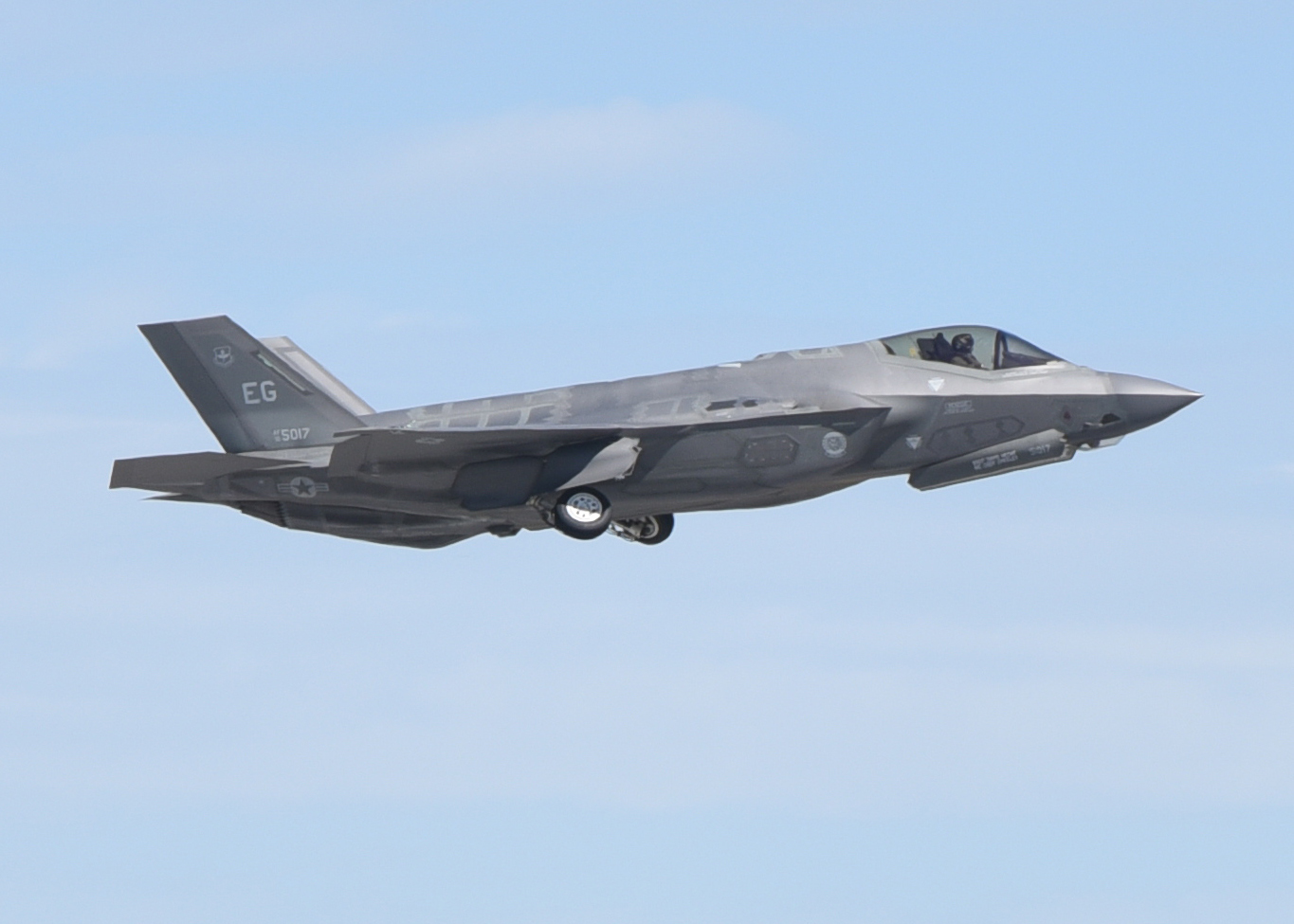 An F-35A Lightning II assigned to the 33rd Fighter Wing flies over Eglin Air Force Base, Fla. Feb. 27, 2018. USAF photo by A1C Emily Smallwood.
Lockheed Martin on Monday received a $1.4 billion cost-plus-incentive fee contract for F-35 logistics, including ground maintenance, depot activation, and maintenance of the jet's Autonomic Logistics Information System.
It includes $598 million for the Air Force, along with work for the Marine Corps, Navy, and international partners, according to a Pentagon announcement.
The contract, which covers work through April 2019, comes as Pentagon and F-35 program officials have repeatedly lamented the growing costs of F-35 sustainment. F-35 program executive Vice Adm. Mat Winter said in March the JPO is conducting a "deep dive" to understand Lockheed's production costs. As the program grows, sustainment could become unaffordable, he said.
The Air Force's new acquisition chief, Will Roper, told reporters last week the F-35 represents a larger sustainment challenge the Defense Department faces. As the service works to bring down overall sustainment costs, he said, it must shift to a model of predictive maintenance, rather than reactive.
"But it's difficult to do that if the government can't have an active role in sustainment," which is where the ongoing debate with industry over intellectual property rights comes in to play. Ideally, Roper said, he'd like to see USAF "own the architecture and the interfaces" so systems can continually be replaced and upgraded. "If we could do that, we would never replace something with the old variant," he said. Industry has repeatedly pushed back on the idea, and Roper acknowledged DOD has not yet found the right incentives to make such a deal work.
"With the F-35, we have been very focused on production costs, but sustainment is where I still worry," said Roper. "Production costs we pay one time, and we should get it down as low as possible, but sustainment is something we inherit for a generation."