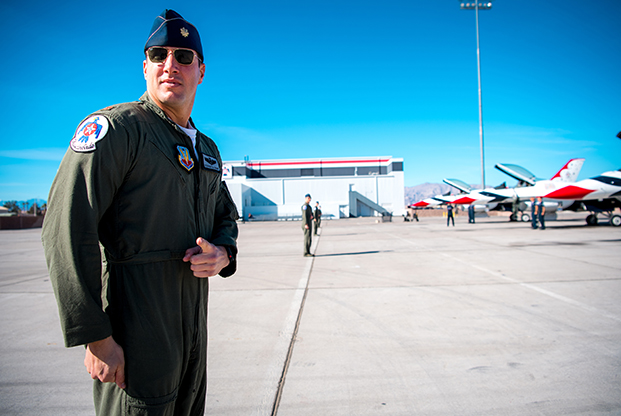 Maj. Stephen Del Bagno, the Air Force Thunderbirds No. 4 pilot and a former F-35 evaluator, was killed in the April 4 crash. Air Force photo by MSgt. Christopher Boitz.
Air Force Thunderbirds No. 4 pilot Maj. Stephen Del Bagno experienced G-induced loss of consciousness during a training flight April 4, causing him to crash his F-16CM into the Nevada desert.
At the time of the mishap, Del Bagno, an experienced pilot with more than 3,500 hours in many aircraft, including as an evaluator in the F-35, was flying in a six-man formation known as the "High Bomb Burst Rejoin," which required him to fly inverted for about 22 seconds, according to an Air Force Accident Investigation Board report released Tuesday.
While flying inverted, he began a descending half-loop maneuver called a Split-S, eventually reaching more than 8.56 G's. During the maneuver, he became incapacitated after five seconds in the Split S. The F-16 rapidly descended, and investigators found no deliberate input on the flight controls until about 1 second before impact. The jet crashed at 57 degrees nose low, with 89 degrees left bank as it impacted the desert surface. Del Bagno was killed on impact, with no ejection attempt, according to the report.
The investigation found the cause of the crash was the G-induced loss of consciousness. However, the pilot's tolerance to positive Gs also was diminished because of the exposure to negative G's, and there was an associated decrease in the effectiveness of the anti-G straining maneuver—a physical movement practiced by pilots to resist the impact of sustained G forces—under those conditions, according to the investigation.
Following the crash, the Thunderbirds canceled performances and did not fly for approximately two weeks. The team resumed public performances on May 19. The incident was a part of a series of fatal USAF crashes that prompted a force-wide stand down and operational safety review beginning in May.