Across the Department of Defense, agencies and branches are exploring artificial intelligence tools and all their potential uses, from empowering unmanned systems to catalyzing quicker and better decision-making on the battlefield.
The Department of the Air Force is no exception—just last month, DAF released a comprehensive call to industry highlighting eight areas related to command and control where AI could transform the department's processes and efforts. The "broad agency announcement" described AI as a transformative force, one that could reshape the strategic, operational, and tactical landscape.
Amid all this change and development, military leaders and industry experts convened Sept. 12 at the AFA's Air, Space & Cyber Conference to discuss possible paths forward and potential pitfalls.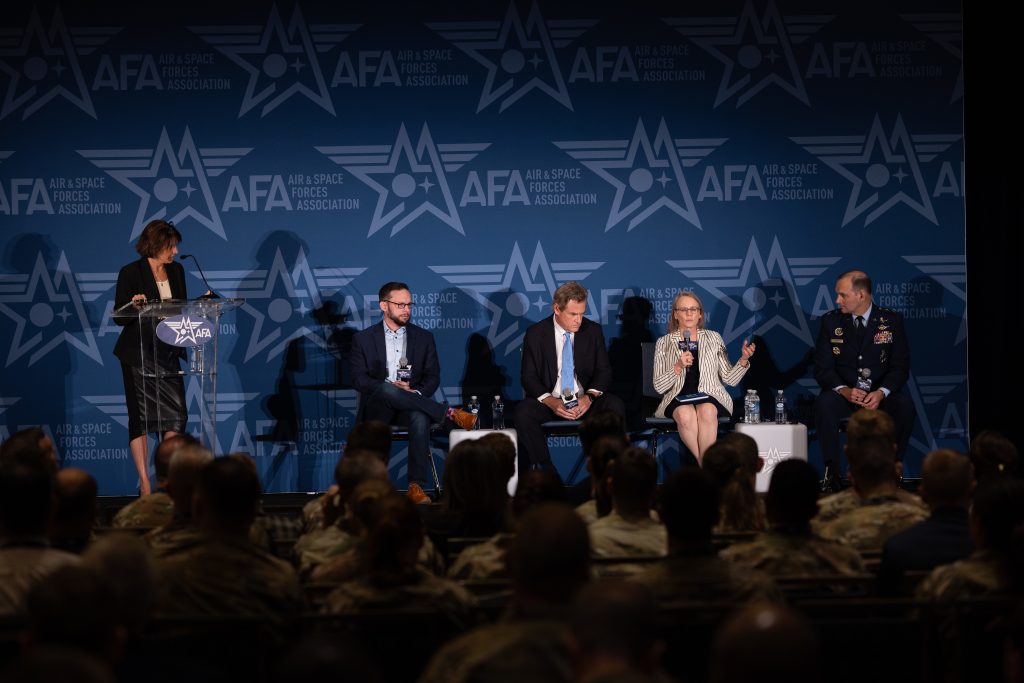 A prominent example of AI integration within the Air Force is the Advanced Battle Management System (ABMS), the department's contribution to the Joint All Domain Command-and-Control (JADC2) network connecting sensors and shooters around the globe.
Maj. Gen. John M. Olson, Space Force lead for JADC2 and ABMS, highlighted three Rs as key for successfully using AI and Machine Learning in that context: Responsible, Robust, and Resilient. He also underscored DAF's aspiration to establish a competitive lead in AI by 2027, a strategic endeavor designed to outpace China's ambition to become the global AI leader by 2030.
When it comes to the 'Three Rs,' however, Sean Moriarty, CEO of Primer.ai, said AI's transformative potential can bring radical change—and with it, an urgent need to familiarize Airmen and Guardians with the technology as rapidly as possible.
"If we don't start the training and usage as soon as possible, five years from now we'll be discussing the same things as we discuss today," Moriarty said. "Five years from now should be a step change. Let's get them in our Soldiers' hands as soon as possible so they can provide feedback."
It's not just about improving the AI: Moriarty also stressed the pivotal role of education and understanding to build trust and use of AI technology by Airmen and Guardians.
In addition to JADC2, the Air Force is also using AI for autonomous drones, precision navigation, and manned-unmanned teaming. Olson said these initiatives seamlessly align with the principles of the Responsible, Robust, and Resilient AI. The department's ongoing development facilitates collaboration between personnel and machines, equipping personnel with more accurate information to enhance the decision-making process.
"It's essential to work collaboratively, and we think this is a team sport driving to deliver those outcomes at a very rapid pace, making sure that we are responsible, robust, and resilient all throughout the journey," said Olson.
Those comments echo what Pentagon AI Chief Craig Martell noted in an interview with CNN a month ago regarding AI-based technology used in the military. He reiterated longstanding Pentagon policy to ensure AI technology would always be wielded under the guidance of human oversight, and that the DOD "does not imagine a world where machines are making decisions on their own."
In March, the DAF identified 50 programs as the cornerstone of its contribution to JADC2 under the "DAF Battle Network." This program encompasses various offices and agencies across the department, and its continued development of ABMS is what Dr. Lynne Graves, Chief of the AI Division and DAF Chief Digital and AI Office, said what she is looking mostly forward to.
"I've been around for a while, and I watched the ABMS morph into the DAF Battle Network. I'm excited that it's going down this path, and hopefully (it will) provide us with a template that we can keep leveraging ever and ever again to speed up to get emerging technologies to the warfighter faster," said Dr. Graves.
Dr. Graves added that by getting government and industry to both buy into the framework of the DAF Battle Network, the department will be able to build trust in AI based on warfighters' experience and feedback. Establishing this trust will pave the way for the revolutionary advantages the technology can provide.
Ian Eishen, a former Airman and now director of global public sector for Aalyria Technologies, endorsed Dr. Graves' perspective by emphasizing the importance of collaboration. As the platform gets bigger and information and data for AI to process exponentially grow, building a safe collaborative network between the military, commercial, government, and allies is critical.
"Collaboration between the military, government, commercial and our nation's allies; Building everything in a collaborative environment and multiple propriety solutions that can come together to support one DAF Battle Network, and the network that can change and update based on the needs, is the biggest thing now," Eishen said.