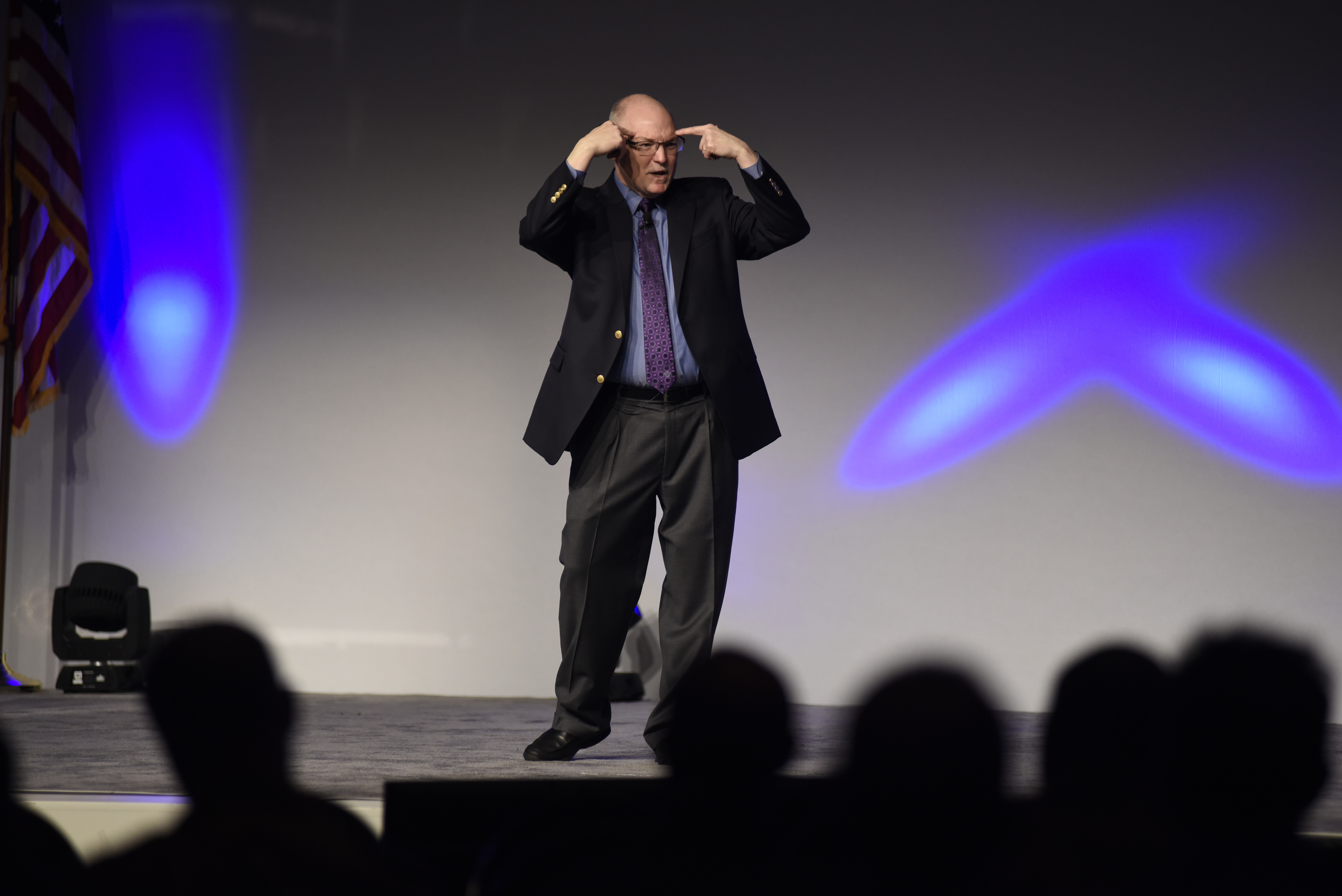 Jeff DeGraff, clinical professor of business administration, University of Michigan, was the keynote speaker at the Air Force Association's Air Warfare Symposium on Feb. 23, 2018, in Orlando, Fla. Air Force Magazine photo by Mike Tsukamoto.
Innovation doesn't have to be about starting something new. It could actually be about stopping something old.
"Over time an innovation becomes the anti-innovation," said Jeff DeGraff, a professor at the University of Michigan.
Air Force Secretary Heather Wilson said the service came to a similar conclusion recently when it decided not to recapitalize the JSTARS aircraft and instead move forward with an integrated battle management system it says will be more survivable against a peer threat like Russia or China.
DeGraff said there are two questions that must be asked when looking for new innovations. How much? How fast? "Most people want radical innovation so they implement a process" which "eliminates deviance" and at best will lead only to incremental innovati?on. "The devil you know is always better than devil you don't. If you want more radical innovation, you have to hire differently. You have to change the gene pool," said DeGraff.
Innovation needs diversity to thrive. He urged airmen to surround themselves by people who think differently than they do and to then engage them. He cautioned the Air Force that the "death knell of an organization is at the very moment they are doing well." Because the higher an airman's rank, the more "advanced" and "more optimized" their lives become, further eliminating deviance as well as the culture and effectiveness necessary for radical change.
He told the airmen it's just not possible to know what the future holds. He urged the Air Force to "make smaller, wider be?ts" and to stop choosing big acquisition programs that take too long to push increased capabilities to the warfighter.
?"Go faster. Start hiring weirdos. Build on the capability you have. Start from the outside in," and listen to people who think differently, said DeGraff.