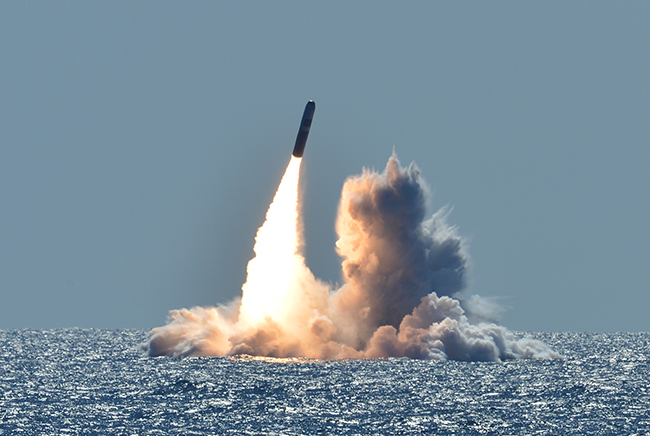 An unarmed Trident II D5 missile launches from the Ohio-class ballistic missile submarine USS Nebraska (SSBN 739) off the coast of California. Navy photo by MC1 Ronald Gutridge.
The House Armed Services strategic forces subcommittee is moving to limit development of new nuclear weapons as outlined in the Pentagon's plans, including fully blocking the proposed low-yield warhead.
The Pentagon in its Nuclear Posture Review, released in early 2018, called for development of a new low-yield, submarine-launched nuclear missile. Defense Department leaders said the new, less powerful option would push Russia to comply with nuclear treaties and give the US a new survivable nuclear option.
The W76-2, as the new weapon is known, has begun production and the National Nuclear Security Agency expects to deliver it to the Navy by this fall. The subcommittee's June 3 mark of the 2019 defense authorization bill would prohibit funds for the deployment of the warhead.
The low-yield weapon received criticism from Democratic members of the House committee, including HASC chairman Rep. Adam Smith (D-Wash.), who called the weapon "extremely problematic."
However, strategic forces subcommittee ranking member Rep. Michael Turner (R-Ohio) has said Republican members of the committee wouldn't vote for an NDAA if it did not include funding for the weapon. Speaking during the June 4 markup, Turner said the mark's measure to block the deployment would "continue to place us at a significant disadvantage" to Russia.
The mark, which was approved by a party-line vote of 10-8, also would make permanent the prohibition on a mobile variant of the Ground-Based Strategic Deterrent, the Air Force's replacement of the Minuteman III intercontinental ballistic missile.
The subcommittee is calling for a report from the Pentagon and US Strategic Command within 270 days on the near-term and long-term plans for nuclear command, control, and communications, including the timeline and cost estimates for new upgrades. Additionally, the committee wants to receive briefings through 2024 on the cost to forward-deploy nuclear weapons in Europe.