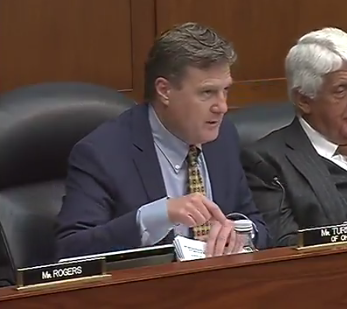 An amendment by Rep. Mike Turner (R-Ohio), above, would have weakened language in the House Armed Services Committee's proposed National Defense Authorization Act to re-establish the US Space Command.? Screenshot photo.
The House Armed Services Committee has headed off an attempt to weaken language directing reestablishment of the US Space Command as it completed a marathon markup session that lasted more than 14 hours. Just after midnight on Thursday, the committee voted 60 to 1 to approve its version of the $717 billion Fiscal 2019 defense authorization bill, sending the legislation to the full House for consideration.
The space command move came when the committee voted down an amendment by Rep. Mike Turner (R-Ohio) to link creation of the command to a review of how the Pentagon structures its space enterprise, one of hundreds of amendments the committee dealt with before approving the legislation. Turner's amendment would have allowed the President, through the Defense Secretary, to waive the requirement for establishment of the new command if the current review of the Defense Department's space organization and management structure recommends something different. That report is expected in August.
Earlier in the day, HASC had approved a proposal to set up a commission to look into flight safety, unexplained physiological effects faced by military pilots, and delays in aviation maintenance.
The committee approved several amendments related to cybersecurity, including a few that would direct the Defense Secretary to submit reports to Congress on the effects of autonomous systems and machine learning on cyber operations and how DOD plans to partner with industry and academia on cyber education. Another amendment would require the undersecretary of defense for acquisition and sustainment to brief Congress on ways to expand DOD's whitehat hacking programs, such as Hack the Air Force and Hack the Pentagon.
For the Air Force, language attached to the NDAA would direct the Secretary to brief the committee no later than Feb. 15, 2019, on the service's plans for affordable, high performance turbofan engines with up to 1,200 pounds of thrust. The Committee also encouraged the Air Force to consider upgrading the C-130H flight engineer overhead control panel with commercially available, off-the-shelf technology.
"This defense bill, which is once again the product of strong bipartisan work, takes the crucial next steps to rebuilding our military and reforming the Pentagon," said HASC Chairman Rep. Mac Thornberry (R-Texas). "Both are essential to helping our troops prepare and respond to the complex security challenges we are facing around the world."