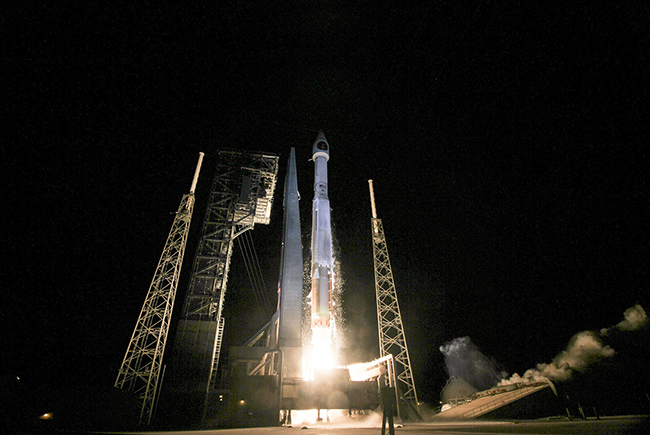 USAF's 45th Space Wing supported United Launch Alliance's successful launch of the third Space Based Infrared Systems Geosynchronous Earth Orbit spacecraft aboard an Atlas V rocket from Launch Complex 41 at Cape Canaveral AFS, Fla., on Jan. 20, 2017. United Launch Alliance courtesy photo.
House Armed Services Committee Chairman Rep. Adam Smith (D-Wash.) is worried the Air Force's launch services procurement plan could undermine its ultimate goal of "maximizing and sustaining fair and open competition" in the space launch sector, he told service Secretary Heather Wilson and Pentagon acquisition chief Ellen Lord in a March 28 letter.
"I wholeheartedly support the Air Force's priority of maintaining and improving assured access to space, but there seems to be a rush to move ahead in the Air Force procurement strategy, even after the Launch Service Agreement development effort was delayed by almost a year," Smith wrote. "I urge you to delay the upcoming [request for proposals] until these concerns are resolved and there is further clarity on a path forward that maximizes fair and open competition."
The congressman noted the draft RFP allows companies to use alternate launch vehicles through 2023 if the primary rockets aren't ready when needed.
"Understanding it is important to make the right decision on such a monumental step in our space program, I encourage the Air Force to take more time to obtain additional information before moving forward," Smith said.
He also voiced concerns about allowing only two companies to participate in the second phase of the National Security Space Launch program, that the Air Force is not considering the full scope of costs in its evaluations, and that the RFP's selection criteria are unclear.
"In its second draft RFP, the Air Force added language that allows it to select the second launch provider based on how best it supports the first provider in a 'portfolio,'" Smith wrote. "Without knowing who the first provider will be, the criteria is unknown."
The NSSL program aims to broaden the military space industrial base and decrease the cost of launching military payloads into space. The service is preparing to award contracts to two providers for Phase Two in spring 2020.