Kadena Air Base, Japan, saw the return of a familiar aircraft type on Oct. 3 when F-15C Eagles from the California Air National Guard's 144th Fighter Wing and the Louisiana Air National Guard's 159th Fighter Wing arrived to help keep up the continuous fighter presence in the region.
The new arrivals are the latest in a series of fighters rotating through Kadena as the base's local F-15C/D fleet phases out due to old age. Since the rotational force plan was announced in October, the Kadena-based 18th Wing has hosted F-22 Raptors and F-35s Lightning IIs from Alaska, U.S. F-16s from Germany, and F-15E Strike Eagles from North Carolina and Idaho.
Kadena has operated F-15C/Ds since 1979. Before the drawdown, about 48 of them were permanently based there in two squadrons, and at least 18 of them have returned to the U.S. so far. Air & Space Forces Magazine previously reported that all the local Eagles were due to be sent back to Air National Guard units or the Boneyard in Arizona by September, though it was unclear based on a press release if that deadline was met.
"Due to operational security reasons, we cannot provide specific timelines for departures or aircraft counts," a Pacific Air Forces spokesperson told Air & Space Forces Magazine in a statement when asked if any local F-15C/Ds remained at Kadena.
"Fighter deployments will continue until a new fighter aircraft is selected by the U.S. government and becomes fully operational at Kadena Air Base," the statement continued. "This is to ensure that there will be zero-gap in U.S. Air Force fighter presence at this strategically vital location through this transitory phase."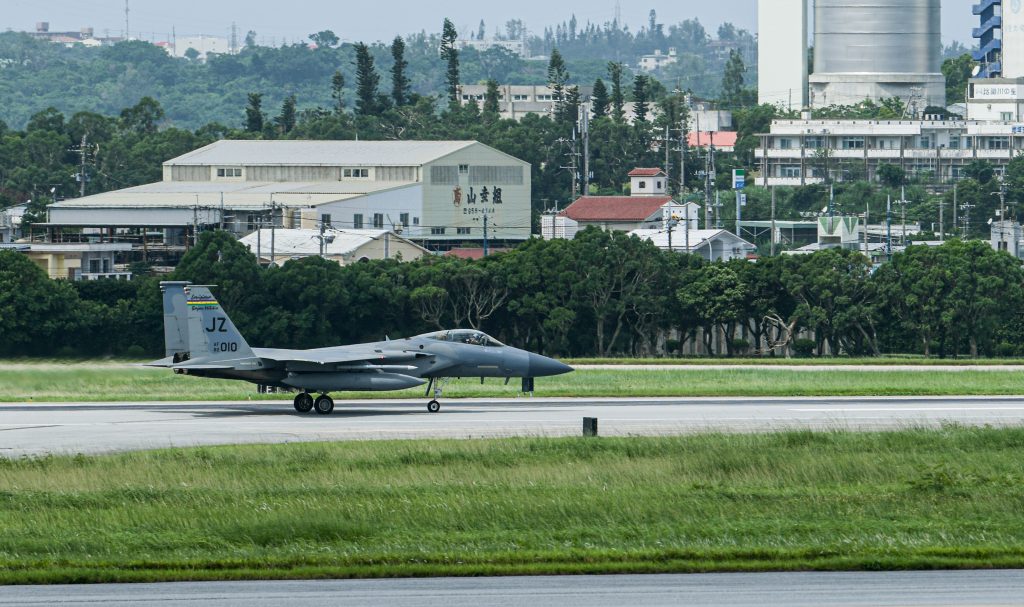 Located on Okinawa, a southern Japanese island only about 400 miles east of Taiwan, Kadena could be a vital staging ground for the U.S. response if the People's Republic of China were to invade Taiwan. Also known as the "Keystone of the Pacific," the base hosts not only fighters, but also aerial refueling tankers, command and control aircraft, and rescue helicopters. The new arrivals from California and Louisiana will work with those other aircraft as well as sister services and international partners in the region.
"Our squadron's excited to train and integrate with Team Kadena and our bilateral partners," Lt. Col. Jon Vanbragt, who took command of the 144th Operations Group in September, said in the press release. "Operating in the Indo-Pacific offers immense opportunities for our Airmen and allies to strengthen our partnerships and continue to refine our tactics."
A spokesperson for the 144th Fighter Wing, Capt. Jason Sanchez, said that sharing the theater support package between two Guard units allows some of each unit to train at home while their colleagues support operations overseas.
"It's unusual and exciting that we're collaborating with an Air National Guard unit across the country to provide airpower," he told Air & Space Forces Magazine.