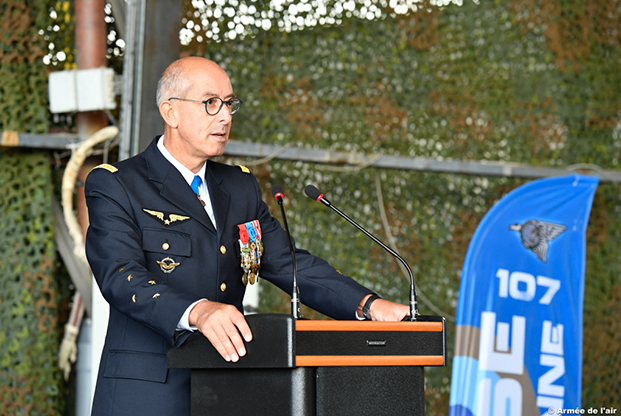 Gen. Philippe Lavigne, the chief of staff of the French Air Force, shown here, said Thursday the long-term strategy for the modernization of his service centers on the development of the Future Combat Air System, a joint venture with Germany that officially kicked off this week. French Defense Ministry photo.
The French Air Force this week took a major step toward modernizing its fleet and supporting its industry by teaming up with Germany to begin a study for a sixth-generation air combat system.
Gen. Philippe Lavigne, the chief of staff of the French Air Force, said Thursday the first contracts to study the Future Combat Air System will address a need for a new, game changing technology to stay ahead of future threats. The study will be due in 2021.
"There is real determination on this program, because it's huge for our security, but it's also a need for industry," Lavigne said during an AFA Mitchell Institute event Thursday in Arlington, Va.
The leaders of the French and German military on Wednesday signed a contract for Dassault Aviation and Airbus to team up to create the manned aircraft, with Safran Aircraft Engines and MTU Aero Engines to jointly develop new power plants. The FCAS will include a sixth-generation stealth fighter, combined with deployable small unmanned aerial vehicles, and a secure communication combat cloud system connected with space assets. The goal is to have a deployable system in 2040. The companies and two militaries have two years to study the architecture and systems based on the agreement.
Other countries, such as Spain, have signed on to be observers on the FCAS program, though there is potential they could become participants and try to field the aircraft as well, Lavigne said. The development also needs to focus on interoperability with allied aircraft once fielded, he said. Individual aircraft from allies bring separate strengths to a fight and will work best together when integrated well.
"In rugby, I like to play with the best guy on my team," he said. "So we have to be individually very good. F-35, F-22, Typhoon, Rafale. All are good players and they've got differences."
The FCAS system is part of a long-term strategy to modernize the French Air Force, that in the short term also includes doubling the intelligence, surveillance, and reconnaissance capability in the next five years; modernizing the tanker fleet; including more live-virtual-constructive training; and overhauling their pilot training system, Lavigne said.
The transformations "are huge" and it is a "challenge" to bring on new capabilities while flying ongoing operations. To succeed, the French Air Force will need a "new spirit," he said.
Currently, the French Air Force uses five airframes, starting with gliders, to train pilots over three years. The aim now is to only use two aircraft over two years to train their pilots, using the recently completed fleet of modernized PC-21 to move pilots more quickly into the cockpits of Rafale fighters.
The French Air Force is also renewing its focus on the credibility of its nuclear deterrence in the air. A main focus of France's FCAS plans is for the aircraft to be nuclear capable in the long term, and the shift away from Mirages to newer Rafales in the near term.
The other part of its deterrence, in addition to modern aircraft, is the training and readiness of the current forces. To this end, the French Air Force this week conducted a long-range nuclear strike training mission, flying against simulated air defenses to launch an unarmed ASMP-A cruise missile at a training area in Bordeaux, according to a French Ministry of the Armed Forces release. The training mission, which lasted 11 hours, included refueling from a C135 and A330 and focused on practicing command and control and ground forces training to simulate a real-life mission, Lavigne said.
"We have to train in order to be ready, … in order to be credible," he said.