Four Air Force F-35s deployed to Thule Air Base in Greenland in January, operating from the U.S.'s northernmost base for the first time.
The fifth-generation fighters landed at Thule as part of the latest iteration of Operation NOBLE DEFENDER, a series of drills held every few months by North American Aerospace Defense Command (NORAD). The most recent exercise ran from Jan. 15-31.
The F-35s flew into Thule from Eielson Air Force Base, Alaska, according to a NORAD release. Photos show them on a dark, snow-covered flightline, Jan. 16 and Jan. 26. Thule operates in constant darkness in the winter, and temperatures ranging from –34 to 9 degrees Fahrenheit in January.
The deployment of the F-35s showcases "the agility of capabilities in support of Arctic defense with support from the Kingdom of Denmark to allow air defense operations from this location," NORAD said in a statement.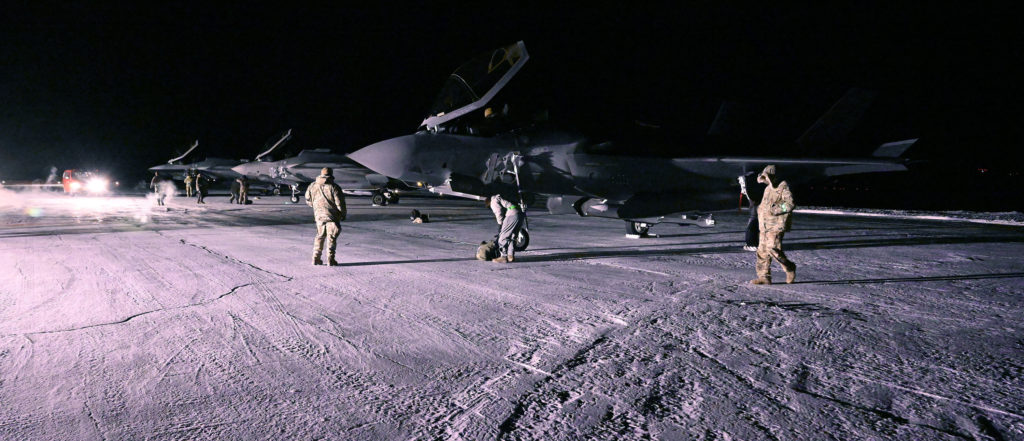 In addition to the F-35s, 10 other aircraft participated in the bilateral American and Canadian exercise: three CF-18s, four KC-135s, one CC-150, one E-3, and one CH-149.
In addition to Thule, American and Canadian forces participating in the exercise deployed to Iqaluit Forward Operating Location, Nunavut; and 5 Wing Goose Bay, Labrador. About 225 personnel took part in the exercise, intended as a dynamic force employment operation.
According to NORAD, the CF-18s took off from Iqaluit Forward Operating Location and concluded the exercise by simulating an intercept of a U.S. B-52 bomber, then escorting it "as it was transiting through northern Canada and the central United States."
"Our ability to operate in the Arctic is critical to our ability to defend our homelands," U.S. Air Force Gen. Glen D. VanHerck, the commander of NORAD and U.S. Northern Command, said. "Operation NOBLE DEFENDER successfully demonstrated our willingness and capability to conduct operations above the Arctic Circle in even the harshest weather conditions, and proved a concept of integration with key Arctic partners to defend northern approaches to North America."
The Air Force has long planned for the F-35 to operate in extreme weather conditions like those it faced in Greenland and at its home station at Eielson, though there have been some hiccups along the way.
Their presence in the Arctic comes as the U.S. continues to face growing threats in the region, where U.S. forces may find themselves in close proximity to Russian forces. The region is increasingly seen as an area of strategic importance to China, as well.
There will likely be more F-35s in the Arctic in the years to come. Norway and Denmark already have the Lockheed Martin-made fighter, and Finland is scheduled to receive the jets in the next few years. Canada also signed a deal for 88 F-35s, with deliveries slated to begin in 2026.