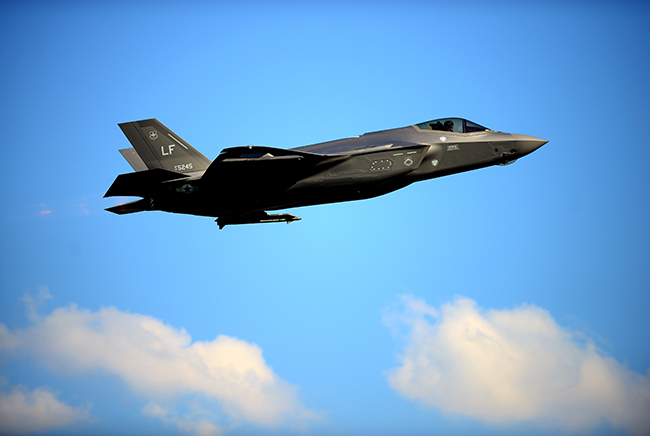 An F-35A Lightning II from the 388th and 419th Fighter Wings, at Hill AFB, Utah, takes off on the first day of Astral Knight 19 at Aviano AB, Italy, on June 3, 2019. Air Force photo by A1C Caleb House.
Lockheed Martin and the F-35 Joint Program Office have delivered the 400th F-35—an F-35A model to Hill AFB, Utah—and surpassed 200,000 flight hours, Lockheed announced June 3.
The 400th aircraft is a "significant milestone," JPO director Vice Adm. Mat Winter said in a press statement.
"The collaborative efforts across the JPO, US services, partners, and industry remain focused on driving costs down, quality up, and faster delivery timelines across our development, production, and sustainment lines of effort."
The 400 aircraft break down as follows: 283 F-35As, 87 F-35B short-takeoff and landing versions, and 30 F-35C carrier-based models.
The 200,000 hours encompasses all test, development, and operational jets, both among US and foreign-owned aircraft.
The F-35A has racked up 125,850 hours, the B model 52,410 hours, and the C version 22,630 hours.
More than 800 pilots and 7,500 F-35 maintainers have been certified worldwide.
Ten nations are flying the F-35, eight on their own soil, while seven have declared initial operational capability.
Lockheed expects to deliver 131 F-35s this year, up 40 percent from last year.