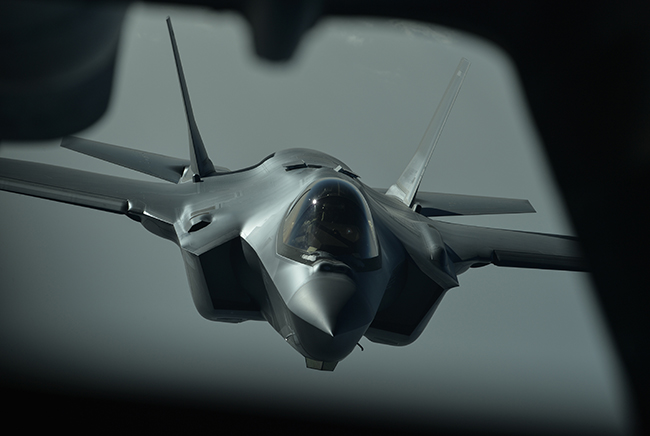 A USAF F-35A Lightning II prepares to connect with a KC-10 Extender during an aerial refueling mission above an undisclosed location on April 30, 2019. Air Force photo by SSgt. Chris Drzazgowski.
Poland has transmitted a request for pricing of 32 F-35A fighters along with logistics support and training to the US government under the Foreign Military Sales program, Polish and US officials confirmed May 28, marking that country's first official step toward purchasing the fifth-generation fighters.
Polish defense minister Mariusz Blaszczak, in a May 28 Twitter message, reported the request for pricing information, saying it's "high time we replaced post-Soviet equipment with the most modern fighters." He also wrote that fifth-generation aircraft are "already on the horizon."
Such a deal was discussed when Air Force Secretary Heather Wilson visited Poland in April, and she later told reporters the US would make information about a purchase available to the Polish government.
Poland is replacing its 31 Cold War-era MiG-29 Fulcrums and 18 Su-22 Fitters, which have become difficult to support. Poland already has 48 F-16 Block 52 fighters, delivered a decade ago, and the Polish air force has studied whether to expand its F-16 fleet or buy F-35s. Polish national leaders have expressed a preference for the F-35 in recent months, but have not definitively ruled out a competition for the country's next round of fighter purchases.
An F-35 deal for Warsaw would likely cost in excess of $3.2 billion dollars, or 12 billion Polish zlotys, using a baseline price of about $89 million for the aircraft, likely to be of the F-35A conventional takeoff and landing version, plus necessary ground support gear and training equipment, such as simulators. Polish law demands 100 percent economic offsets for military equipment purchases.
Vice Adm. Mat Winter, F-35 Joint Program Office director, said in congressional testimony last month that potential new F-35 customers included Poland, Greece, Romania, Singapore, and Spain. Canada, Finland, and Switzerland are also considering the F-35 in fighter competitions. Twelve other countries are operating or have committed to purchase the F-35, although Turkey's participation in the program, both as a development partner and producer of parts and the rear fuselage, may be terminated if that country follows through with a plan to buy the Russian S-400 air defense system.