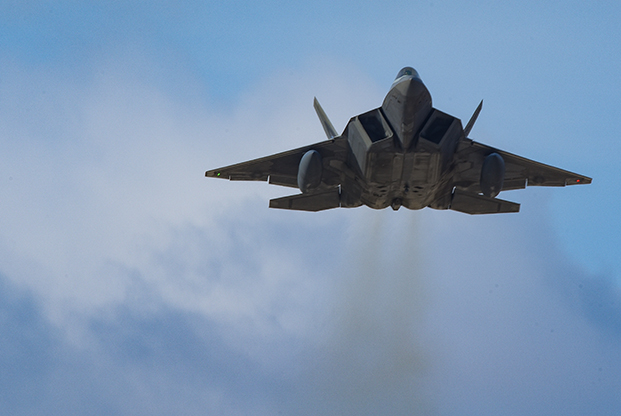 F-22 Raptors from the 1st Fighter Wing and 192nd Fighter Wing participate in a Total Force exercise at JB Langley-Eustis, Va., on Feb. 28, 2018. Air Force photo by TSgt. Carlin Leslie.
The Air Force's F-22 fleet may not reach its 80 percent mission-capability goal by the end of September due to "all of the permanent change-of-station moves" required after Tyndall AFB, Fla., was devastated last fall, Secretary Heather Wilson told lawmakers this week.
The service "probably" will meet the objective for its F-16s, she continued, but because the F-22s face so much upheaval in the aftermath of Hurricane Michael, that fleet "may not make it." Raptors have relocated to Eglin AFB, Fla., JB Langley-Eustis, Va., JB Pearl Harbor-Hickam, Hawaii, and JB Elmendorf-Richardson, Alaska.
Last year, then-Defense Secretary Jim Mattis issued a memo directing that the F-35, F-22, F-16, and F-18 inventories achieve mission-capable rates of at least 80 percent by the end of fiscal 2019.
To make progress, the service must reprogram $750 million for F-16 and F-22 readiness initiatives, Wilson said following a March 13 Senate Appropriations defense subcommittee hearing. The funds would be used largely to bolster weapon system sustainment and to add a second maintenance shift in Air National Guard units.
An "airplane sitting in a hanger that's ready to fly is not necessarily ready to fight," she told Sen. Tammy Baldwin (D-Wis.). "It's about the readiness of our squadrons to fly and fight that matters."
The service argues that prioritizing "the operational squadrons where we measure mission-capability rates most directly" helps it work toward Mattis's mandate. More than 90 percent of those 204 "pacing" squadrons are ready to deploy if conflict erupts, according to Wilson and Chief of Staff Gen. David Goldfein's written testimony, although it's unclear which aircraft make up pacing units.
"When we include their follow-on forces, these pacing squadrons are on track to reach 80 percent readiness before the end of fiscal year 2020, six years faster than originally projected," according to the prepared testimony. "As our front-line squadrons meet their readiness goals, we will also ensure the remainder of our operational squadrons reach the 80 percent readiness mark by 2022, as we continue to build toward the 386 operational squadrons we require."
In February, Lt. Gen. Arnold Bunch, the service's military deputy for acquisition, said he expected the Air Force will reach 80 percent mission capability for the "combat-coded aircraft" in the F-35, F-16, and F-22 fleets.
Wilson did not mention where the F-35A fleet stands as of this week, saying only that the F-35 Joint Program Office is responsible for those jets' sustainment funding.