Goldfein, Service Chiefs Respond to Charlottesville Violence, Racism
Top military commanders, including Air Force Chief of Staff Gen. David Goldfein, have taken to Twitter to demonstrate unequivocal opposition to the violence that erupted over the weekend in Charlottesville, Va. Namely, the service Chiefs denounced racism and hatred, giving a clear message on where the military stands on the issue. "We're always stronger together. It's who we are as airmen," tweeted Goldfein. Read the full story from Gideon Grudo.
Trump Rhetoric Having an Impact in North Korea, RAND Says
The increasingly bellicose rhetoric of President Donald Trump is helping to rebuild US credibility with North Korea, a panel of experts from the RAND Corporation told reporters on a conference call Wednesday. The US should also double down on sanctions in order to bring Pyongyang back to the negotiating table, the panel said, because "attacks on North Korea are probably not a viable option." Read the full report by Wilson Brissett.
B-1s Fly With Japanese Fighters to the East China Sea
Two B-1B Lancers flew a bilateral mission alongside Japanese aircraft on Tuesday from Andersen AFB, Guam, to the Senkaku Islands as another show of force in the region. Two B-1s, deployed to Andersen from Ellsworth AFB, S.D., flew with Japanese Air Self-Defense Force F-15s to the Japanese-controlled islands in the East China Sea, according to a Pacific Air Forces release. The flight was to "demonstrate the solidarity and resolve we share with our allies" in the Indo-Asia-Pacific, according to PACAF. B-1s have repeatedly flown flights alongside both Japanese and South Korean aircraft to project US power in the Pacific. In early July, two B-1s also flew over disputed areas of the East and South China Sea. The flight comes as Chairman of the Joint Chiefs of Staff Gen. Joseph Dunford visited military counterparts in China on Tuesday to address increasing tensions with North Korea. Earlier this month, two B-1s from the same squadron flew over the Korean Peninsula in response to North Korean aggression and the continued tests of its military program. —Brian Everstine
Coalition Ups Strikes in Raqqa as Friendly Forces Take Majority of the City
US and coalition aircraft have conducted 200 airstrikes this week solely focused on Raqqa, Syria, an increase from the regular pace as US-backed fighters have taken a majority of the city. Syrian Democratic Forces have taken 55 percent of ISIS's so-called capital, supported by a spike in strikes from US and coalition aircraft, said US Army Col. Ryan Dillon, spokesman for Combined Joint Task Force-Operation Inherent Resolve, in a Wednesday briefing. The strike number "is higher than … what we have seen in the past," Dillon said. "And a lot of that can be said because we are now fighting, not exclusively in Raqqa, but that's where the priority is." The coalition estimates that about 2,500 ISIS fighters remain in the city. "They are malnourished, emaciated and, many of them pocked with needle tracks from what is assessed as amphetamines they used to maintain their murderous fervor," he said. —Brian Everstine
Robins, Hill to Provide F-35 Software Sustainment
With more than eight million lines of code per aircraft, the F-35 is a famously software-heavy platform. Vice Adm. Mat Winter, director of the Joint Strike Fighter program, recently divided the responsibilities for sustaining that sprawling software landscape between the Naval Air Systems Command and the Air Force Sustainment Center. On the Air Force side, AFSC commander Lt. Gen. Lee Levy has given the communications and mission systems support role to the 402nd Software Maintenance Group at Robins AFB, Ga. The 309th Software Maintenance Group at Hill AFB, Utah, will handle sustainment of pilot and processor systems and the aircraft's autonomic logistics information system (ALIS). "The future of air dominance will revolve around software, but the dedication and ingenuity of our people will be key to our success," Levy said in a press release. "The Air Force Sustainment Center is ready to take on this new workload and complete these missions to make and keep the F-35 even more lethal and capable."_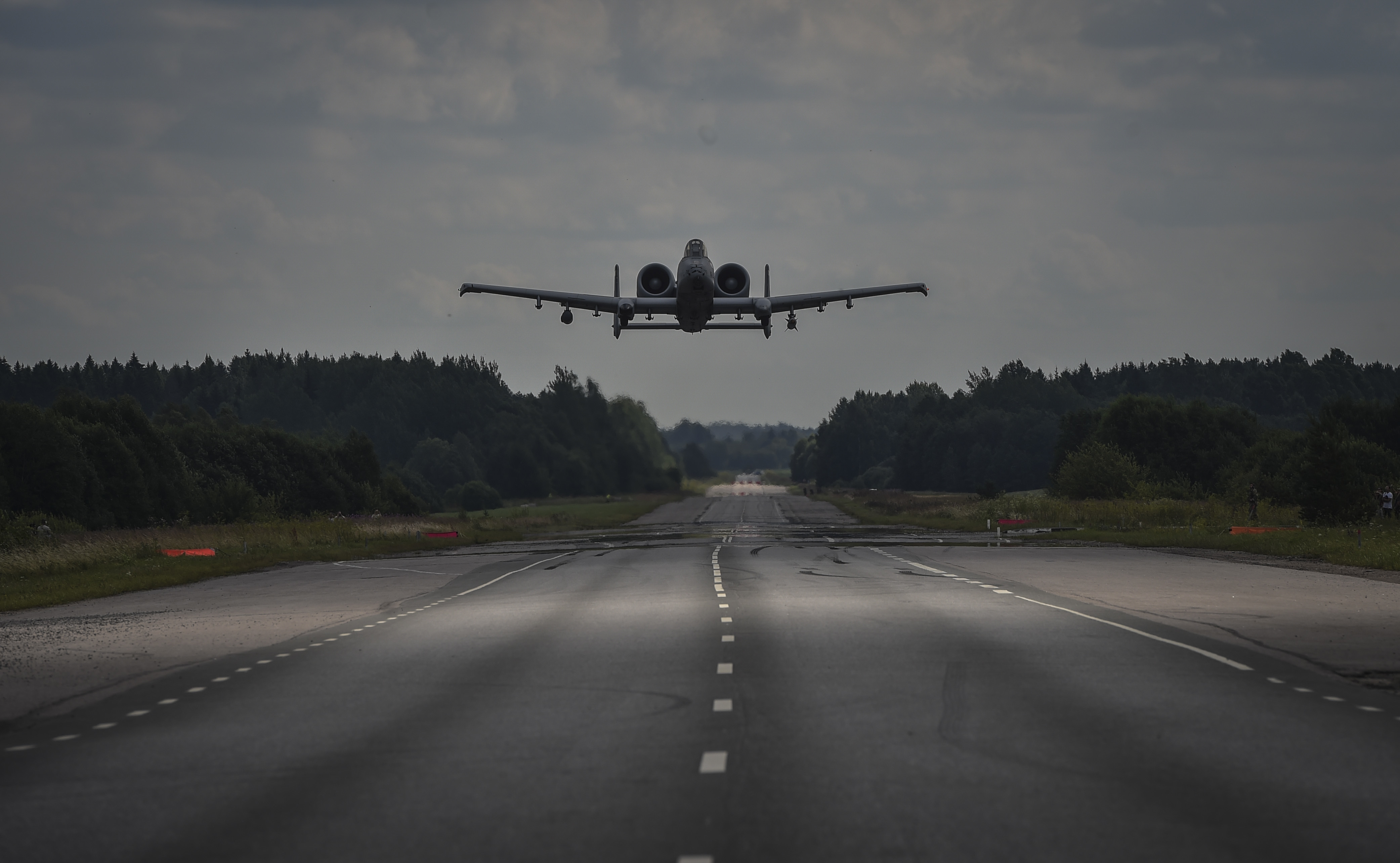 A USAF A-10 Thunderbolt II aircraft with the Maryland Air National Guard's 104th Fighter Squadron takes off on Jagala-Karavete Highway, Aug. 10, 2017, in Jagala, Estonia. USAF photo by SrA Ryan Conroy.
Combat Controllers Land A-10s on Highway in Estonia
A group of eight combat controllers from the 321st Special Tactics Squadron at RAF Mildenhall, England, guided A-10 attack aircraft to a series of successful landings on the Jagala-Karavete highway in northern Estonia during a recent flying training deployment. The combat controllers surveyed the landing area, deconflicted nearby airspace, and used command and control to bring the A-10s, which belong to the Maryland ANG's 104th Fighter Squadron, safely to the ground. "Landing on a highway is a unique capability of the A-10 as a fixed-wing aircraft," said Maj. Daniel Griffin, of the 104th FS, in a press release. "We showcased our ability to project combat airpower forward, either behind enemy lines or in austere locations." The training deployment was funded by the European Reassurance Initiative in support of Operation Atlantic Resolve, NATO's ongoing response to Russia's aggressions in Ukraine.
GAO: Air Force Needs to Focus Sustainment of Nuclear Command
A Government Accountability Office report commends the Air Force on its oversight of nuclear command, control, and communication programs in the short term. However, these programs are at risk of delays and could be advancing without enough reviews. Read the full report by Brian Everstine.
––––––––––
RADAR SWEEP
—A small fire broke out on the US Air Force Academy campus Tuesday afternoon. Firefighters remained on scene overnight to ensure it remained under control: KKTV.
—Lockheed Martin reached technical readiness level 6 on the AN/APR-52 Radar Warning Receiver for the Air Force's Combat Rescue Helicopter a year early. The milestone "provides confidence in the technical maturity" of the system before the helicopter's first flight test: Lockheed Martin release.
—The Air Force has awarded AAR a $909.4 million fixed-priced contract to update the landing gear on its C-130, KC-135, and E-3 Sentry airborne warning and control system fleets: Military.com.