Trump Makes Cyber Command a Unified Combatant Command
President Trump on Friday elevated US Cyber Command to its own unified combatant command, and said the Pentagon will possibly break it free of the National Security Agency. The move "will strengthen our cyberspace operations and create more opportunities to improve our nation's defense," Trump said in a statement. The move will help the military streamline its command and control of cyberspace operations, and adequately fund those operations. Former Defense Secretary Robert Gates directed US Strategic Command—one of nine unified commands—to establish US Cyber Command as a subunified command on June 23, 2009. The command, which is based at Fort Meade, Md., reached full operational capability on Oct. 31, 2010. Adm. Mike Rogers currently wears two hats as the commander of US Cyber Command and director of the NSA, but the move to make CYBERCOM its own combatant command will give it its own four-star commander. Officials told ABC News the likely nominee will be Army Lt. Gen. William Mayville, who currently serves as the director of the Joint Staff. The plan has been in the works at the Pentagon for years, with previous Defense Secretary Ash Carter considering the move and multiple discussions on Capitol Hill have focused on the merits of such a move. —Brian Everstine
Predator Crashes on Takeoff from Incirlik
An MQ-1 Predator remotely piloted aircraft crashed shortly after takeoff from Incirlik AB, Turkey, late on Aug. 17. The aircraft went down in a field near Adana, Turkey. US emergency personnel and local police responded at the crash site, and there were no reported injuries. The Air Force is investigating the cause of the crash. "At this time the safety of our host nation civilians and the recovery and security of our asset is paramount," said Col. David Eaglin, commander of the 39th Air Base Wing, in a press release. "Our airmen train continuously to respond to incidents such as this, and we are working closely with our host nation partners to ensure this is resolved without conflict."
Air Force Takes First Steps to Stand Up Space Directorate
The Air Force named two senior staff members for its new space operations directorate Thursday. Shawn Barnes will serve as the senior civilian for the directorate, and Maj. Gen. Pamela Lincoln will be the mobilization assistant to the deputy chief of staff for space operations. The new office will reach initial operational capability on Aug. 21. Read the full story by Wilson Brissett.
_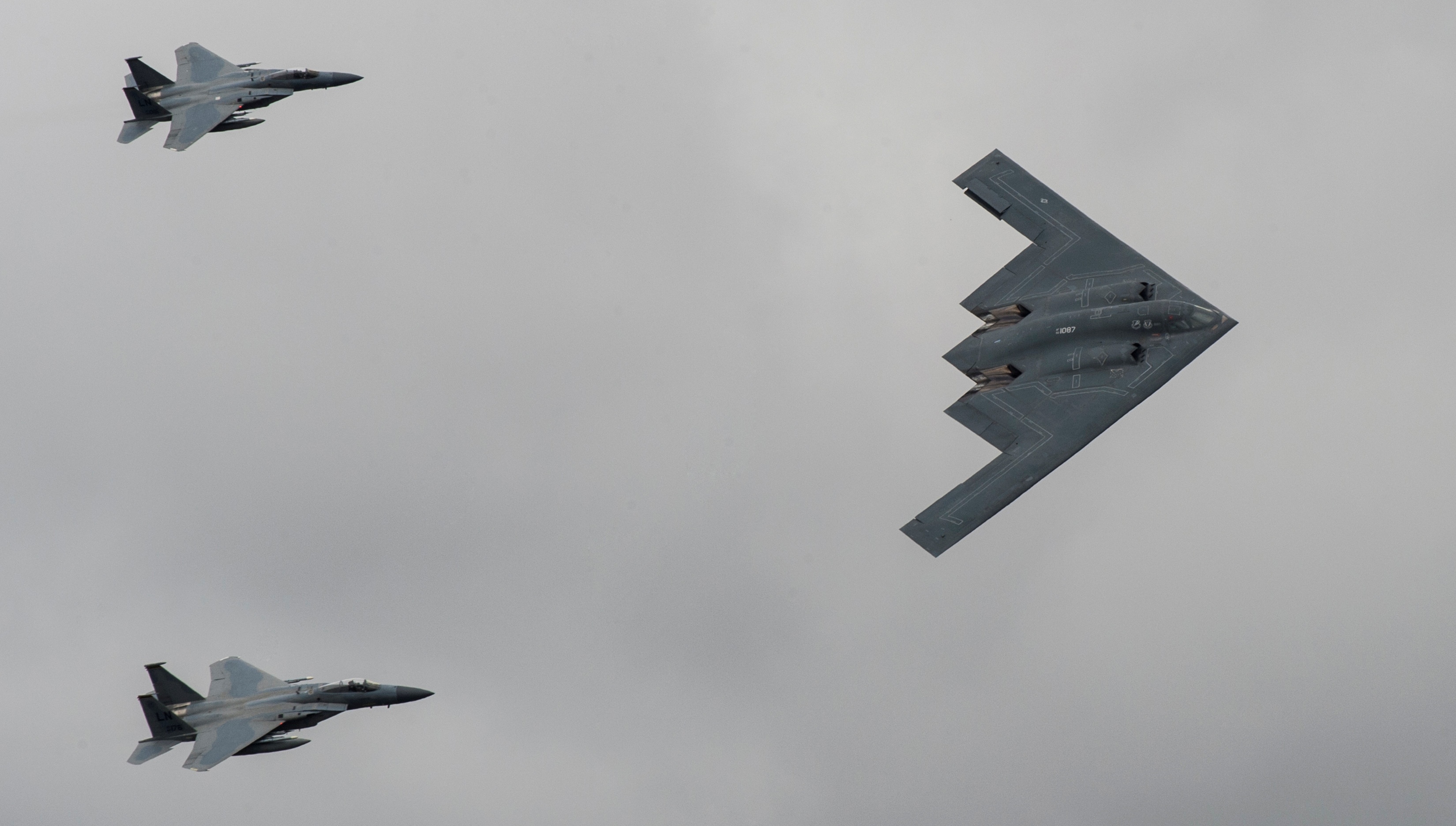 A USAF B-2 stealth bomber and two F-15s fly past spectators during the 2017 Royal International Air Tattoo at RAF Fairford, UK, on July 16, 2017. The Air Force's nuclear-capable bombers are one of three legs of the nuclear triad, which US Strategic Command boss Gen. John Hyten said must be modernized. Air Force photo by TSgt. Brian Kimball.
Extending Deterrence in a Multipolar World
While the strategic deterrence mission still begins with nuclear weapons, US Strategic Command boss Gen. John Hyten is working to transform STRATCOM's deterrence mission to keep up with an evolving global threat. "It's now a multipolar problem with many nations that have nuclear weapons…and it's also multidomain," Hyten said in a recent interview with DOD News. "We have adversaries that are looking at integrating nuclear, conventional, space, and cyber, all as part of a strategic deterrent," he warned, and the US cannot stand by and watch. "We have to think about strategic deterrence in the same way." Hyten said the nation's first priority must be to modernize the nuclear triad quickly. The US has delayed refreshing its nuclear weapons systems for so long that "any future delay," Hyten said, could present the next STRATCOM commander with "a day where we don't have a safe, secure, ready, and reliable nuclear deterrent." The STRATCOM boss also said that assurance to US allies is a crucial part of "extended deterrence," which includes demonstrations of US capabilities, continued development of key partnerships, and regular military exercises. "It's important that the United States always assure [our allies] that we will be there with the capabilities that we have if they're ever attacked with nuclear capabilities. That's what extended deterrence means."
Raytheon Gets Contract for Griffin Missiles
The Air Force on Aug. 10 awarded a $105 million contract to Raytheon for Griffin missiles. The sole-source contract covers delivery of all variants of the AGM-176 missiles, which are used by aircraft such as MQ-9 Reapers and AC-130J Ghostriders, among others. Work will be performed in Tucson, Ariz., with a deadline for completion by the end of 1018. Raytheon has two variants of the missile in production, an A missile that is aft-ejected from a common launch tube and a B missile that is forward firing from a composite launch tube, according to a company fact sheet. Two additional variants are in development—one with a semi-active infrared seeker and an extended range missile.The contract award comes as the Air Force is pushing to increase production of munitions to address a shortage from continuous operations in the Middle East. The service's Fiscal 2018 budget prioritized production on preferred munitions, mainly Joint Direct Attack Munitions and Small Diameter Bomb I. —Brian Everstine
Edwards Tests Drone Use for Crash Response
Civil engineers at Edwards AFB, Calif., recently used a drone to help firefighters respond to a simulated aircraft crash, testing the capabilities of new technologies in response to possible emergency scenarios. The 812th Civil Engineer Squadron and the Emerging Technologies Combined Test Force at Edwards used a drone during two aircraft crash exercises on July 31 and Aug. 3, flying over a dismantled B-52 to help direct fire department personnel. The small unmanned aerial system provided live video and helped speed up the search for victims and explosive hazards, 812th CES commander Lt. Col. Gregory Hammond said in a release. Video posted by Edwards shows the drone circling the crash site as fire engines spray water on segments of the downed B-52. The drone helped save time and "supported a safer situational awareness," Hammond said. —Brian Everstine
ORS-5 Cleared for Aug. 25 Launch
The Air Force's ORS-5 space surveillance mission has completed flight readiness review and is expected to launch on Aug. 25, the Space and Missile Systems Center announced Friday. The satellite is the fifth mission in the service's experimental Operationally Responsive Space (ORS) series, which allows USAF to launch new space capabilities quicker and cheaper in order to meet the needs of commanders on the ground. ORS-5 will provide advanced tracking of other satellites and space debris to fill a gap in the Air Force's space situational awareness mission until Block 10 of the Space-Based Space Surveillance (SBSS) system is ready for launch, no earlier than 2021. The key capability of ORS-5 is an optical sensor, developed at MIT's Lincoln Laboratory, that "provides continuous, un-cued, rapid" search of objects in the geosynchronous belt and is able to "detect changes and provide precise regional awareness" of those objects, according to an SMC press release. The satellite cost $87.5 million to develop, including launch services and ground control systems. SMC expects ORS-5 to launch from Cape Canaveral AFS, Fla., atop an Orbital ATK Minotaur IV rocket during a four-hour launch window beginning at 11:15 p.m. on Aug. 25. —Wilson Brissett
_
RADAR SWEEP
—Defense Secretary Jim Mattis left Saturday for a five-day trip to the Middle East and Europe, where he will travel to Jordan, Turkey, and Ukraine: DOD release.
—Aug. 14 marked the "busiest day since MAFFS was activated," said Col. James DeVere, commander of the 302nd Airlift Wing, who is currently serving in the MAFFS Air Expeditionary Group. On that day, three MAFFS-equipped C-130s conducted 24 sorties and 24 drops with 68,822 gallons of retardant: C-130.net.
—Boeing is testing its 787 Dreamliner at Edwards AFB, Calif.: AFMC release.
—The Air Force's last C-5A aircraft was on display at the Westfield International Air Show in Massachusettes. The aircraft is assigned to Westover ARS, Mass.: USAF release.