Air Force Moves Aircraft, Positions Relief Efforts Ahead of Irma
The Air Force continued preparations for Hurricane Irma Wednesday as the Category 5 storm blasted the US Virgin Islands with winds up to 185 mph. On Tuesday, the Illinois Air National Guard sent two C-130s there and to St. Croix to provide disaster response, according to an Air Force press release. Bases in the storm's path were also moving aircraft on Wednesday. Muniz ANGB, Puerto Rico, evacuated four C-130s; Homestead AFB, Fla., evacuated 21 F-16s; and Patrick AFB, Fla., evacuated three C-130s and nine HH-60 helicopters. No personnel had been evacuated as of Wednesday afternoon. While Patrick has declared HURCON 5 conditions and activated its crisis action team in preparation for the storm, the 45th Space Wing there is going forward Thursday with its planned launch of the X-37B Orbital Test Vehicle, said wing spokeswoman Lori O'Donley. "If for any reason we cannot launch tomorrow, we will reevaluate whether or not we can still support another attempt on Friday," said Brig. Gen. Wayne Monteith, commander of the 45th Space Wing, in an email statement. Meanwhile, a number of Air Force search and rescue teams that had been supporting Hurricane Harvey relief efforts have returned to their home bases so they can be prepared to respond to Irma if need be.
A Separate Space Force is Inevitable, Says Rogers
Rep. Mike Rogers (R-Ala.) said on Wednesday that the formation of a separate US military space force is inevitable. He called his own Space Corps proposal a "conservative" step in the right direction and called on the Department of Defense to collaborate with Congress to design a space force and acquisition system that is streamlined and ready to respond to current threats from Russia and China. Read the full report by Wilson Brissett.
James Says Space Corps Would Bring Upheaval, Not Solutions
The creation of a Space Corps within the Air Force would lead to "enormous upheaval" without solving the key problems faced by the national security space enterprise today, former Secretary of the Air Force Deborah Lee James said Wednesday. Space programs would benefit more from doubling down on lines of effort begun under her leadership and continued by current Secretary of the Air Force Heather Wilson, added James at a Center for Strategic and International Studies event in Washington, D.C. Read the full report by Wilson Brissett.
Suicide Bomber Targets Bagram After US Drops "Offensive" Flyers
A suicide bomber attacked a gate at Bagram AB, Afghanistan, on Wednesday after the US military dropped leaflets in Parwan Province considered to be "highly offensive." A "small number of casualties" were "being treated at Bagram medical facilities," according to a US Central Command release. The release did not say how many people were wounded, the extent of their injuries, or whether they were uniformed service members or civilians. The Taliban said it conducted the bombing in retaliation for the leaflets, which included a white dog running from a lion. A passage from the Quran was written on the dog, which is considered impure in Islam, according to Stars and Stripes. Army Maj. Gen. James Linder called the design "highly offensive," and said, "I sincerely apologize. We have the deepest respect for Islam and our Muslim partners worldwide. There is no excuse for this mistake." Linder, who serves as the head of Special Operations Task Force-Afghanistan, said he is "reviewing our procedures to determine the cause of this incident and to hold the responsible party accountable." He promised to make sure "this never happens again."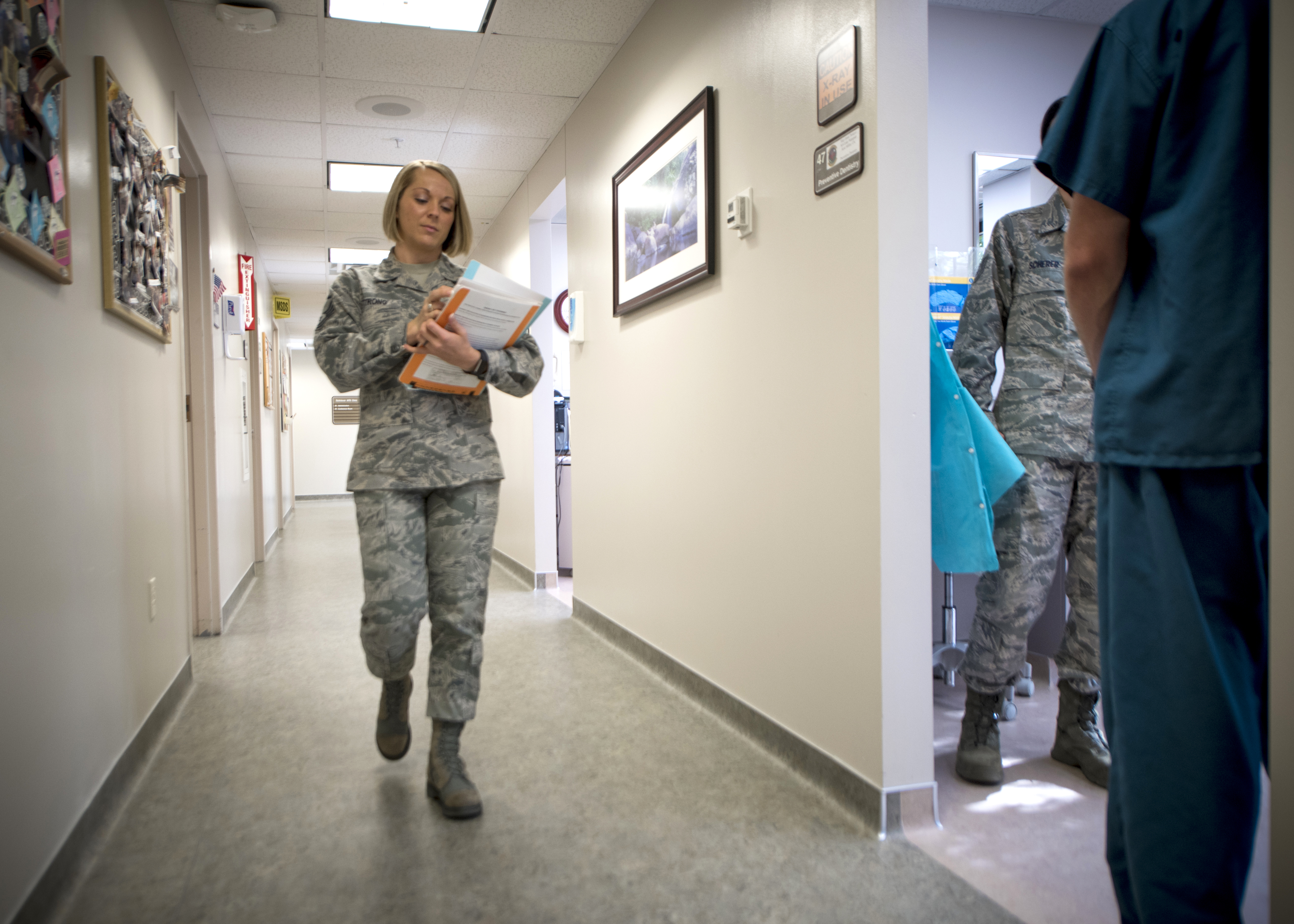 Spotlight: MSgt. Ashley T. Strong
MSgt. Ashley T. Strong, a dental flight chief with the 21st Medical Squadron at Schriever AFB, Colo., is one of the Air Force's 12 Outstanding Airmen of the Year for 2017. Strong drove US Air Forces in Europe's largest dental personnel reliability program, supporting 42,000 patient visits, enabling a 99 percent war-ready rate. She undertook Air Force Medical Operations Agency's top priority by initiating two process improvement teams aimed at building a medical records guide to support Veterans Affairs claims. As the 31st Fighter Wing operations security manager, she led two vulnerability town hall meetings that resulted in a 79 percent reduction in security breaches in 16 squadrons. Strong chaired the Aviano AB, Italy, team that enacted policies responsible for slashing alcohol-related incidents by 34 percent. She championed the GreenDot?violence-prevention education program by facilitating two early adopter courses, 29 overviews, and key spouse training for the Team Peterson community. Air Force Magazine is shining the spotlight on each OAY in the days leading up to AFA's Air, Space & Cyber Conference, which starts Sept. 18 in National Harbor, Md.
Iraqi F-16 Pilot Killed in Arizona Crash
An Iraqi student pilot was killed when his F-16 crashed Sept. 5 about 20 miles northwest of Safford, Ariz., the Air Force confirmed on Wednesday. The F-16 belonged to the Iraqi air force but was assigned to the Arizona National Guard's 162nd Wing, where it trained alongside USAF fighters. "Our thoughts and prayers are with the family and friends of our wingman during this difficult time," said Brig. Gen. Andrew MacDonald, commander of the 162nd Wing, in a Facebook post. "Today we are mourning the loss of an airman and friend alongside our Iraqi partners." The Air Force has convened an interim safety board to investigate the accident. It wasn't immediately clear if there was any property damage or if anyone else was injured in the accident.
Raptor Skipping Its Mid-Life Crisis
The F-22, celebrating the 20th anniversary of its first flight in production configuration, likely has another 40 years of potential service life left, if the Air Force continues to upgrade and update it. While a restart of production is probably not in the cards, after four technology refreshes, the F-22 can still grow and add new tricks to its bag. Sending the F-22 on deployment has in some ways become the modern equivalent of deploying an aircraft carrier, so effective has it been at quieting the saber-rattling of US adversaries. Read the full story by John A. Tirpak.
USAF Aims to Improve Data Crunching Issues Within A Year
Air Combat Command's associate director for intelligence said the Air Force is working to activate algorithms to help it parse through incoming data within the year. Such algorithms will parse through major troves of data—which USAF already creates via a multitude of inputs but that are not being fully or efficiently exploited within the current infrastructure—and help commanders make decisions more quickly. Read the full story from Gideon Grudo.
RADAR SWEEP
—Belgian F-16 fighters, which recently took over the Baltic Air Policing mission, intercepted two Russian Su-27 jets that were "joined up with a Russian Il-76 heavy cargo aircraft," on Sept. 5. The aircraft were heading to international airspace but did not identify themselves with civilian air traffic control agencies: NATO release.
—Thirty-four members of the Singaporean Air Force's Peace Prairie Detachment participated in the Hurricane Harvey relief effort, using CH-47 Chinook helicopters to deliver food and water to soldiers in Brenham, Texas, in late August: DOD release.