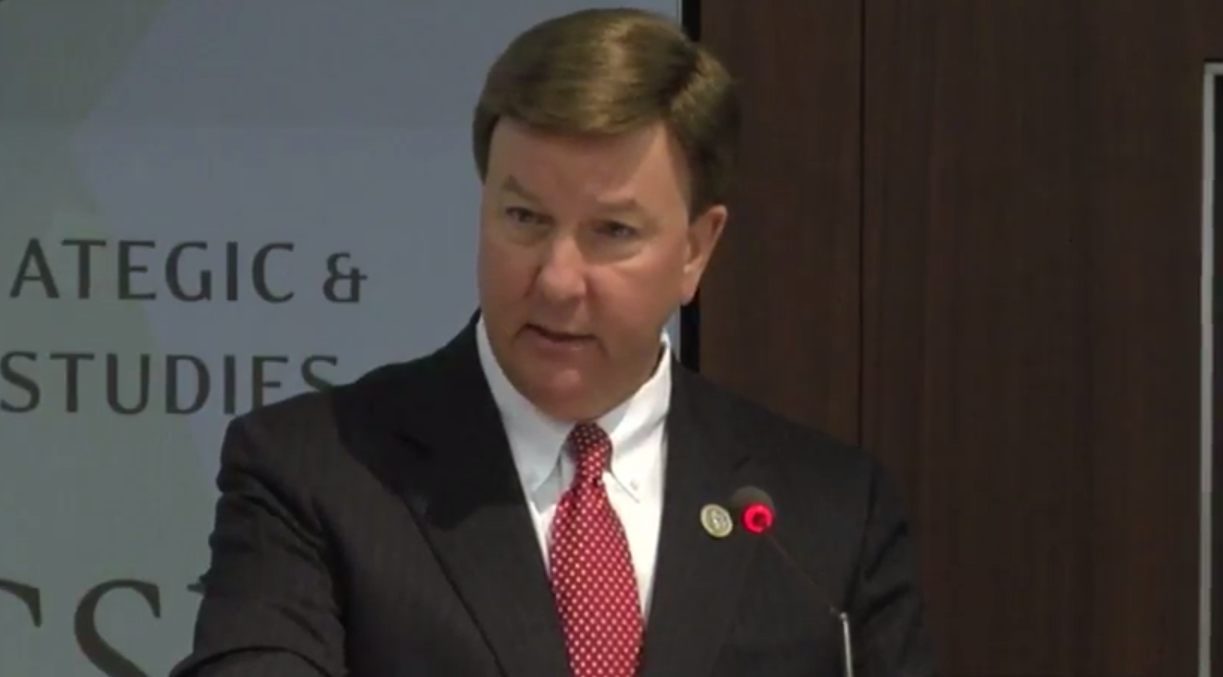 Rep. Mike Rogers, chair of the House Armed Services Committee's strategic forces panel, speaks at a Center for Strategic and International Studies event in Washington, D.C., on Sept. 6, 2017. Screenshot photo.
Rep. Mike Rogers (R-Ala.) said the formation of a separate US military space force is inevitable. "Whether it's this year or next year, we will be successful," he told an audience at the Center for Strategic and International Studies in Washington, D.C., on Wednesday.
Rogers, who chairs the House Armed Services Committee's strategic forces panel, is the primary architect of a congressional plan to form a separate Space Corps within the Air Force. The proposal was included in the House version of the 2017 National Defense Authorization Act passed in July, but no similar proposal is currently included in the Senate version of the bill, which should come to the floor this week or next. Secretary of the Air Force Heather Wilson and Chief of Staff Gen. David Goldfein have both spoken strongly against the proposal.
On Wednesday, Rogers said the Space Corps plan was informed by the advice of 25 experts, including current and former commanders of US Strategic Command, who were called to brief his subcommittee on problems in the organization of national security space. "Only one person did not say it's inevitable that we'll have a separate space force" in the near future, Rogers said, and he called his own proposal "conservative by comparison" to many ideas presented to the subcommittee.
Rogers also sought to ease the fears of service leaders by emphasizing that, under the plan, the Air Force would have until 2019 to set up the new Space Corps and that "they will design it" themselves. Noting military space leadership's frequent insistence that acquisition of new capabilities needs to go faster, Rogers said the new Space Corps would give the service the opportunity to design a "brand new acquisition system" without the bureaucracy that slows down the current process. He said such a system, if successful, could even provide "a model that we can replicate for the other services."
The Department of Defense needs a separate force now because "space is not being given the priority it should be given," Rogers said. Reiterating his claim that space officers are frequently overlooked for promotion to general officer, Rogers said, "the Air Force is run by fighter pilots, and it should be. I just want the Space Corps to be run by space professionals." The Chief of Staff of the Air Force should be focused on the mission of "air dominance," Rogers said. "You can't have two No. 1 priorities." That's why he wants a new Chief of Staff of the Space Corps, whose focus would be on preserving the US military's "space dominance."
Striking a more conciliatory note, Rogers said that he is "still waiting for the Department to reach out and start a constructive conversation" on his proposal. "I want this to be a collaborative process," he said. Given the rapid advancements in Russia's and China's military space modernization, Rogers said his main worry is that "this is a conservative step that's being taken too slowly." If the DOD does not move forward quickly, Rogers said, "we stand the very real possibility of losing our advantages" in space.