He may be just an E-2, but Airman Champa Boom has already made a splash at MacDill Air Force Base, Fla., as the installation's new mascot. Since being publicly announced Nov. 9, the aerial refueling boom operator has appeared at the base gate, a Tampa Bay Lightning hockey game, and area schools to represent MacDill's 6th Air Refueling Wing and the larger Air Force.
"Champa Boom is an asset to help tell the story of the Air Force and inspire from a fun, educational and engaging aspect, especially to younger generations," Capt. Danielle Hudson, chief of public affairs for the wing, told Air & Space Forces Magazine. "Champa leaves a lasting impression on kids of all ages."
The name 'Champa' is a portmanteau of 'Tampa' and 'Champion,' in reference to the city's decorated sports teams. 'Boom' refers to the refueling boom that connects tankers to receiving aircraft. The mascot's head is designed to resemble the nose of the tankers flown at MacDill, with the stubs on either side representing the wings, and the panels around his eyes representing the windows of the cockpit.
The 6th Air Refueling Wing currently flies KC-135s but is expected to switch to KC-46s in the near future, and the wing wanted to convey its important role in helping other military aircraft get where they need to go.
"The 6th Air Refueling Wing plays a vital part in air superiority and everyone at the wing is key to making it happen," Hudson said. "A KC-135 is what represents us and so it was an easy decision."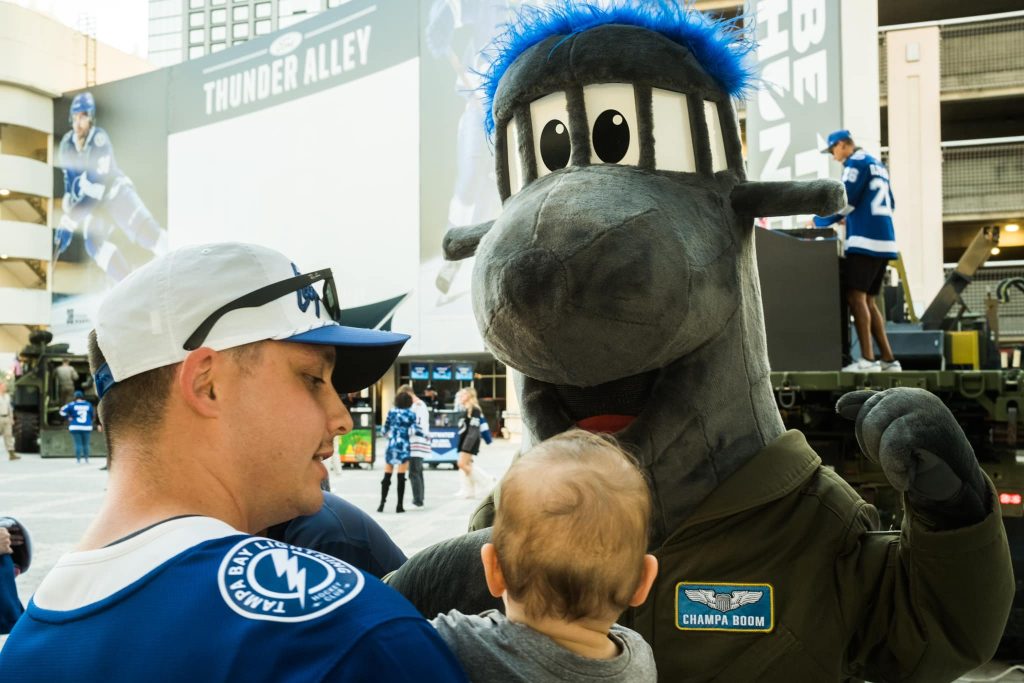 Boom wears a flight suit and boots like any other tanker crew member, but his hair is Air Force blue. Surprisingly, he did not need a waiver for the unusual color.
"No, waivers are for colors that are unnatural," Hudson explained. "For Champa Boom, his natural hair color is blue!"
It took about four months and $9,000 to create Boom, which involved working with a professional mascot maker, approving the design, and making sure the patches, measurements and other details were right. The wing even sent the manufacturer a flight suit so they could make one for Boom that resembles the real thing as much as possible. A team of actual Airmen wear the Boom suit at events, and apparently it is a popular position.
"Currently we have more volunteers than we can use," Hudson said.
Not many Air Force bases have mascots, but the branch writ large wants to increase its presence in base communities to drum up greater interest in service. Recruiters across the armed forces warn of a decreasing familiarity between Americans and their shrinking military. Brig. Gen. Christopher Amrhein, head of the Air Force Recruiting Service, told reporters in September that events like school trips to bases largely shut down as security stepped up after 9/11, but now facility commanders are trying to host more visits, foster connections with underrepresented groups, and set up aviation- or STEM-inspiration programs.
Boom is "a huge part" of the recruiting effort, Hudson said, and serves to open "discussions on Air Force recruiting outside the gate and core values inside the gate."
The mascot has a busy calendar ahead of him, with possible visits to schools, sporting events, airshows, children's hospitals, commander's calls, and more. He has already made friends with the Tampa Bay Lightning mascot, Thunderbug, though it was not immediately clear if Thunderbug will be signing an enlistment contract. Boom has a social media presence on Facebook, Instagram, and X.
As the Air Force prepares to operate from small airfields with fewer Airmen, Boom will also demonstrate multi-capable proficiency as he periodically crosstrains into other Air Force Specialty Codes (AFSCs).
"We couldn't get tankers in the air and complete our missions without the support of every single AFSC on the base," Hudson said. "While Champa Boom is a boom operator, you will see him changing AFSCs in the future as well as changing his look to be a part of local events in the Tampa Bay area."