After a long period in which munitions were almost an afterthought and sacrificed to pay for other priorities, the Air Force needs to focus on them in order to have the right "package" of capabilities for future conflicts, Chief of Staff Gen. Charles Q. Brown Jr. said June 7.
"I've watched this over probably the last seven or eight years," Brown said at a Mitchell Institute for Aerospace Studies event. "It's an area that we tend to not spend as much focus on and I think we need to. In some cases, because you don't have a threat right on your doorstep, munitions aren't high on your priority list. Well, that's different now."
The war in Ukraine has highlighted the urgent need to be able to surge production of munitions, Brown said, as has the National Security Strategy and reviews of U.S. military posture in places like the Korean Peninsula, where stockpiles of weapons in particular were scrutinized.
While fielding new platforms like the B-21 bomber is important, munitions are an area "we've got to pay attention to to ensure we bring those along," Brown said.
The Mitchell Institute has published several studies of USAF munitions over the last few years and determined the service needs both longer-range weapons and far more of them if it is to have a chance of prevailing in a conflict in the Pacific, where there would be tens of thousands of potential targets.   
In its fiscal 2024 budget, the Air Force is seeking an increase in multiyear procurement of the AIM-120 AMRAAM air-to-air missile, the AGM-158 JASSM stealth ground-attack cruise missile, and its marine warfare variant, the Long-Range Anti-Ship Missile. All three are in production and have successors in the works.
"I believe that is just a start," Brown said. "We've got to look at multi-year procurements, so that it helps give a predictable demand signal to industry."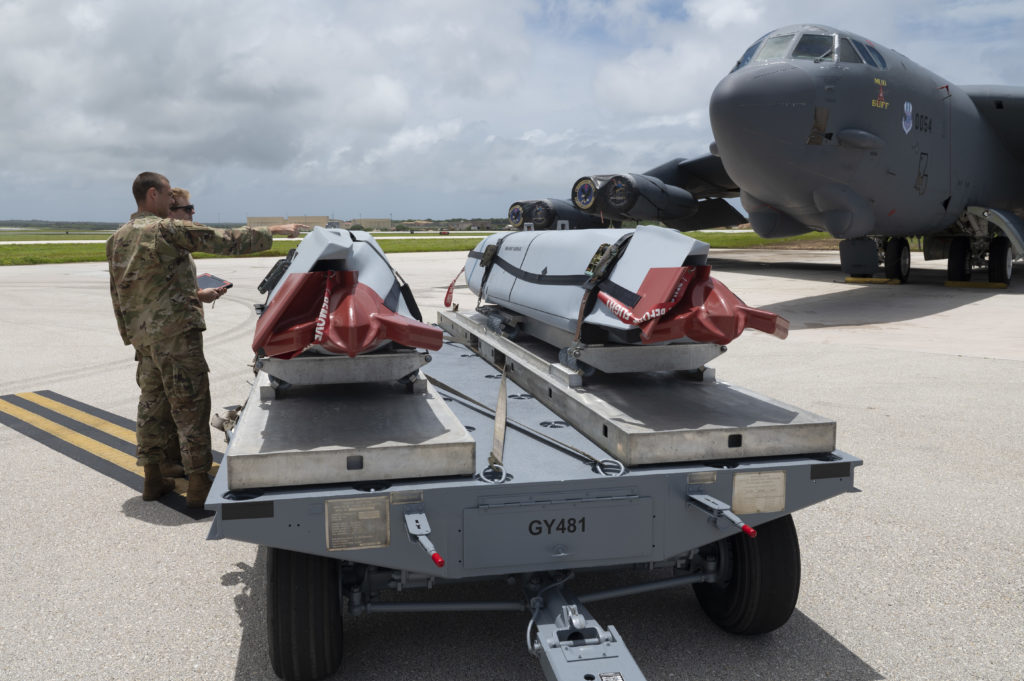 Indeed, Air Force officials have said in budget discussions there aren't enough missiles on hand for a no-notice air campaign, and Pentagon acquisition and sustainment chief William LaPlante has warned that industry has been reluctant to invest in weapons manufacturing facilities and capacity because of uneven funding.
Companies need a clear business case—backed up by action—to convince their stockholders to underwrite more capacity, LaPlante has said.
"It's not just the primes," Brown said. "It's all the [subcontractors] below them." Without predictability, those companies can't invest in capacity and workforce—sending a clear signal that weapons will be bought at a steady rate "helps us to be able to surge if we need to," Brown added.
Likewise, Brown said partners and allies who have U.S.-type aircraft also have to have the munitions that go with them.
"We have to ensure that we have enough munitions on the shelf to support us and our allies and partners, and so that's something that I think we need to continue to focus on and make sure we have a complete package of capability for our weapon systems," he said.
New weapons like the B-21 won't have the desired effect if they aren't matched with munitions that take best advantage of their capabilities, Brown said.
"That's an area that I do focus on, to ensure that we're able to have the complete package," he said. "And then on top of that, is how we use those bombers." The Air Force needs to show it can put aircraft and munitions anywhere it needs but must also monitor adversaries like China to see if the message being sent is the one being received, Brown noted.
Similar to the munitions issue, Brown said industry also needs to see stability in spare parts funding so they can feel confident investing in new technologies and parts-making capacity.
Digital engineering, which is now becoming standard for all USAF programs, will help make parts easier and cheaper to make through 3-D printing, Brown said. The key is assessing the quality of printed parts and the confidence in that process to make flight-critical parts, he said.
At the same time, the Air Force aims to reduce the cost of weapon system sustainment through greater use of predictive maintenance, he said, wherein accumulated data on how a part performs in a fleet can save money and aircraft downtime by accurately predicting when it will need replacing.
"I think we have opportunity here," Brown said. "Our Rapid Sustainment Office is taking a look at this as well, but to use the data to be a little more predictive in not only how we change the parts, but also work the supply chain."