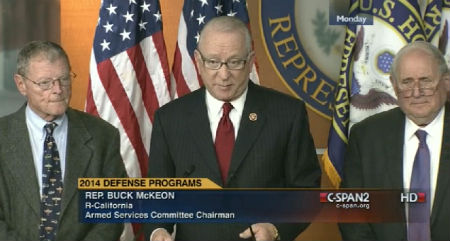 Dec. 12, 2013: While the bipartisan agreement on the Fiscal 2014 defense authorization bill unveiled Monday by leaders in the House and Senate Armed Services Committee addresses the issue of sexual assaults in the US military, it does not include any of the of highly publicized amendments introduced in recent months. Instead, it includes a package of 36 provisions that boost prevention efforts, enhances response tactics, and reforms standing policies.
Missing from the bill is Sen. Kirsten Gillibrand's (D-N.Y) controversial proposal to take military sexual assault cases outside the chain of command. Sen. Claire McCaskill's (D-Mo.) competing, and less severe, amendment also is absent.
SASC Chairman Carl Levin (D-Mich.) addressed the absence of the two amendments, noting that the Senate wanted to debate it but were halted by objections. "We couldn't get those debated," he said. "However, …the bill we will be offering has the combination of the Senate [and House] provisions on sexual assault."
What the bill does include are changes to the Uniform Code of Military Justice, insertion of new amendments, and introduction of new studies and reviews to be conducted as well as new policies to be implemented.
"We really worked hard on this issue and came up with some very good changes," said HASC Chairman Rep. Buck McKeon (R-Calif.), introducing the agreement Dec. 9. "I am very pleased with the things that they were able to work out to [address] sexual assault for prosecution and prevention. That's a cornerstone of our bill," he added.
One "major change," as Levin described it, was modifying the military court-martial proceeding, similar to that of a preliminary hearing in a civilian trial process, to more resemble a grand jury procedure, with the purpose of determining "probable cause rather than a discovery proceeding." This would not require victims to be present, so they would not be subjected to cross-examination during the initial proceeding, Levin said.
Other provisions include:
Extension of crime victims' rights to victims of offenses under the Uniform Code of Military Justice;
Elimination of the five-year statue of limitations on trial by court-martial for additional offenses involving sex-related crimes;
Discharge or dismissal for certain sex-related offenses and trial of such offenses by general courts-martial;
Prohibition of retaliation against members of the armed forces for reporting a criminal offense;
Designation and availability of special victims' counsel for victims of sex-related offenses; and
Requires review by the service Secretary before a convening authority can decide not to prosecute certain charges of sexual offenses if the staff judge advocate recommends prosecution, and review by a superior general court-martial convening authority when the staff judge advocate recommends against prosecution.
In addition, the reforms also look to prohibit service in the US military by individuals who have ever been convicted of sexual offenses.
However, more is still expected to come. According to a report by the Washington Post, Gillibrand is hoping for a vote on her amendment by the end of the year.
"My goal is to get a vote right away, and the reason is that the men and women who have survived these atrocities have taken so much time at great personal expense to be here, to tell their stories and I think they deserve a vote," Gillibrand said.
While McCaskill's amendment also didn't make it into the bill, she commented on the historic reforms that it does include, reports the Washington Post.
"This will be the most victim-friendly organization in the world," she said. "There is no system—the civil, criminal justice system or any other system in the world—that gives every victim their own lawyer at the moment of reporting."