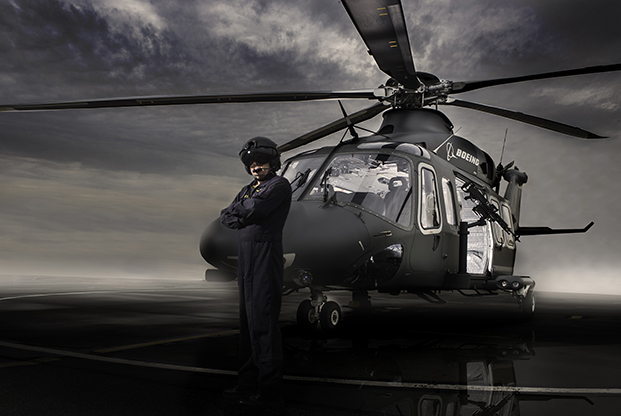 Boeing has been awarded a $2.38 billion USAF contract to replace the UH-1N Huey helicopter, the service announced Monday. Boeing photo.
The Air Force on Monday announced Boeing as the winner of the UH-1N Huey replacement helicopter competition, awarding a firm-fixed-price contract ultimately worth $2.38 billion.
The program begins with Monday's award of an initial $375 million for four helicopters and the integration of non-developmental items. It is the result of a long-delayed process, which included a pre-award protest from Lockheed Martin/Sikorsky and expressions of intense exasperation from the leadership of US Strategic Command and Air Force Global Strike Command, who have been frustrated with delays on what they considered to be a reasonably straightforward acquisition program.
The original service estimate for the program's value was $4.1 billion.
"Strong competition drove down costs for the program, resulting in $1.7 billion in savings to the taxpayer," Air Force Secretary Heather Wilson said in a statement.
Boeing offered the MH-139, a militarized variant of the Leonardo AW139 utility helicopter, while Lockheed Martin/Sikorsky offered a variant of the UH-60 Blackhawk.
The total cost will include all options, covering the acquisition of up to 84 MH-139 helicopters, along with training devices and support equipment. The helicopters will replace the aging UH-1N helicopters that the Air Force uses to protect its nuclear missile fields and carry VIPs in Washington, D.C.
"A safe, secure and effective nuclear enterprise is job one," Air Force Chief of Staff Gen. David Goldfein said in the statement. "It is imperative that we field a capable and effective helicopter to replace UH-1Ns providing security for our ICBMs and nuclear deterrence operations."
The Air Force expects the first operational helicopter to be delivered in Fiscal 2021. The MH-139 is a version of the AW139 already in production, which will have a top speed of 165 knots and be able to carry up to 15 people.
The process to replace the UH-1N has been repeatedly delayed, with the requirements first issued in 2007. Earlier this year, Sikorsky filed a pre-award protest with the Government Accountability Office expressing concerns with future intellectual property rights on the program. The GAO denied the protest, and the request for proposals was released last July, after a series of changes.
US Strategic Command chief Gen. John Hyten last month lambasted the process and delays, but said the award was finally in sight. "We're going to get a new helicopter, if I'm going to die trying or kill somebody to do it," he said.