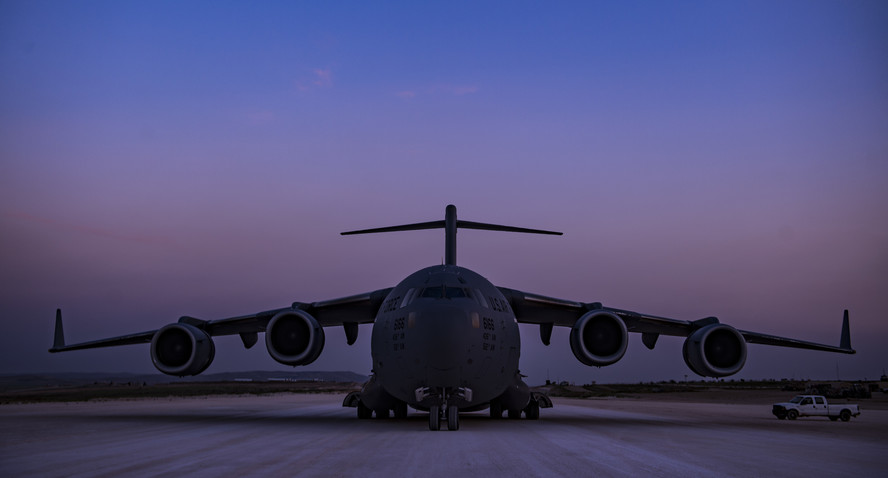 A C-17 assigned to the 816th Expeditionary Airlift Squadron, conducts combat airlift operations for U.S. and coalition forces in Iraq and Syria in support of Operation Inherent Resolve on April 13. Air Force photo by TSgt. Gregory Brook
FARNBOROUGH, England—Boeing has won back a lucrative contract to update the Air Force's C-17 aircrew trainer and maintenance trailer systems, a program it had lost to L-3 Link Simulation and Training back in 2010.
Speaking to Air Force Magazine on Monday at the Farnborough International Air Show here, Ed Dolanski, president of US Government Services for Boeing Global Services, said the six and a half year, $986 million contract to replace all of the Air Force's C-17 trainers was a "very meaningful award."
Boeing has had a performance-based logistics contract to sustain USAF's C-17 fleet for more than a decade. During that time, the company has "reduced support dollars for aircraft by 40 percent while maintaining best in class mission capability of 81 percent or greater," said Dolanski.
Now, with the new trainer contract, Boeing can simultaneously make modifications to both the airframe and the trainer, ensuring USAF C-17 operators always have the most up-to-date training available to them, he said. The contract award also opens the door to potential international deals.
"We paid really close attention to how we could bring value to this one. We understand the airframe very, very well," said Dolanski. "What changed this time, is this more streamlined and agile approach to how we run services."
The contract covers maintenance of a fleet that includes 28 weapons systems trainers, 19 loadmaster stations, three cargo compartment trainers, and 37 maintenance devices, according to Boeing.
In July 2017, Boeing reorganized its services division, adopting a matrix approach that brought military and commercial services together across four fundamental areas: parts supply and supply chain; engineering modifications; maintenance, training, and professional services; and data analytics,
"While we've maintained a consistent view to the customer, with the solutions we bring to the table now, it's very, very easy for me to bring commercial best practices," said Dolanski.