Four B-52H Stratofortresses from the 96th Bomb Squadron at Barksdale Air Force Base, La., returned home last week from a Bomber Task Force rotation out of Guam.
During their journey back to Louisiana from Andersen Air Force Base, one of the strategic bombers engaged in a joint exercise with the Republic of Korea's Air Force, a Pacific Air Forces spokesperson told Air & Space Forces Magazine.
Two B-52s returned to their home base on Nov. 14, the other two B-52s arrived on Nov. 15, a spokesperson from Barksdale said.
The one-day exercise last week saw the Stratofortess escorted by U.S. Air Force F-16s, U.S. Marine Corps F-35Bs, and ROK Air Force KF-15s and KF-35s.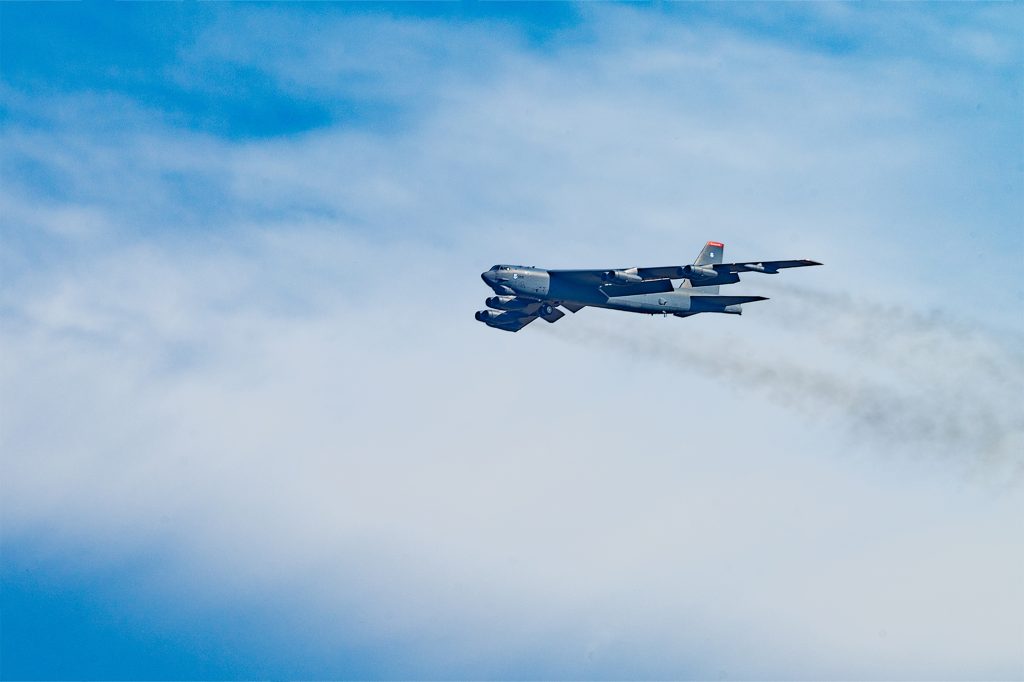 The exercise "honed integration skills over the skies of the Korean Peninsula," according to a release from the 8th Fighter Wing at Kunsan Air Base, South Korea.
The F-35s, from Marine Fighter Attack Squadron 242 at Marine Corps Air Station Iwakuni, Japan, made a stop at Kunsan for refueling before returning, according to the release.
The B-52, or the 'BUFF,' is the USAF's primary standoff cruise missile carrier, with the H model now standing as the last serving variant of the Stratofortress.
The long-range bomber flying with the ROK Air Force showcases the two countries' joint capability for immediate and decisive response to any provocations from North Korea, Seoul's defense ministry said in a release.
The U.S. and ROK have jointly conducted a total of 12 aerial drills involving U.S. bombers such as the B-52 or B-1B throughout the year, according to the ministry.
The B-52 has participated in seven combined air drills this year, reaching a historic milestone with its landing on the peninsula in October—the first such landing in three decades.
During his recent visit to South Korea, Secretary of Defense Lloyd J. Austin III emphasized the significance of the B-52 landing, highlighting Washington's "ironclad commitment" to Seoul.
Austin also made a stop at the Osan Air Base to address the U.S. and ROK service members and encourage operational feedback.
Amid growing tensions in region with the likes of China and North Korea, PACAF commander Gen. Kenneth S. Wilsbach hosted the Pacific Air Chiefs Symposium 2023 at Joint Base Pearl Harbor-Hickam in Hawaii last week to foster a shared understanding of challenges of the Indo-Pacific.
The four-day event, featuring senior air force leaders from 22 nations, addressed regional security and the significance of air superiority, drawing insights from the Ukraine conflict to prevent conflicts in the region.