As the B-52 fleet prepares for new engines, radar, and other tech upgrades, a team of test pilots and engineers at Edwards Air Force Base, Calif., wants to make the aging bomber easier for crews to operate.
Specifically, they are testing out new instrumentation, including digital engine gauge clusters to replace the current analog gauges.
The gauge clusters show information such as fuel flow and exhaust temperature for each of the B-52's eight engines, which helps pilots check for problems and identify malfunctions. The goal is to make the cockpit more intuitive so that pilots can devote more attention to accomplishing missions.
"Flying the airplane is the first step and using it as a weapon system is the ultimate step," said Lt. Col. Scott Pontzer, commander of the 419th Flight Test Squadron and director of the Global Power Bombers Combined Test Force, in an Aug. 22 press release. "So if I can lower workload for the pilot … I can lower that overall task on the brain."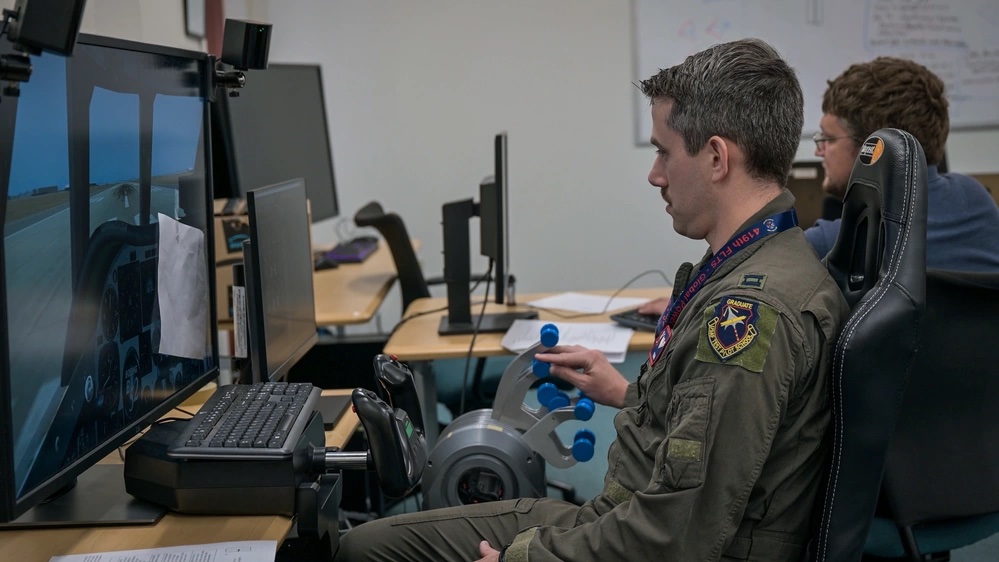 The concept of human systems integration, where systems are adapted to the operator rather than vice versa, did not exist when the B-52 cockpit was first designed in the late 1940s, Dave Prakash, a former B-52 operational test pilot and flight surgeon, told Air & Space Forces Magazine
"Whether it's the engine instruments or the navigation instruments, they are all designed to fit compactly in the space there, but they are not designed to be easy to use," he said.
For example, pilots routinely perform cross-checks, where they rapidly check their airspeed indicator, vertical velocity indicator, bank angle, and other instruments in order to make a decision. Time is of the essence, especially during a delicate procedure like landing at night or in inclement weather. But the way the B-52 cockpit is laid out can cost precious half-seconds or quarter-seconds.
"The instrument clusters are not designed in the most efficient way for a pilot to do a cross check," Prakash said. "Moreover, the gauges and instruments are not even consistent between the left and right pilots' seats, so you have to do a different cross check depending on which seat you're in."
The problem extends to the engine gauges, which display engine pressure ratio (EPR), fuel flow, exhaust gas temperature, revolutions per minute (RPM), and oil pressure. During his time as a test pilot, Prakash analyzed how those and other systems like navigation might be optimized for the operator.
"If there are 20 button pushes required to do one thing, is there a way to make it into just two button pushes?" he asked.
The test team at Edwards are working on those same questions as the B-52 Commercial Engine Replacement Program comes online. The shift to digital gauges should make it easier for operators to rapidly check the engines.
"This provides better accuracy, readability, and error indications (e.g., color changes), to name a few things," Maj. Darin Flynn, a B-52H test pilot with the 370th Flight Test Squadron, told Air & Space Forces Magazine. "We also have EPR demand pointers which greatly reduces workload during precise throttle setting."
Pilots tested out three different prototype gauge clusters in a simulator, then were given a questionnaire to record what they liked or did not like about it.
"We are actually measuring their performance on these displays and we're getting really good comments too, because now they've actually seen what the displays look like," Flynn said in the release. "That'll help us to select hopefully the best design choice for the B-52."
The new B-52 engines are militarized versions of Rolls-Royce's commercial BR725, and the software in the B-52J will be a mix of commercial and military software, explained Flynn and Eric Treadwell, B-52 crew systems/human factors lead. Beyond the engine gauge clusters, the entire cockpit is getting a makeover as analog displays are replaced with large, color, multifunction screens.
"What they're doing is fantastic and it's absolutely critical," Prakash said of the human systems integration effort.
There are still some dangers in better technology: Prakash warned that issues may arise from automation bias, which is when users do not notice failures in automated decision-making systems (like when spell-check suggests the wrong word); and from alarm fatigue, where users become desensitized to the recurring beeps and alarms that may indicate real danger. Flynn was not overly concerned about the former.
"I don't think automation bias will really be too much of a factor because even though we are getting new [full authority digital engine control] engines, there is little automation involved," he said. "There will be no auto-throttles."
Military standards provide guidance to head off problems such as automation bias and alarm fatigue, Treadwell explained. A working group of government and contractor engineers is also collaborating with B-52 pilots to evaluate and refine the design, a best practice in Air Force development programs.
"We have different levels of alerts that will be displayed or inhibited depending on their severity and phase of flight," Flynn said. "We have already identified some warnings that are commercial in nature and not applicable to military use."
Going forward, the team at Edwards hopes to collaborate with maintainers to get their input on the digital instruments and whether it would affect their work.
"We can solve problems before they ever become problems," Pontzer said in the press release. "Being on the leading edge, between Boeing, the 418th FLTS and [Test Pilot School], all of us working together to use robust systems and proven test methodologies to make good decisions is awesome for the warfighter."