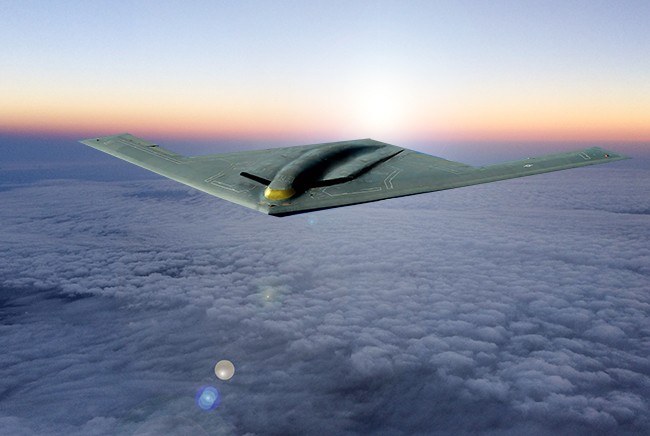 The Air Force is planning the first flight of its B-21 for December 2021, though that date could slip, the head of the service's Rapid Capabilities Office said. Staff photo illustration by Mike Tsukamoto.
The first flight of the B-21 Raider may slip beyond its current target date of December 2021 due to complexities of the program as the first bomber comes together, the head of the Air Force's Rapid Capabilities Office said.
Northrop Grumman is building the first bomber at its Palmdale, Calif., facility, where B-21s will eventually be produced in mass. RCO boss Randy Walden told Air Force Magazine on Oct. 24 that the program is not relying on a subscale prototype or demonstrator before the production of the first airframe, and may only partially use the new design technologies that will underlie USAF's new "Digital Century Series" aircraft.
Though the RCO is still aiming for the original first flight date—revealed by Vice Chief of Staff Gen. Stephen Wilson at a similar AFA event earlier this year—Walden said the B-21 is a complex program. Delays could come from anything from parts production, to integrating avionics, to weather.
Given the service's past experience with "large components coming together, integration, ground test all the things that lead up to first flight have to be accomplished," Walden said. "So I would not bet on that date."
The B-21 critical design review was "a year ago which should tell you that we're ready to actually start building parts, and we are doing that" at the Palmdale plant, Walden added. The 420th Flight Test Squadron—which previously tested the B-2 bomber—was reactivated at Edwards AFB, Calif., and is preparing to receive the first flight test article.
"We do have an airplane in there, that would be our test ship No. 1," Walden said of the Palmdale facility. While he could not provide details, "We're working the production line, literally, today."
As first flight draws near, Walden said the aircraft will get more exposure, particularly as it prepares for low- and high-speed taxi tests. At that point, "we'll start to open up" with more details, he said.
The B-21 will receive a "rollout" similar to that of the B-2 bomber in 1988: "We can't just say we're going to sneak it out and get a first flight in," Walden said.
He declined to say how rapidly the B-21 is planned to be built or could be built, except to reiterate the Air Force's standard answer that "a minimum of 100" will be produced.
"The production line should be able to handle that easily," he said, "and based on the timing, if you want to either ramp up [build the jets faster] or build more, you could go do that, depending on what the nation's needs are." Asked whether the B-21 could be built fast enough to permit the B-1 and B-2 to retire in the 2031 timeframe, as Air Force Global Strike Command planned in its last "Bomber Vector" plan, Walden said the issue is being worked jointly by both the command and the RCO.
Global Strike is "figuring out, based on our production line, when they're going to replace those" other bombers, Walden said. AFGSC boss Gen. Timothy Ray is developing a new plan, "and he's building it around that."
"You always look for opportunities to do things lower-risk," he said. While no subscale demonstrator aircraft have been used, Walden did not offer specifics about methods to cut down on risk.
The RCO boss added that while the B-21 program started with manufacturing technologies that were available at the time, officials will look at introducing new, commercial-sector techniques "where and when it makes sense to bring it into production."
USAF hopes to keep the production timeline on track by not tinkering with the jet's main performance requirements—such as altitude and range—although the design can adapt to new technologies as they become available, Walden said. Shifting such requirements mid-program caused enormous added expense for the B-2 Spirit.
The B-21 and Next-Generation Air Dominance efforts are expected to share ideas and technologies, as Advanced Aircraft Program Executive Officer Col. Dale White previously managed the B-21 project.
Current bomber bases are expected to keep that mission as the B-21 comes online.