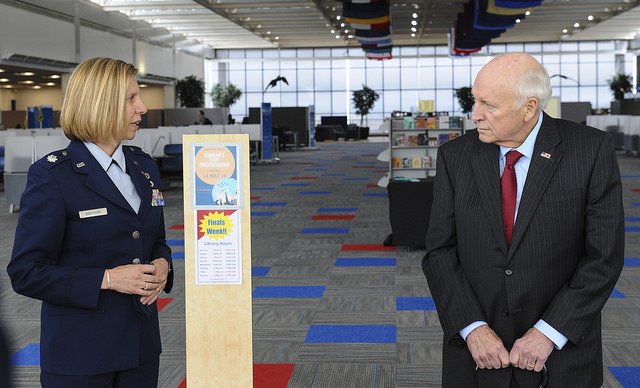 Former Vice President Dick Cheney vists CyberWorx, part of its outreach initiative. Twitter photo.
On June 5, a team including Air Force, CyberWorx, and industry partners presented the latest iteration of a cybersecurity tool to top USAF technology leaders.
Jennifer Bray, a project manager for the the Center for Technology, Research, and Commercialization (C-TRAC), is optimistic about the results of that proof-of-concept, showcasing a dashboard allowing Air Force leaders who may have little to no cyber background to understand current and potential cyber risks in a given environment. The cybersecurity risk ecosystem (CRE) is part of Bray's portfolio at? C-TRAC, a nonprofit managing and recruiting industry partners for the Air Force.
"The presentation went over extremely well. We had a ton of interest, relevant and thought provoking questions, and excellent feedback," she wrote Air Force Magazine in an email. "I believe the consensus was that this technology has huge potential and promise that directly addresses some of the biggest challenges the [Air Force] faces in cyber risk."
CRE itself is no newcomer to the world of innovative solutions. From establishing multi-domain command and control operations-centric war games to occasionally setting up month-long white hat hacking programs, the service is actively fighting to more effectively support the warfighter.
The CRE presentation included Bray and three companies that formed a triad to support the project as partners with USAF: Boecore, MTSI, and LinQuest. Currently at a technology level somewhere between two and three after an initial phase of prototyping, Bray wrote, the project's next step is seeking more cash, the exact amount still in the works. Additional funding means pushing the project forward, Bray said, so the team can solicit and assess "extensive user testing and feedback," trying to push the prototype to TRL level five or six, and perhaps see it become a USAF "pilot project." [Here's our guide on understanding the Air Force's TRL levels.]
"The challenge now is navigating the traditional [Air Force acquisition] process and looking for other avenues like [other transaction authority contracts] or [broad agency announcements]," Bray wrote of roundabout methods DOD sometimes takes to fund its projects. "We have a potential for units like [Tactical Exploitation of National Capabilities] and [the Air Force's] Cyber Proving Grounds to be able to fund and provide the next phase of development."
But before all of that could have happened, the Air Force first had to identify there was even an issue requiring as its solution a dashboard like CRE. That takes us to CyberWorx, a USAF public-private center nestled in the Air Force Academy where design-centered problem-solving projects combine the minds of cadets, academics, airmen, and industry. The center achieved full operational capability in February 2017, having stood up the summer beforehand.
As the 2016 Fall semester was ending, a CyberWorx class had identified the need for what would become CRE. The problem was then laid in front of cadets at the design center, alongside industry partners—among them the triad—who showed up to advise as part of C-TRAC's recruiting efforts. That was the design phase of the project.
"At the end of the semester, CyberWorx asked if any of the companies were interested in pursuing a 'proof of concept'/prototype of the solution," Bray wrote. "Boecore, MTSI, and LinQuest raised their hands and here we are today."
If you ask Lt. Col. Michael Chiaramonte, a decades-long cyber warrior and acting ?director of CyberWorx since January 2018, this collaboration is the centerpiece of his innovation lab. Using real-world data and imagined data (USAF only goes so far in letting industry know its shortfalls in instances like these) based on input from airmen and operators within and without cyber, the CRE presentation showcased the "art of the possible," he said. Of course, the art of the possible itself only goes so far in an environment often stifled by crippling red tape.
"Reaction was pretty good," Chiaramonte told Air Force Magazine Wednesday, adding some stakeholders were more excited than others. "We'll see where it goes from there."
Regardless, CRE is the CyberWorx project Chiaramonte's "most excited about." It's going to get USAF into a "technology space" where the service can convey mission risk about cyberspace to "folks who don't know anything about cyberspace," he said.
If the project keeps on under the auspices of the industry triad, C-TRAC, and CyberWorx, the center itsself will be less hands-on and more poised to provide "some vision," Chiaramonte said.
"As CRE continues to move forward, I believe CyberWorx will still have a role to play throughout the process," C-TRAC's Bray wrote, "especially in evaluating the complete process."
CRE is but one of the initiatives to come out of CyberWorx. Others include a remodeling of USAF's cyber command and control and exploiting the Internet of things to create smart bases, as a few examples. For all endeavors, the center manges inputs from various bases and numbered air forces. For the cyber C2 remodeling project, for example, CyberWorx enlisted help from JBSA-Lackland, Texas, Peterson AFB, Colo., Schriever AFB, Colo., Scott AFB, Ill., and JB Langley-Eustis, Va.
In a statement to Air Force Magazine, the director of 24th Air Force's Technology Office, which collaborates with CyberWorx, cited the aforementioned C2 project, saying it "provided a fresh look at how to view and operate a global cyber network such as the 1-million user, $14.2 billion Air Force enterprise network."
"[The CyberWorx] initiative seeks to accelerate the USAF's operational advantage in the cyber domain," 24th AF's Lynne Patrick wrote, "and their design sprints grounded in real-world Air Force challenges stand to benefit a multitude of clients, including 24th Air Force."
Chiaramonte said CyberWorx runs on an operating budget of around $2 million, both in 2018 and for the next fiscal year, all out of a roughly 8,000-square-foot space, "if you don't count hallways." And while President Trump's version of the NDAA has approved roughly $30 million to build a brand new CyberWorx space in excess of 30,000 square feet, expansion is a mixed bag.
Building what Chiaramonte called a "new identity" and maturing the center's services means "fighting" through facilities ramp-up, seeking additional personnel (he's hoping for 28 full time employee equivalents in FY19), securing additional funding for programs like CRE, and managing the whole package like a mature company rather than a fledgling startup. The new center should help, he said, and is expected to be completed by 2022.?
CyberWorx's biggest challenge, however, echoes its very existence.
Considering the "rate of change in today's digital economy," Chiaramonte said, he's concerned sometimes the policies and bureaucracies the Air Force takes to transform recommendations into realities "quite frankly, slow us down." Adversaries like China and Russia are modernizing on the cheap and their strength is gaining momentum.
"It's a hard fight to fight," Chiaramonte said. "Can we make the change fast enough?"
Next up for CyberWorx will be a hackathon the week of July 9. Inspired by the notion smart bases, three design sprints—cycles of problems and solutions that feed back in a loop—will revolve around wearable fitness trackers.
Teams will present pitches for proposed solutions to a panel comprising Air Force, CyberWorx, Air Force Academy, and industry representatives. A winner could earn up to $10,000, and perhaps an invitation to continue collaborating.
If all of this sounds like the Air Force's recent Spark Tank initiative, that's because the programs are related. A finalist of the February competition will be developing its vision at CyberWorx.
That competition itself was a brainchild of AFWERX, a similar program with a similar mission. The familiar moniker emphasizes the service's continued push to try and innovate. And though the push edges alongside and in touch with the digital industry, some say it's too late coming.